Facebook courts sports stars for Watch video shows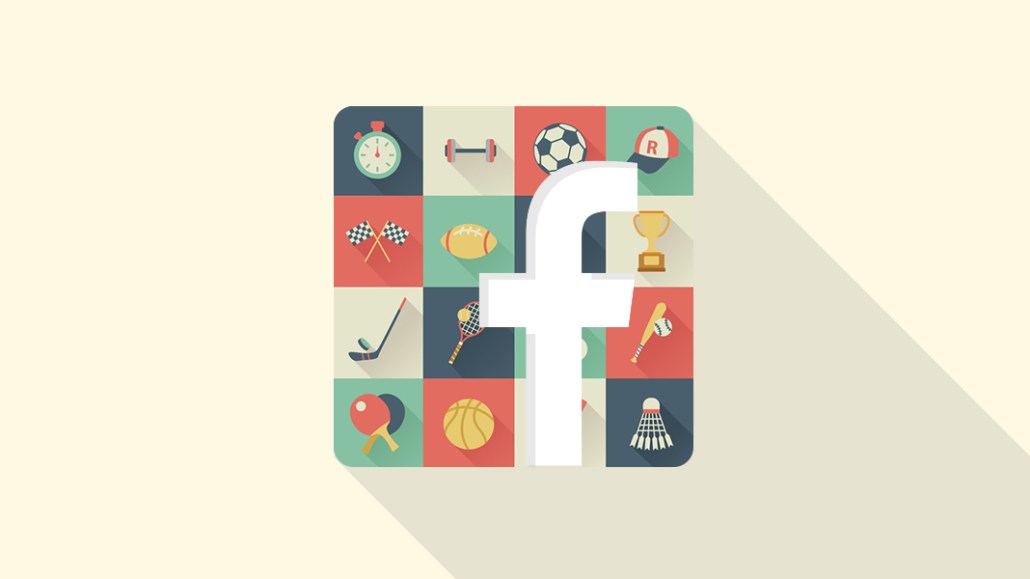 Facebook wants live sports. But it also wants a ton of sports programming that can complement any live games and sporting events it broadcasts on Facebook Watch.
In the past couple of weeks, Facebook has released several sports shows with high-profile athletes and media partners. This week, Facebook Watch premiered ESPN's "First Take: Your Take," a thrice-weekly interactive series based off of the popular ESPN debate show, and "Von Miller's Studio 58," a weekly sketch-comedy show hosted by the star Denver Broncos linebacker. Last week, Facebook Watch premiered "Tom vs. Time," a six-episode series starring Patriots quarterback Tom Brady. And a week earlier, WWE launched a new wrestling show called "Mixed Match Challenge."
These new programs, all of which are funded by Facebook, join existing funded Facebook Watch sports shows such as the LaVar Ball-starring "Ball in the Family," Bleacher Report's "No Script" with Marshawn Lynch, the Bill Murray-starring "Extra Innings" and Cycle's "In the Zone."
As Facebook tries to get users to actually watch Facebook Watch shows, it's looking at buying projects with big names attached to star or produce, according to multiple media execs that have sold shows to Facebook. In the sports world, that means working with more big-name athletes and giant media brands such as ESPN and WWE.
In working with bigger names, Facebook hopes to bring community or interactivity to the programming.
Take, for instance, ESPN's "First Take: Your Take," whose format seems designed for Facebook. Every week, ESPN will air three episodes of the show. On Monday's episode, ESPN will run a traditional in-studio "First Take" segment in which co-stars Stephen A. Smith and Max Kellerman debate a broad sports topic. (The first week's was on who would win the Super Bowl.) Then, viewers can upload videos of their own answers to the show's Facebook Group, after which ESPN will put some of the best responses into a second episode that airs Wednesday. On Friday's episode, ESPN will invite one of the uploaders to debate Smith and Kellerman directly.
"This was crafted and tailored and is being built specifically for Facebook," said Ryan Spoon, svp of social content for ESPN, which initially plans to make "First Take: Your Take" for six months. "We had plenty of conversations and brainstorms — an open dialogue — when developing the show. We knew we wanted to go in aiming for interaction and doing something that is very fan-driven and different."
With shows such as "Tom vs. Time," the appeal was not only in having a high-profile name attached to the show, but the fact that Brady actively posts about his personal life on Facebook and has a huge following there, with 4.3 million followers, said a Facebook spokesperson. Brady shares new episodes of the show on his Facebook page, which increase the likelihood that people will watch and share the content. One Watch partner that's producing a show for Facebook said that whenever a personality shares a Watch video on their own Facebook page, the average watch time increases significantly. With almost all of Watch viewership happening from the Facebook news feed, personalities sharing episodes becomes an almost invaluable resource.
Sports programming, whether it's live games or episodic shows, tends to be social by its nature. People already go to social platforms to talk about their favorite teams and athletes — and by following these stars, get a glimpse into who they are off the field or court, said Jason Stein, CEO of Cycle Media.
Cycle's show for Facebook Watch, "In the Zone," was developed off this idea. The show follows different pro athletes, including New Orleans Saint Alvin Kamara and Golden State Warrior JaVale McGee, as they prepare for game day.
"'In the Zone' found a highly engaged audience on Facebook Watch," said Stein. "The access and narrative arc are driving positive comments and strong watch time across the community."
Ultimately, Facebook's efforts to build out a sports programming library point toward the ultimate prize: live sports. Through various partnerships with sports leagues and TV broadcasters, Facebook has already started streaming live sports, including some MLB, MLS and UEFA Champions League games. It also has partnerships with CrossFit and Tough Mudder to stream their live events. Even with "Ball in the Family," which is already in its second season, Facebook is streaming live basketball games from Lithuania featuring LiAngelo and LaMelo Ball.
And when rights deals come up for the major sports leagues in the future, Facebook is expected to be a bidder — even though it reportedly walked away from a Thursday night NFL package for this coming season. By having a deep bench of sports shows that people are watching, maybe they'll be more likely to watch the actual games if and when Facebook airs them. (It also helps that shows such as "Ball in the Family" and "Tom vs. Time" are being recognized by people outside of digital-media circles.)
"Shoulder programming is an entry into the larger stuff," said a Facebook Watch partner. "Facebook Watch needs some successes right now, and this is step one."
https://digiday.com/?p=274318