Digiday Research: For video production, 64 percent of publishers say cost is their biggest challenge
Digiday's "Research in brief" is our newest research installment designed to give you quick, easy and digestible facts to make better decisions and win arguments around the office. They are based on Digiday's proprietary surveys of industry leaders, executives and doers.
In the hunt for digital ad revenue, publishers are pivoting to video. According to earlier Digiday research, 82 percent of U.S. publishers and 94 percent of European publishers plan to increase their video production in the year ahead. It hasn't been easy. Sixty percent said they were unsatisfied with the quality of their company's videos.
At the Digiday Video Anywhere Summit, we asked 76 industry leaders why video production was their greatest challenge. Respondents were allowed to select more than one option.
Creating video is expensive, and not just because publishers who have pivoted have seen steep audience declines.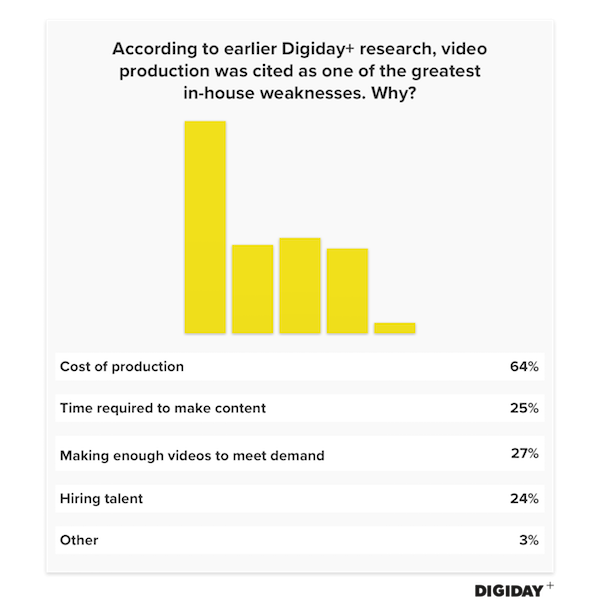 As Ashley Swartz, CEO of Furious Corp, told AdExchanger, "As technology improves, the operational costs of video have actually become more expensive, not less."
After cost of production, publishers listed the time it takes to make video and keeping up with demand as the biggest challenges to in-house production.
Several automated video production companies have sprouted to meet that demand with some success. Wibbitz, which produces short-form videos based on article text, raised $20 million last month in a Series C round that drew participation from publishers including The Weather Channel and The Associated Press. Other publishers like Business Insider have lowered costs by cross-posting their Facebook videos to YouTube.