Digiday+ Research: 60 percent of publishers aren't satisfied with the quality of their video
Digiday's "Research in brief" is our newest research installment designed to give you quick, easy and digestible facts to make better decisions and win arguments around the office. They are based on Digiday's proprietary surveys of industry leaders, executives and doers. See our earlier research on the publisher pivot to video here.
Publishers latched onto the video bandwagon like teenagers to the latest fad. In our latest deep dive on publisher video strategies, over 80 percent of respondents indicated they would increase their digital video output.
Publishers hate their own videos
The love for video appears nearly ubiquitous. Multiple publishers have axed editorial staff to support the shift to video, with Complex being the latest. Meanwhile, 82 percent are planning to increase their video output. Despite this, publishers don't reciprocate the love toward their own content. Sixty percent of all respondents indicated they were less than satisfied with the quality of their digital videos.
In-house production needs improvement
This dissatisfaction shouldn't come as a surprise to publishers, though. Thirty-seven percent of publishers identified video production as their greatest in-house weakness. (Respondents were allowed to select more than one weakness.) Video production was about twice as likely to be labeled a liability over every option, with the exception of user experience design and development.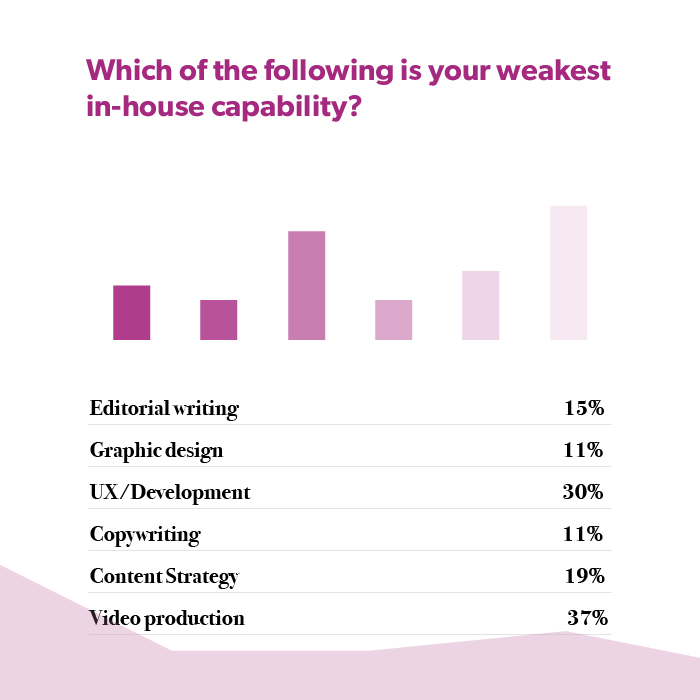 Time is on the clock for publishers looking to improve their video quality. Unsurprisingly, platforms are posing problems. Facebook has disappointed most publishers, with Facebook Live underperforming and mid-roll video ads posting meager CPMs. Twitter is offering publishers some hope; Bloomberg, BuzzFeed and Vox are all testing live shows, though they are quick to note that it's too early to tell if Twitter will be a sustainable platform for them to monetize on. If publishers fail to improve their video quality, they'll fall increasingly behind the internet giants as more players look to join a crowded space.
https://digiday.com/?p=259164