Digiday Research: 94 percent of European publishers will increase their video output
Digiday's "Research in brief" is our newest research installment designed to give you quick, easy and digestible facts to make better decisions and win arguments around the office. They are based on Digiday's proprietary surveys of industry leaders, executives and doers. See our earlier research on the publisher pivot to video here.
At the Digiday Publishing Summit Europe in October, we had the unique opportunity to compare U.S. publishers' video strategies with that of their European counterparts. You can read our full breakdown on the U.S. publisher pivot to video here.
After surveying 35 publisher executives in Europe, one trend stood out. European publishers are pivoting more aggressively to video than publishers in the U.S.
In the U.S., 84 percent of publishers are planning on increasing their digital video output, compared to 94 percent of European publishers. This 10 percentage-point gap is not particularly noteworthy; what is notable is the extent to which European publishers are increasing their video output.
European publishers are 3.5 times more likely than their U.S. counterparts to increase video output by over 50 percent; 42 percent of European publishers are planning such an increase, while this figure is 12 percent for U.S. publishers.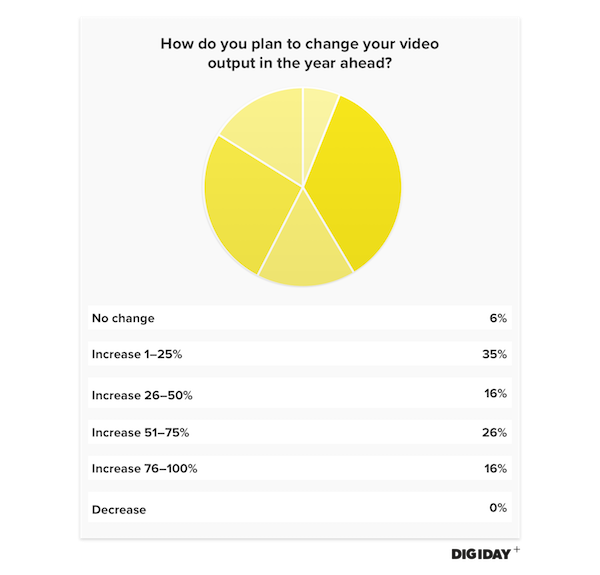 The majority of U.S. publishers projected incremental increases to their video output. Over 70 percent of U.S. publishers said they would likely to increase their video output between zero and 25 percent, compared to 41 percent of European publishers.
Publishers chasing video for the increased ad revenue is a well-established trend. However, unlike U.S. publishers, European publishers have a much shorter deadline to make the pivot to video. With the looming enforcement of the General Data Protection Regulation, Europeans face losing valuable audience data, which will likely damage digital ad revenues. It could be that European publishers are pre-emptively adopting video to soften the blow of GDPR enforcement.
https://digiday.com/?p=262057