Digiday Research: For some publishers, subscription products require little resources
October 19, 2018 • 3 min read
• By
Digiday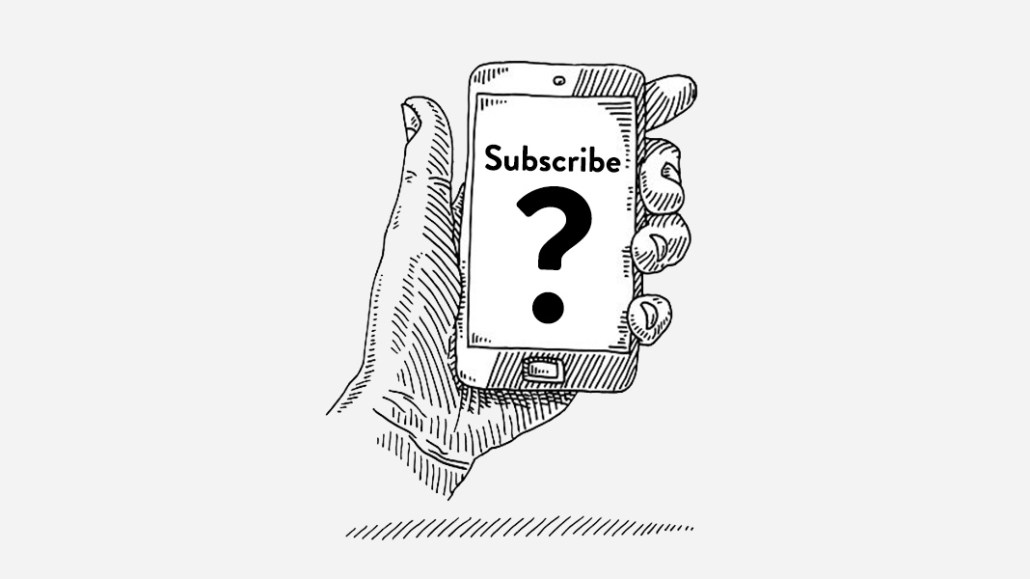 Publishers are increasingly turning to subscriptions to earn reader revenues as other income sources, like display advertising, falter. Part of the appeal of subscription products for publishers could be that they require relatively little in the way of additional resources, according to Digiday research.according to publishing executives surveyed at the Digiday Hot Topic: Subscriptions and Memberships event this past August. Three-quarters of publishers surveyed say they allocate less than 25 percent of their company's resources to their subscription product.
Each publisher has different costs associated with creating their subscription products, of course, which vary wildly based on the nature of those products.
Heather Dietrick, CEO of the Daily Beast, which recently launched a new membership plan, told Digiday on the percentage of resources it allocates to its subscription, "[we'd] be in the 1-9 percent range for sure. It's very early stages for us."
For Slate, "the biggest cost [of building Slate+] was the product, design, software development side of things in addition to the extensive consumer research we did," according to David Stern, vice president of product and business development at Slate.
A spokesman for Politico said the most expensive part of creating Politico Pro was in hiring journalists to create content for it.
One unique resource publishers can devote to their subscriptions is ad inventory. Some publishers are hesitant to give up ad inventory, either for marketing subscription products or to improve user experiences, because the ads drive predictable immediate revenues.
In an effort to provide a better user-experience, Slate removes video ads, podcast ads and in-app ads for its 46 thousand Slate+ subscribers. Stern says, "plus members are incredibly valuable on a per user basis, but don't mean that much in the aggregate since we have 20 million monthly uniques… If the hard numbers didn't work then it would have been a challenge to make the arguments in favor of improving user experience."
Few publishers, like The Information, dedicate the majority of their resources to driving subscription revenue alone.
Instead, publishers such as The Daily Beast, Politico and Slate pull resources from various departments to help develop and run subscription products in addition to their core editorial offerings. For the Daily Beast's Rabbit Hole, an email newsletter available exclusively for subscribers, Dietrick said it was able to shift some editorial talent, already writing similar content to the product and lessened their other responsibilities. "People from product to engineering, to editorial and marketing, were all really involved [in building the product] in some way. The project required everyone involved to be in lockstep around a certain goal, but it comes with so many future benefits."
Stern noted that Slate+ has a specific "budget that include the editorial staff, which if you compare to revenues, Slate+ is profitable like 6x over, but that doesn't account things design or marketing or the advertising."
Politico's spokesman shared that of over 500 staff, "approximately 40%, are dedicated to Politico Pro." He also added that, "shared services like technology, product, marketing, human resources support Pro in one form or another, not to mention most executives." Though that might be higher than at other publishers, Pro now generates over 50 percent of the company's revenues.
For larger publishers with more staff, trying to figure out the number of staff contributing to a subscription, and therefore the amount of resources can be difficult. A spokeswoman for The New York Times, which alone has 1450 journalists according to its' 2017 annual report, said it would be "impossible" to determine what percentage of its staff contribute to the subscription products on either a full-time or part-time basis.
Growing subscription revenues is a slow process for publishers but things like recurring revenue make it worthwhile. Though subscriptions may require significant upfront costs, pooling company resources can help lessen the load and make it manageable.
https://digiday.com/?p=308337