Digiday Research: Why publishers are chasing subscriptions
August 27, 2018 • 2 min read
This research is based on unique data collected from our proprietary audience of publisher, agency, brand and tech insiders. It's available to Digiday+ members. More from the series →
Publishers are flocking to subscriptions and membership programs for a variety of reasons, but chiefly because of the advantages associated with recurring revenue, Digiday research found.
Seventy-three percent of the 62 publisher executives surveyed at the Digiday Hot Topic: Subscriptions and Memberships event held last week in New York City said a recurring revenue stream was a key reason subscription products appeal to them.
Recurring revenue has obvious advantages: It's predictable, stable and easy to forecast and plan against. But perhaps more important, it's less exposed to external factors the way advertising revenues can be. Forty-four percent of publishing executives in a Reuters Institute survey say digital subscriptions are their most important revenue source.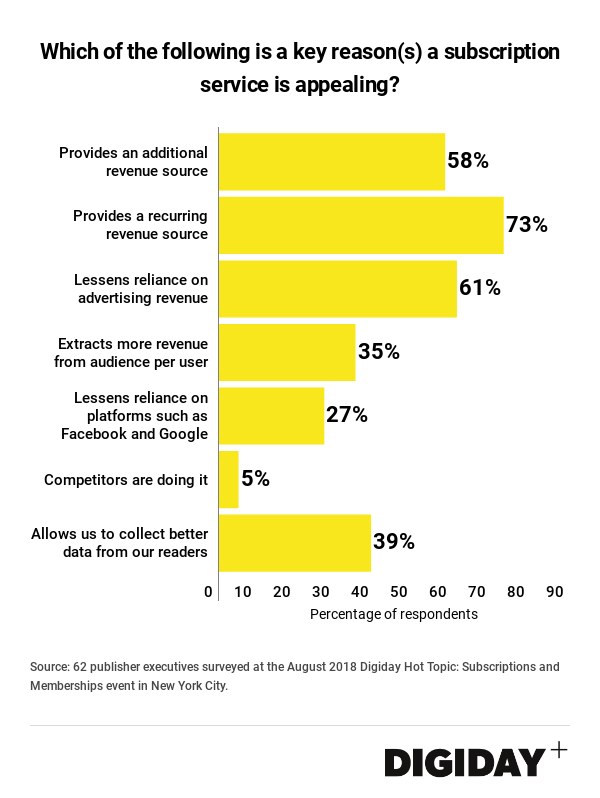 Publishers' renewed focus on consumer revenue is largely a reaction to their reliance on advertising for the majority of their revenues. Sixty-one percent of publishers surveyed by Digiday at the event said they view subscriptions favorably because they help lessen their reliance on ads, while only 35 percent of respondents said they expect subscriptions to be more lucrative than advertising.
In recent years, it's become increasingly challenging to run a sustainable publishing business with advertising revenue alone. Google and Facebook are sucking up the vast majority of online ad dollars with highly accountable ad products, making it harder for publishers to compete. Meanwhile, meaningful video ad revenue remains elusive for many publishers, and the rise of programmatic buying has depressed prices and increased reliance on industry middlemen.
Despite the power Facebook and Google wield over publishers, only 27 percent of respondents said that they're attracted to subscriptions as a way to lessen their reliance on the duopoly and other platform intermediaries. For their part, Facebook, Google and Amazon are piloting ways to increase subscriptions for publishers, which could go a long way to smoothing over tensions with publishers if those tests prove successful.
https://digiday.com/?p=300448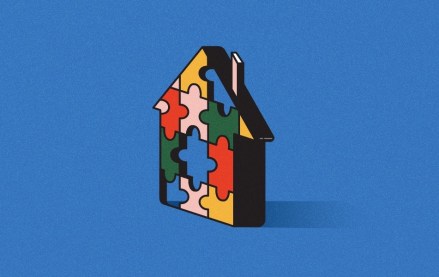 September 22, 2023 • 4 min read
Apartment Therapy's president Riva Syrop took the stage at the Digiday Publishing Summit to discuss the convergence of commerce and sponsorship revenue within its Small/Cool event.
September 22, 2023 • 4 min read
Media execs took stage at the Digiday Publishing Summit to discuss the growing importance of ROI in ad campaigns this year.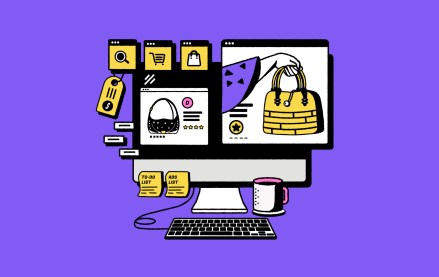 September 22, 2023 • 4 min read
CEO Satya Nadella said AI assistants will be as ubiquitous as PCs and will help users navigate across apps, operating systems and devices.