Digiday Research: Publishers rely most on house ads and emails to drive subscriptions
When it comes to selling subscription products, publishers are finding most success by marketing to their existing audiences and direct connections through house ads and email marketing campaigns, as opposed to purchasing advertising from third-parties.
At the Digiday Hot Topic: Subscriptions and Memberships event in August, 65 percent of publisher executives said email marketing is their most effective customer acquisition tool for subscription products, followed by 16 percent who said house ads are their most effective tool.
Publishers are experimenting with various tactics when it comes to email, such as emailing offers to users who have signed up for newsletters and other editorial emails, or simply injecting ads and offers directly into those newsletters. Others may choose to purchase lists of email addresses to send offers to or may acquire addresses through partnerships with third parties.
The Times of London found success in sending more paywalled content in its newsletters, driving more non-subscribers to hit their free article limit and increasing their likelihood of purchasing a subscription for unlimited access as a result.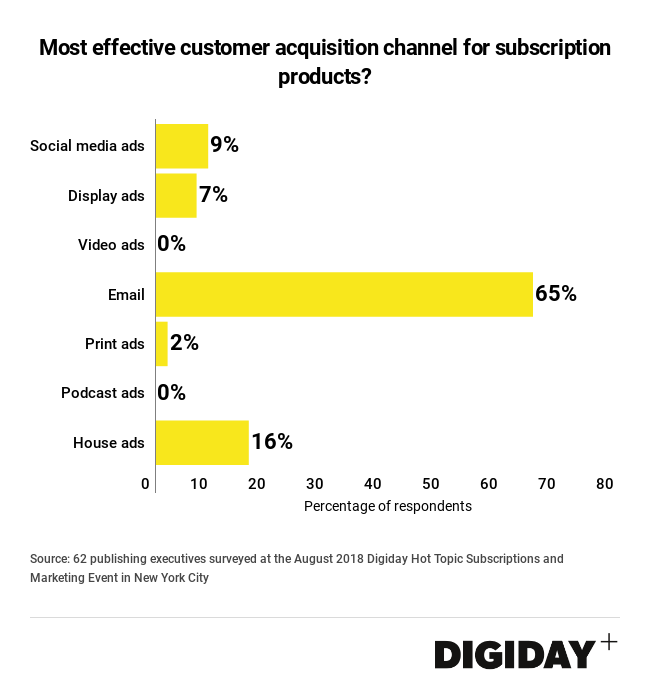 However, using in-house inventory to drive subscriptions can be a complicated balancing act for publishers. While house ads — like email — are potentially low-cost to use, dedicating inventory to them can eat into potential ad revenues. 18 percent of publishers surveyed by Digiday said they dedicate more than 10 percent of their inventory to ads promoting subscriptions.
Most publishers are still dependent on advertising for the majority of their revenues, according to previous Digiday research, so cutting down on ads, even to win over subscribers, is something publishers must consider carefully.
One way to avoid that tension could be for publishers to bake promotion for subscription products directly into their sites, reducing the need for ad inventory.
"Because our paywall and subscribe buttons are built into our site design, we generally do not allocate ad inventory to promoting subscriptions,"said Miki King, vice president of marketing at The Washington Post. "The rare exception is special promotions that we run on-site periodically, such as during holiday periods. Our on-site acquisition channels far outperform all off-site channels… such as programmatic and display advertising."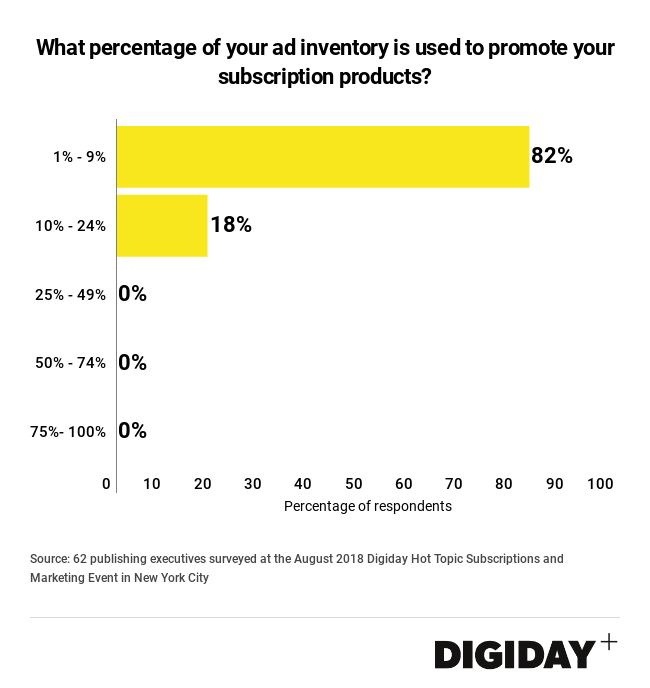 https://digiday.com/?p=306589