Digiday Research: 3 percent of European publishers believe Snapchat offers the best revenue returns
Digiday's "Research in brief" is our newest research installment designed to give you quick, easy and digestible facts to make better decisions and win arguments around the office. They are based on Digiday's proprietary surveys of industry leaders, executives and doers. See our earlier research on the pivot to video here.
European publishers have made significant efforts to develop audiences through Snapchat's Discover platform and have had success. The Economist has a dedicated team of staffers creating custom content on Discover for over 7 million monthly viewers. Axel Springer's Bild, which launched on Snapchat in April, has 3 million monthly uniques.
It appears that those strides have been for naught, at least so far. We asked 35 of the top publishers at the Digiday Publishing Summit Europe in Berlin which platform provided the best returns. The responses were damning, if unsurprising, for Snapchat. Only 3 percent of respondents thought Snapchat provided the strongest monetization potential.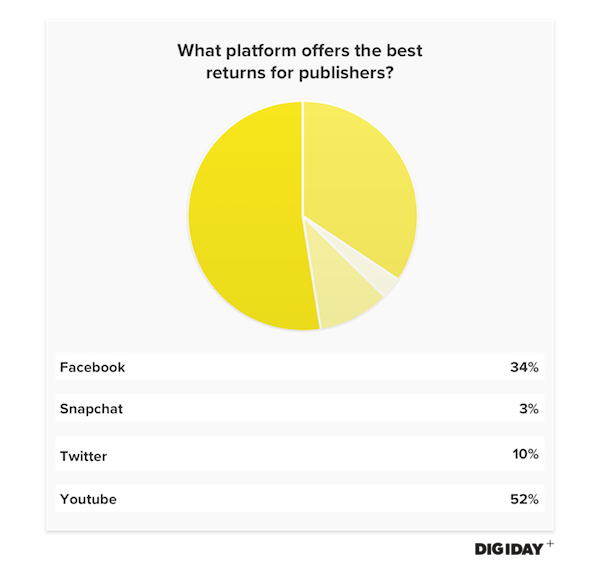 Snapchat has notably struggled to monetize its content. Initially, Snapchat was reluctant to run programmatic ads in Snapchat Discover shows. As a result, some shows featured no ads.
Unable to fill its inventory through direct deals alone, Snapchat opened up a programmatic self-serve buying platform. While 80 percent of its ads in the third quarter came from programmatic, its CPMs were down by as much as 60 percent, according to Snap's latest earnings call. Digiday reported that Snapchat CPMs were valued between $3 and $8, according to anonymous ad buyers. Although those rates are similar to Facebook's, Facebook has much more scale.
Having lost its competitive advantage in audience size and growth to Instagram, Snapchat's unsophisticated audience targeting and basic metrics reporting have turned off major advertisers.
Snapchat reportedly acquired programmatic data provider Metamarkets recently, which should help address its data deficiencies. Co-selling ads with partners such as NBCUniversal could help fill inventory within shows.
Ultimately, Snapchat is far from competing with the larger platforms on monetization. YouTube was the clear winner among respondents. As Neil Katz, svp of content at The Weather Channel, said earlier this year, "Right this afternoon, there's only one platform that pays any money, and that's YouTube."
Meanwhile, Facebook continues its frenemy relationship with publishers. Facebook launched its mid-roll ad format for publishers earlier this year, but results have underwhelmed. Elsewhere, Twitter video has gained some traction with publishers.
*This article has been updated to reflect the number of people surveyed. 
https://digiday.com/?p=262912