How Axel Springer's Bild flexes its muscles with the duopoly
November 3, 2017 • 4 min read
•
•
Publishers face no shortage of dilemmas in a platform-dominated world. Bild, Axel Springer's most-read news brand, has developed a framework based on a traffic-light system for approaching its partnerships with Google, Facebook and Snapchat.
The value of each platform is assessed by comparing its performance on five parameters with that of Bild's own properties. These include brand expression, user engagement, the ability to attract new users, relative monetization (comparing the revenue per article on platforms and Bild's own properties) and the ability to sign up subscribers. Each platform is assigned red, yellow or green — with red indicating improvement is needed and green indicating good performance — for each of the criteria. During meetings with the tech platforms, this framework keeps the focus on strategic issues and clearly and easily shows when little movement has occurred regarding the parameters.
"With Facebook, we said, 'We have five strategic areas with you, and if only three of those five lights are green, we will stop everything,'" said Carsten Schwecke, chief digital officer of Axel Springer's sales house, Media Impact. "We do this power game to get things moving. Right now, we feel things are moving."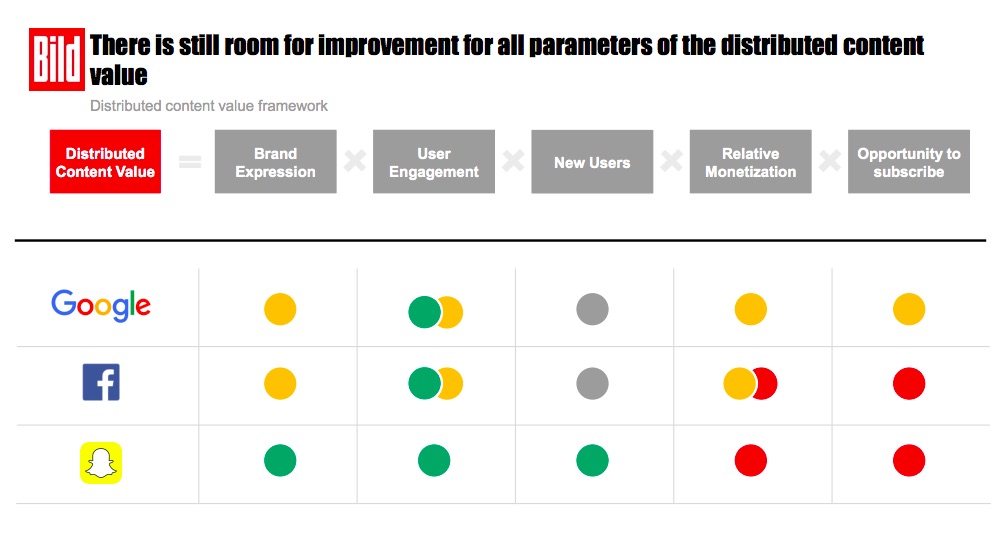 In general, publisher relationships with platforms might be improving, but Bild's framework shows there's room for growth. For Google and Facebook, organic user growth has stagnated (it will only improve if Bild pays for reach), so these lights are grayed out in Bild's framework. While Snapchat performs well on new users, engagement and brand expression, it struggles with monetization and the ability to sign up subscribers.
"We thought [the monetization on Snapchat] would start stronger: It's a great product, it's hard to attract that audience, and it's an innovative ad format," said Stefan Betzold, managing director of digital at Bild.
The publisher, which was one of four Snapchat Discover launch partners in Germany in April, claims to have 3 million monthly uniques and an average watch time of 1.7 minutes on its Discover channel. Bild's Discover channel is young, so media agencies and advertising clients might need more time to get more comfortable with Snapchat and its scant analytics.
"[Monetization] is not where we need it to be," said Betzold. "Why should a big brand sell advertising if they don't know Discover is working? More communication, sharing best practices and case studies on how the advertising works will help. We are open as long as it's a partnership."
Meanwhile, neither Facebook nor Google has reached green status for relative monetization, which includes how the platforms handle data. Bild evaluates its access to data in two categories: access to targeting data so it can better understand user behavior and access to tracking data so Bild and third-party measurement companies can understand reach.
Schwecke said "there is no technical reason" why Facebook can't transfer relevant consumer data to Bild's data management platform, but there is still no easy way to connect the two.
Although Facebook has provided more analytics and ad formats for publishers using Instant Articles. For YouTube and Snapchat, publishers rely on the platform's data for reach, making it difficult to see how the platform's audience overlaps with the publisher's direct audience.
No platform is in the green for subscriptions, although Google and Facebook have shown improvement, which publishers see as being a big change in mindset for these two companies.
Betzold stressed that publishers need to spend money and time testing on the platforms to improve the ecosystem, rather than simply complain about the dominance of the platforms. For Facebook Instant Articles, Bild has been testing a number of different call-to-action units that lead users to install apps or sign up for a two week-free trial to its subscription product, Bild Plus.
Collectively acting while adhering to antitrust laws also gives publishers more might. Axel Springer is in talks with the Guardian and Schibsted, among others, about how to flush out ad fraud, clean up the programmatic supply chain and gain more control over their ad tech stacks.
"[Platforms] are coming under more pressure," said Schwecke. "There's a momentum in the market that we can use."
https://digiday.com/?p=261751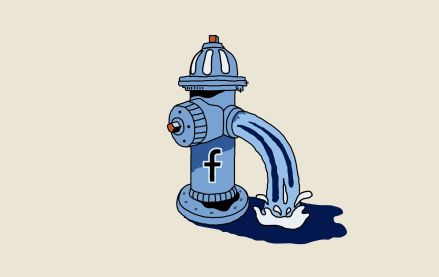 October 4, 2023 • 5 min read
•
•
Publishers are still feeling the effects of a change Facebook made in May that caused a steep decline in referral traffic. Nearly four months later, publishers aren't sure when — or if — that traffic will come back.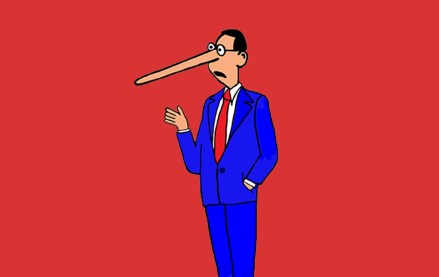 October 3, 2023 • 7 min read
•
•
A new definition for MFAs is available but the vague nature of the guidelines is leading to a lack of standards that might prevent adoption.
October 2, 2023 • 1 min read
•
•
The publishers who attended DPS were focused on the potential upsides of applying the technology to their operations while guarding against the downsides.