BuzzFeed News quietly tests a membership program
August 27, 2018 • 2 min read
• By
Digiday
BuzzFeed News is working with Google to pilot a membership model that will ask readers to contribute to the news outlet. Similar to The Guardian, which has had success soliciting donations from readers, BuzzFeed News is adding messaging to pages that solicits small donations of $5-$100, as seen below. The initial benefits will be updates on big investigations and new video programming. (There's no member-only content for now; if the program is successful, BuzzFeed News hopes to add perks that will come on top of its news content, that will remain free.)
BuzzFeed News, like The Guardian, has staunchly adhered to the idea of being part of the free and open web. But like many news organizations, it's eager to capitalize on people's growing willingness to pay for quality news, as seen by the growth of digital subscriptions and memberships to The New York Times, The Washington Post, The Atlantic and others.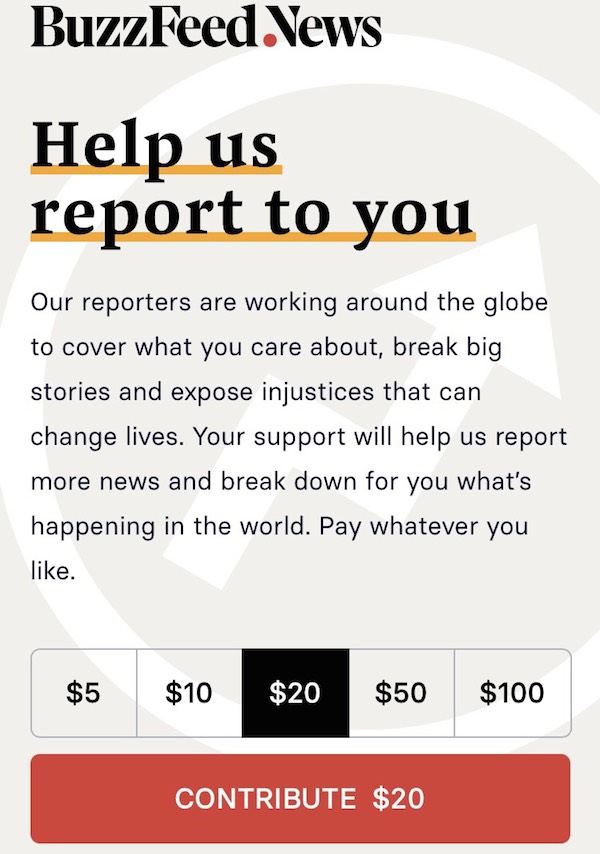 "A partial paywall could make sense," BuzzFeed CEO Jonah Peretti said in a recent Q&A with Digiday. "But it's also important we educate and inform the broad public. If every news organization puts the majority of their content behind paywalls, it's hard to have an informed electorate."
BuzzFeed News said it's working on its membership program as part of the Google News Initiative, a broad suite of programs the tech giant announced earlier this year and that initially started in March with letting people subscribe on Google to paywalled publishers with a two-click process. Google helped BuzzFeed with tech and market research; it's unclear if Google is planning to expand its subscription program to accommodate publishers that have reader donation or membership programs. A Google rep confirmed the company is working with Buzzfeed to help it explore different business approaches and understand how its readers would react to this kind of model.
The membership program is among a number of strategies that parent BuzzFeed is pursuing to diversify its revenue streams after missing its business targets last year. Peretti has said he expects one third of BuzzFeed's revenue this year to come from non-advertising sources such as TV and film production as well as merchandising, licensing and commerce. As for news, BuzzFeed News rolled out a dedicated site in July that's fueled solely by programmatic advertising, but with many marketers gun-shy about advertising on news sites because news is often controversial, it would be hard for the site to support itself on programmatic ads alone.