Our regular ICYMI correspondent, executive editor Brian Braiker, drew the hardship assignment of hosting our Digiday Publishing Summit Europe in the seaside Portuguese town of Estoril. I'm filling in with the week's best stories — on our newly designed site.
Facebook's publisher charm offensive
Facebook is trying to serve many constituencies, including media. But as Jessica Lessin, CEO of The Information, once said on the Digiday Podcast, "What the media gets wrong about Facebook is that Facebook cares about the media." Ouch. Needless to say, with the swirl of fake news, the specter of duopoly and Facebook's constantly shifting priorities, there's plenty of distrust in media. No wonder Facebook's on a charm offensive.
Sahil Patel spoke to a slew of publishing execs who attended a recent off-the-record briefing at Facebook's New York City offices. The upshot from Facebook: Yes, video is still very important and yes, Facebook knows it needs to help publishers monetize better on the platform, such as new mid-roll video ads. There's some work to be done with beleaguered publishers.
"I'm skeptical about how much revenue this will bring in," said one attendee, referring to the Facebook Live monetization plans. "But I suppose it's better than nothing."
Why Disney's $675 million Maker deal didn't pan out
Traditional media companies know very well they need to have a foot firmly in the digital world. Some are spinning up new operations, some are buying and some are simply investing in digital media. Some all three. For Disney, it's $675 million deal to buy YouTube network Maker Studios three years was a big bet on figuring out the future of digital video. Needless to say, it hasn't panned out.
Sahil has an in-depth look at the struggles, how management drift combined with cultural mismatches and the bubble for YouTube networks to doom the partnership. In the words of a former Maker exec:
"I was excited to be there — I thought it was going to be the next big thing," the exec said. "But when you started to poke around, it was obvious there wasn't much there."
The New York Times targets headlines to devices
After being a digital laggard, The New York Times is making up for lost time. It has tumbled headlong into a digital transformation that's admittedly handicapped by an eroding traditional print business.
One small recent experiment: Targeting different headlines based on the device of the reader. It took 10 months of A/B testing to pull this off!
The headline trick helped drive 26 percent more clicks. But for the Times to pull off its digital transition, it will need a lot more conversions into subscriptions.
Publishing mind map interlude
We asked 150 top European publishers what was on their minds, then we categorized these concerns into an overall mind map of the Digiday Publishing Summit Europe. One wag summed up the overall mood as "fear and loathing in Lisboa."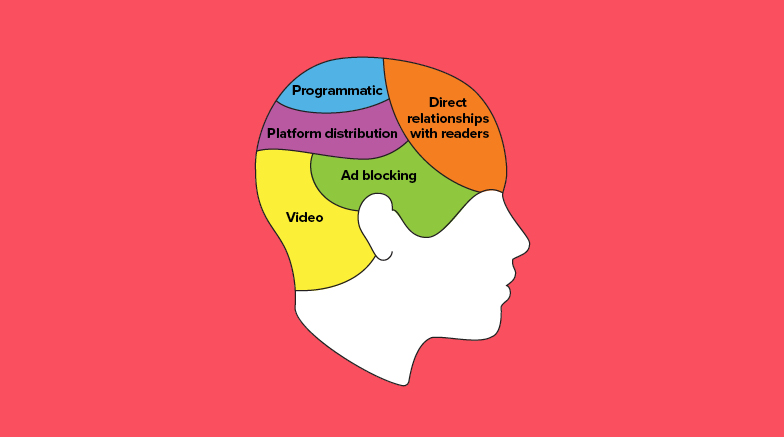 Blacklists are back in style
The best tool for advertisers looking to avoid bad ad placements has long been the site blacklists. Many more advertisers, alarmed by the current political climate, are asking their media buyers to blacklist the far right news site Breitbart.
The question ends up being how these blacklists are put together. While much focus is on how liberal the media tend to be, one could argue big ad agencies are even more so. It's no coincidence that popular blacklists tend to penalize many conservative sites.
Uber's Trump-like brand
Uber has become ubiquitous in a short period of time. And it's done so with a pugnacious, hard-charging culture that's now coming under a lot of scrutiny. Uber's ties to Trump, the recent reports of a misogynistic culture have caused #deleteuber to be a common sentiment.
Tanya Dua takes a look at how Uber became the Donald Trump of brands and whether it can weather the drumbeat of negativity.
Key quote from Chris Allieri, founder and principal of PR consultancy Mulberry & Astor: "It's getting harder and harder to love Uber for anyone with a conscience. It's not sheer bad luck; it's a series of missteps."
https://digiday.com/?p=224887