'We've all been spending a lot of time alone from the pandemic': Why Merrell is addressing mental health in its marketing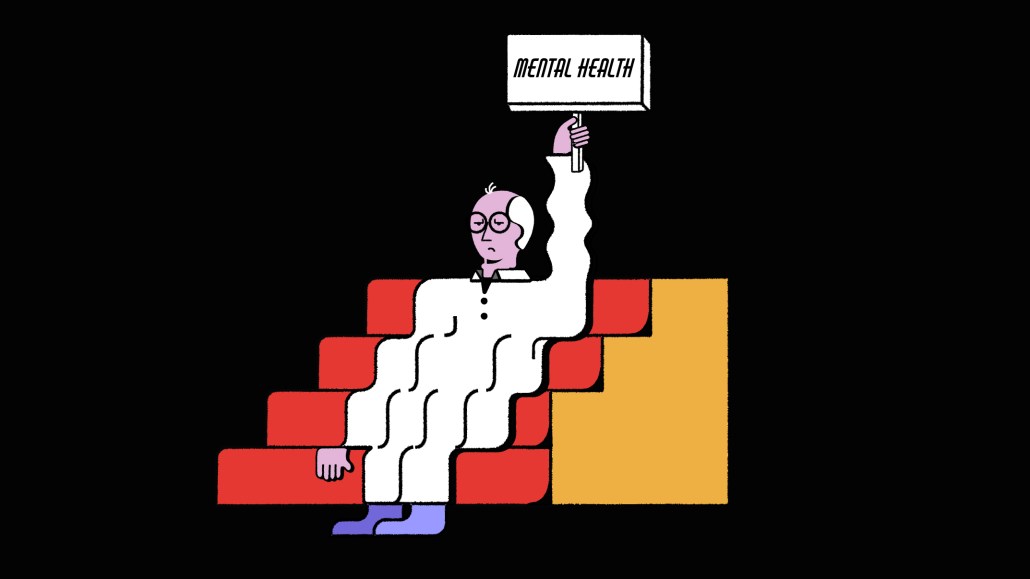 Ivy Liu
In recent years, brands and agencies have worked to address employee stress and burnout by offering more paid time off, subscriptions to services like Headspace or Calm and direct conversations with employees about mental health.
Now some brands are also directly addressing mental health in marketing initiatives, encouraging customers to seek out help or take time for themselves to address their mental health needs.
Footwear brand Merrell is one of the brands to do so. The company's latest marketing initiative, "Walk & Talk" by Havas, aims to address the loneliness people may feel due to the pandemic and encourages consumers to get outside, go for walks and, should they need it, call a hotline where one of the company's outdoor reps are ready to assist callers in any way they might need, including guided meditation, outdoor motivation, or even simple humor.
"Right now, we're in a time where loneliness [is prominent,]" said Jenny Bernsteen, brand equity marketing manager at Merrell. "We've all been spending a lot of time alone from the pandemic. The hotline is encouraging individuals to get outside. It's also introducing them to our brand."
Merrell isn't alone in addressing mental health in advertising and marketing efforts recently, a group that also includes brands like Revlon and Jansport. Since creating the hotline in early June, Merrell has taken over 100 phone calls from consumers; the brand has 9 reps on the hotline at all times on standby to take calls for the hotline.
As part of its efforts to support employees' mental health, Merrell commissioned Pollfish to conduct a survey of 1,000 Americans ages 18 to 44 for their thoughts on the outdoors. The study revealed that 62% of respondents preferred to walk in nature as their favorite form of exercise. "We found that one in ten of people that were taking walks were unaware of the mental and physical benefits," said Bernseen. "Combining going on a walk with talking to someone is a superb means of keeping your brain healthy in the short term as well as in the long run."
It's unclear how much Merrell has spent on the specific initiative as the company did not immediately respond to a request for comment. However, as previously reported by Digiday, Merrell plans to increase video advertising spend this year to better reach its target audience and boost brand awareness. And Merrell used Instagram as its primary social media platform for ad spending, where its target audience engaged most with this campaign.
Addressing mental health with marketing hasn't been the norm and can be a tricky balance for brands. "Mental health is a 'brand' of health that hasn't had much investment, so it's good to see companies addressing it," said Mat Zucker, senior partner, co-head of marketing and sales at strategic consultancy agency Prophet. "But to have an impact, brands need to make sure their discussions about mental health are connected to their own value proposition and story or aligned with a credible organization in the space."
Bernseen believes addressing mental health will likely become a hotter topic for marketers due to the pandemic. "I don't see it going away. And I do see the conversation continuing across brands and across industries over the next several years."
Aside from the hotline to encourage consumers to get outside and connect with people, Merrell has recently opened a new office that allows employees to work both indoors and outdoors.
"It really allows us to live the brand," said Bernseen. "We have hiking trails on site. Merrell has done a lot to encourage our employees to focus on mental health and allow us easy ways to do that in the office."
Bernsteen continued: "And because of the pandemic, we've also taken a really flexible approach to what the office environment looks like. We're really using it as a tool for collaboration, but allowing people the flexibility to take care of their families, take care of their mental health, and do what's best for them from a work perspective."
https://digiday.com/?p=450592