Why TJ Maxx is focusing its growth plans on physical stores
August 22, 2018 • 3 min read
• By
Digiday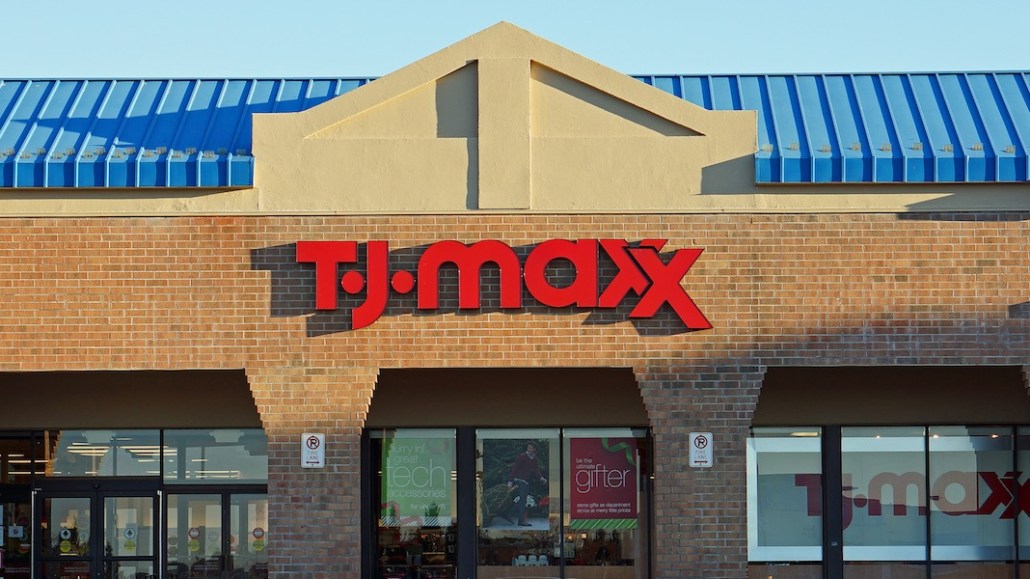 TJ Maxx is setting itself apart from competitors by emphasizing physical stores over online marketplaces. The company attributes recent sales growth to the draw of in-store bargain shopping, something difficult to replicate online.
"We have great confidence in the enduring appeal of our treasure-hunt shopping experience," said CEO Ernie Herrman, in a call with investors on Aug. 21. "With the vast majority of overall retail sales occurring in brick-and-mortar locations and online retailers of all sizes starting to open physical stores, we're convinced that our four decades of experience operating stores and responding to consumer trends is a tremendous advantage."
TJ Maxx is focusing on experiential retail at the physical location — emblematic of trends that suggest customers are increasingly valuing experiences over things. And it's not alone. As e-commerce gains ground, large retailers are promoting the in-store experience to differentiate. For example, Home Depot has in-store experts who can offer advice on home improvement projects; The Container Store is testing in-store appointments with organizational experts; and IKEA's "destination store" model promotes store visits as fun family outings. At TJ Maxx stores, the company said more millennials were visiting physical locations in recent months, with the majority of new customers to TJ Maxx and Marshalls being 18 to 34.
The company reported same-store sales growth of 6 percent year over year — well above analyst estimates of 2.2 percent, compared to 3 percent year-over-year same-store sales growth the previous quarter. By focusing on the breadth of discounted brand merchandise available on site, TJ Maxx adds an element of discoverability.
"Off price wins because they don't sell online; it's 'come in and get your hands dirty and you'll find things,'" said Nomura retail analyst Simeon Siegel. "Amazon is on the other end of the spectrum — you know what you're looking for."
Despite the emphasis on physical retail, the company is slowly growing its online and e-commerce presence, a way to reassure investors that it's going to evolve its model as customer behavior changes. But for now, its digital presence still largely directs people to stores. TJ Maxx's digital marketing on Instagram, for example, features physical bargain-shopping moments. For the past year, it's rolled out an Instagram stories campaign called the#Maxx50challenge where influencers take a $50 challenge to find bargains in-store. For U.K. shoppers, it's rolled out "Click and Collect," where customers can buy items online and pick them up in the stores — a feature still not available in the U.S.
Bill Duffy, associate director at Gartner L2, said TJ Maxx still has a long way to go in digital e-commerce customer experience, particularly regarding omnichannel capabilities.
"Where TJ Maxx is falling flat on digital is on search navigation, and finding products on their pages; the tools to help customers find products on the site are still bare bones," he said. "Their app was launched last year, but it's a hindrance to their performance due to low ratings from customers."
According to Nomura, e-commerce currently represents approximately 1 percent of sales across the company's brands, but it's slowly building those capabilities. For example, it works with Like2Buy to let customers purchase items on TJ Maxx's Instagram page.
Get more from Digiday around the modernization of retail and e-commerce. Subscribe to our weekly retail briefing.
https://digiday.com/?p=299925