The Container Store is using tech to help people organize their homes
July 31, 2018 • 3 min read
• By
Digiday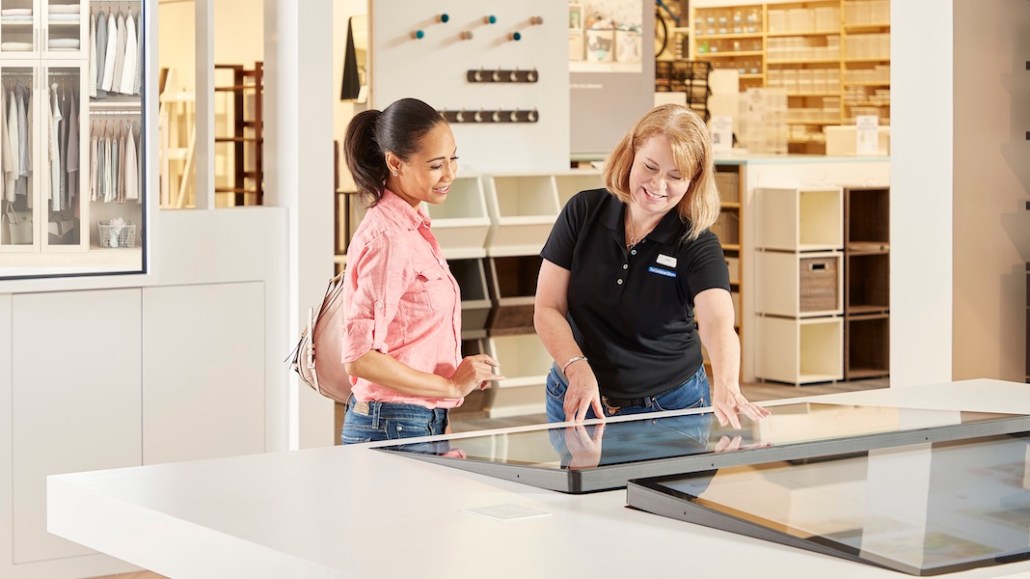 The Container Store is testing technology that helps customers visualize how to reorganize their living spaces.
The concept, which it's calling an Organization Studio, rolled out as an employee beta at the company's Next Generation Store in Dallas on Monday. The Studio will be available to customers in the Dallas area in mid-August for free. The Dallas flagship store location, which opened in late June, lets customers use digital tools to learn more about products and think about how they will look in their homes.
Like other big-box retailers, The Container Store is using digital tools on top of human interaction to differentiate against online-only upstarts like Amazon. Lowe's, Home Depot and Walmart are using VR and AR to complement specialized advice from in-store associates. For now, The Container Store is using a website where customers can upload photos and videos of the room they would like to reorganize. Customers can add details like room dimensions and project objectives to help store associates develop a visual prototype called a solution board that's discussed during an appointment at the store. Staff members use proprietary software developed by MJD Interactive that links to the company's inventory, so store reps can suggest products that are readily available and the customer has a clear idea of the price.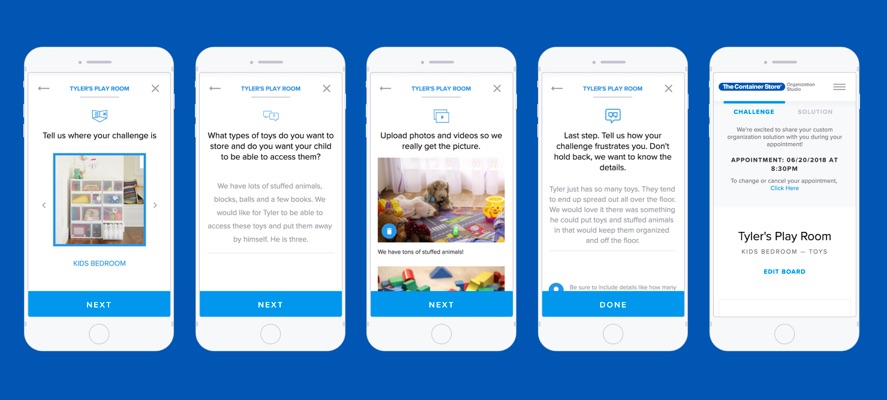 Val Richardson, vp of real estate at The Container Store, said the thinking behind the concept is to use technology to help  customers think about store visits as problem-solving exercises rather than one-off trips to buy products off the shelf.
"It's like the Genius Bar and Pinterest put together," Richardson said. "A reveal happens on a 55-inch touch screen; they then interact with the organizational expert so they can decide what's appropriate."
Customers can make changes to the prototype during the consultation. The solution board is a sketch of how a reconfigured room would look like. The company doesn't rule out adding features like AR or VR in the future, but right now it's focusing on getting the experience right and getting customer feedback from the pilot.
"We're not chasing every single shiny object," Richardson said.
The company has no set timeframe to scale the Organization Studio across its more than 90 stores across the U.S.; it's focusing on learning from the trial, and measuring the return on investment both in terms of customer receptiveness and conversion rates.
The Container Store has long positioned itself beyond just a place to buy products; for the past three years, it's offered customers in-home consulting services. The Organization Studio brings much of that experience into an in-store consultation, which may be less intimidating for some customers.
"With a big organization project, [customers] can feel inundated; hiring someone to come to their home is a big first step," said Danny Essner, svp of marketing at e-commerce platform NuORDER. "If a customer comes into the store to do that, there's a lower first commitment on their part, and eases them into the project."
While online-only retailers may compete on price, and some customers may still turn to them even after 'trying on' products in a physical store, in-store expertise can help legacy retailers build loyalty, which is a longer-term customer acquisition strategy.
"The opportunity for retailers to compete is to use their advantage, which in this case is a beautifully-designed store with an enhanced customer experience — it's going to endear the customer to the brand," said Joe Camacho, chief marketing officer of data analytics company Sabio Mobile.
For more retail coverage from Digiday, including exclusive analysis, research and interviews, subscribe to our weekly retail briefing email. 
https://digiday.com/?p=297164