The case for and against micro-influencers
July 17, 2023 • 5 min read
•
•
Ivy Liu
When influencer marketing was in its infancy, around the early days of the 2010s, celebrities like Kim Kardashian and YouTubers like David Dobrik were the go-to influencers for advertisers looking to capitalize on their surplus of followers.
But at some point, consumer trust, and thus, audience engagement, started to wane, giving way to the rise of micro-influencers, or those with between 10,000 to 100,000 followers on social media. 
The TikTok-ification of social media has caused somewhat of a growth spurt in the already surging influencer marketing stratosphere, with the algorithm giving creators of all sizes the chance to go viral and land a brand deal. And now, more than half of marketers who invest in influencer marketing are reportedly working with micro-influencers, according to customer relationship management platform HubSpot.
Traditionally, influencers have an engagement rate between 1 and 3%, said Devin Peyton, senior strategist at 19th and Park creative agency. Anything over 3% would be considered above average, she added. For micro-influencers, that figure starts at 5% and above.
"These types of influencers actually hold a lot more power than some of them realize and brands are now starting to really understand that," Peyton said.
Here is the cases for and against micro-influencers:
The case for micro-influencers:
As early as 2016, there was such a thing as being too popular. As advertisers handed out wads of cash to those with large followings, audience engagement was tapering, according to previous Digiday reporting. Enter micro-influencers, which seemed to be the sweet spot for advertisers looking to capitalize on peer-to-peer, word-of-mouth style marketing.
From a numbers perspective, micro-influencers with less than 100,000 followers generate up to 60% more engagement than those with larger followings, per HubSpot. In fact, 56% of marketers who invest in influencer marketing work with micro-influencers.
It's because smaller influencers are said to be more authentic than big influencers, even better suited to reach niche communities, said Krishna Subramanian, co-founder and CEO of Captiv8 influencer agency.
"With nano-influencers [and micro-influencers], it's been shown that due to the close connectedness between the creator and their community they can often tend to have a higher engagement which is a factor to consider," he said in an email.
For an advertiser with a tight budget, micro-influencers are a big get considering the average pay rate for U.S. micro-influencers hovers around $1,000, whether that be on Instagram or TikTok. In comparison, a macro influencer with between 500,000 to a million followers could run an advertiser $4,000 on TikTok and $10,000 on Instagram, per Insider Intelligence.
Theoretically, an advertiser could stretch their ad dollars further with micro-influencers as they're able to spend dollars amongst several influencers as opposed to putting all their eggs in one basket with one big name celebrity, running the risk of public backlash for said influencer or celebrity (i.e. Dylan Mulvaney and Bud Light this year or Kendall Jenner and Pepsi circa 2017). At the same time, brands risk public backlash in working with smaller creators if the partnership is inauthentic, as was proved with Shein's influencer marketing mishap.
Amplifying smaller creators with media, like traditional social media campaigns, web and banner ads can also stretch a dollar, said Maggie Malek, North American president at Crispin Porter and Bogusky ad agency.
"If you amplify those micro-influencers, you can get the reach," she said. "We see that they drive clicks. We see that they drive sales. And then you can amplify that content to get it in front of more eyeballs."
The case against micro-influencers:
That's not to say that micro-influencers are the end all, be all of influencer marketing. In fact, more influencers networks and agencies say they're diversifying their clients' influencer mix to include both big and small influencers so as to not become too reliant on one or the other.
"Two or three years ago, it was always go big or go home, go for the celebrity. In the past couple months at 19th, it's been mixed," said Peyton, adding that much of the argument for micro vs macro influencers depends on client budget and goals.
In a landscape full of economic headwinds and talk of recession, performance metrics, measurement and efficiency have become increasingly important. Working with several micro-influencers, opposed to a single macro-influencer or celebrity, means tracking spend and performance across several different accounts as opposed to a single account, making tracking metrics more difficult, said David Song, founder and CEO of Rosie Labs ad agency.
"It's like, to give more money to one person versus lots of money to lots of people," he said. "It just gets too spread out." Meaning, working with many micro-influencers to achieve the scale of one or a handful of macro influencers could mean a less seamless data reporting experience.
It's also more time consuming to identify, negotiate, brief and contract a handful of influencers as opposed to working with a single larger influencer. That said, working with a big name influencer or celebrity could potentially cut down on the administrative work, said Ed East, founder and global CEO at Billion Dollar Boy influencer marketing agency.
"The economy of scale you get with one deal with one macro creator will be greater than the economy of scale you'll get with working with 10 to 20 smaller creators," he said.
In conclusion:
As the influencer marketing space continues to grow and mature, advertisers are ultimately learning there's no one-size-fits all, surefire approach to working with influencers.
Influencer marketing as a siloed strategy, as opposed to being part of a greater campaign effort layered with display ads, connected television or a greater social media strategy, runs advertisers the risk of putting all eggs in one basket, said Alex Friedman, president at Ruckus Marketing.
"In order to actually have an influencer make an impact and make a difference, you still need to follow the basic rules of advertising," he said. "You need to have the right audience. You need to have the right sponsor, an influencer really is a sponsor, and you have to have the right product, marketing effort, packaged around effort."
https://digiday.com/?p=510967
December 8, 2023 • 3 min read
For Atlas Creative, expanding into Roblox is not solely a play to scale up. The company believes there are concrete benefits that will come with having a hand in multiple metaverse platforms.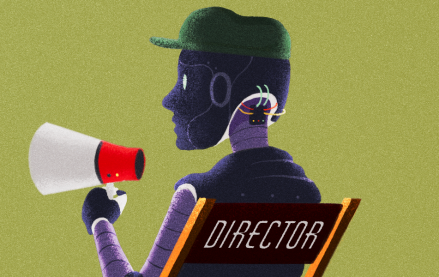 December 8, 2023 • 5 min read
Since ChatGPT became a breakout hit, the names of numerous AI companies and products have entered the cultural vernacular.
December 8, 2023 • 4 min read
Even as linear TV ad spend declines, 23andMe is reinvesting in the channel to boost brand awareness.