Marketing Briefing: As vaccine rollout picks up steam, marketers are beginning conversations about in-person events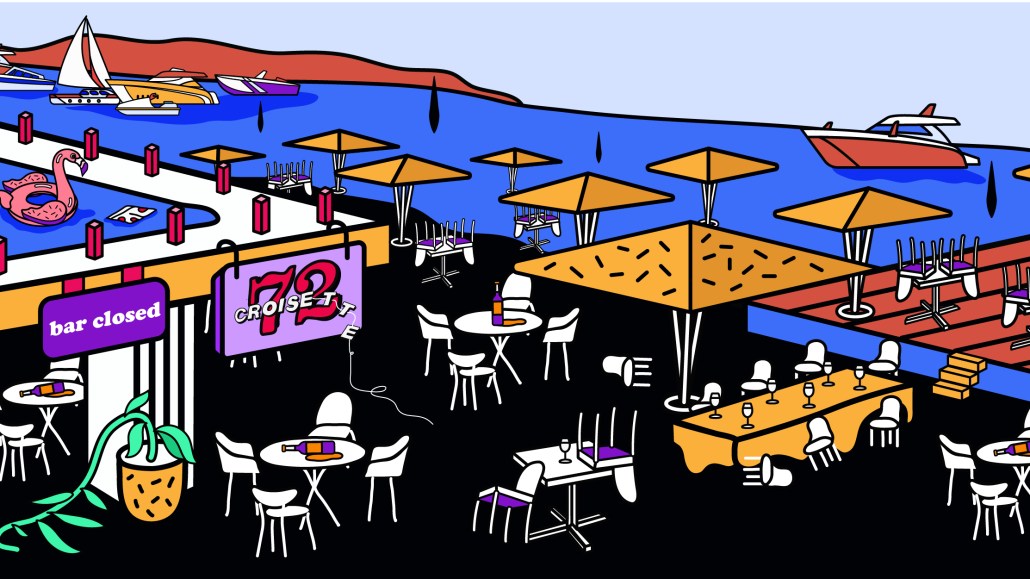 Ivy Liu
This time last year, the last of the in-person events for the ad industry were taking place prior to the onset of the coronavirus pandemic in early March. Now, nearly a year into the crisis, marketers, agency execs and industry observers say they are still uncertain when those in-person events will return.
While some believe the second half of the year could see a resurgence of small gatherings once most people are vaccinated — Dr. Anthony Fauci said last week that vaccines should be widely available to all by April in the United States — others believe travel and entertainment budgets won't return in 2021. Until then much of networking will remain virtual via industry events as well as on apps like Clubhouse or on Twitter's Clubhouse-like feature Spaces.
For some, the efficiency of being able to work remotely without traveling to the usual industry boondoggles has made them less likely to return to those events even after it's safe.
"Companies are more focused on what employee models will look like — back to the office or hybrid — [as well as] revenue stabilization, etc.," said Mack McKelvey, founder and CEO of SalientMG. "This year showed CEOs/CFOs what revenue/expenses look like with little to no travel/sponsorships, etc. and boards love the returns they are seeing."
That being said, some marketers and agency execs are aiming to figure out exactly when in-person events will make a resurgence. Gaming it out ahead of time is necessary, according to on agency exec, as brands don't want to be "too late" to invest once in-person gatherings do return.
Even as brands and agencies look to a crystal ball to figure it out the exec lamented feeling in limbo when it comes to trying to do so: "Nobody knows. Nobody wants to be late. Nobody wants to be early. It's insane."
Noah Mallin, chief of brand strategy for IMGN echoed that conversations about a return to in-person events are beginning to taking place as the vaccine rollout gets underway. The assumption for some is that the earliest in-person events would take place is this fall. That being said, the real question is not when events will return, but rather will people want to attend when they do. "No one really knows what actual demand will be like," said Mallin.
Others say they aren't worried about in-person events this year as they expect a return to regular business travel patterns to come in 2022 or 2023. Instead, there's more onus on teams to build virtual communities. "Community is virtual which is why Clubhouse and Spaces are so important," noted McKelvey.
Figuring out how to breakthrough and foster that community online in a healthy way that avoids burnout is key, said agency execs and industry analysts (The ability to work remotely and have meetings via Zoom quickly led to major screen fatigue). For brands and agencies focused on building online communities rather than the possible return of in-person events, finding ways to make those communities dynamic, engaging and useful is essential.
3 Questions with Chipotle CMO Chris Brandt
What is the biggest challenge you're facing as a CMO today? And how do you plan on tackling that challenge?
Measurement of ad effectiveness across channels is the biggest challenge. Having accurate information and attribution towards sales, in addition to cross channel consumer identification, is a formidable challenge that makes estimating the return on ad spend difficult and an inexact science
What's top of mind for you as a CMO right now?
Being flexible in media spend given Covid unpredictability and gaining consumer awareness of our brand values, which are more important than ever to the consumer.
As a CMO, how do you think marketers should be approaching a post-cookie world?
Collect as much first party data as you can (such as via a loyalty program) and be flexible in spending so you can pivot to the channels that are able to most successfully generate effective ROI when we enter a cookie-less world. — Kimeko McCoy
By the numbers
Going into nearly a year of coronavirus-induced lockdown, consumers are increasingly glued to their screens. The cultural shift is one marketers are taking note of, with brands like Guinness and Babe Wine investing ad dollars in e-commerce apps like Drizly. Even as marketers are diversifying and eyeing e-commerce apps, social media advertising is still king, according to new data from social ad automation platform Smartly.io. Find the breakdown here:
Most retail organizations will increase social advertising spend on Facebook (76%), nearly half (44%) will increase spend on Twitter and over one-third (38%) will increase spend on Instagram in 2021.
36% of companies spend more on Facebook than other platforms; however, Instagram yields the best ROAS among the platforms for 42% of companies.
90% of the retailers surveyed this year said they buy ads on Instagram, compared to 56% last year. — Kimeko McCoy
What we've covered