Why brands like Nascar are taking alternative approaches when working with college athletes
November 1, 2023 • 6 min read
•
•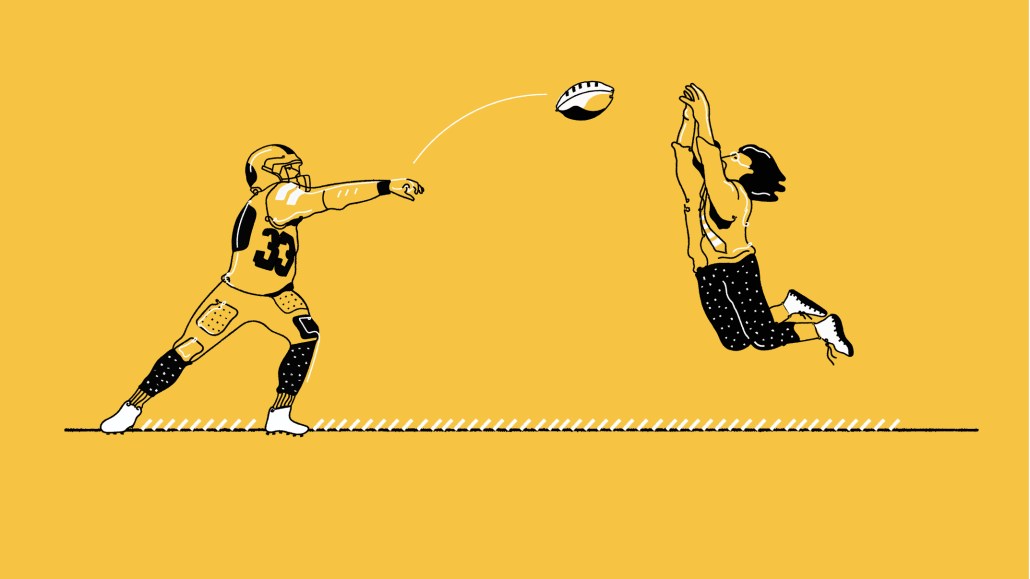 Ivy Liu
This article is also available
in Spanish
. Please use the toggle above the headline to switch languages. Visit
digiday.com/es
to read more content in Spanish.
Marketers and advertisers are increasingly concentrating their efforts on college athletes following the name, image and likeness (NIL) policy change in 2021. The strategies — which vary by brand, but often have them appear in digital ads — are often a way to get in front Gen Z and sports fans.
As the tried and true playbook for NIL marketing is still being written, some brands are aiming to stand out by taking an out-of-the-box approach. In contrast to conventional approaches, brands such as Nascar and Death Wish Coffee are elevating their creative strategies within the NIL space.
Nascar is leveraging NIL talent to drive ticket sales to its major races. Nascar initially took a wait-and-see approach, watching what other brands were doing with NIL talent before jumping in, noted Patrick Morris, managing director of Nascar's brand, creative, and media development. Grayson McCall, a quarterback at Coastal Carolina Chanticleers, was first tapped by Nascar last year to test the water for NIL initiatives as it leveraged him to boost ticket sales at Darlington Raceway.
"We used trusted voices to promote some of our marquee races as opposed to the kind of broader awareness plays that we might do with traditional media outlets, like TV and radio," Morris said. "We felt like with the NIL space, we were able to not only pick and choose different events to promote, but also utilize different athletes that made sense from a strategic standpoint."
This continued into this year when Nascar tapped Olivia Dunn, a gymnast at Louisiana State University, to not only drive ticket sales on her own social media accounts, but connect with the drivers, engage with Nascar's audience in-person at a race and take part in activities at the activations. It is unclear on how many ticket sales this resulted in. That said, Nascar received direct messages and comments about tickets and discounts for upcoming races as a result of leveraging NIL talent.
Morris emphasized that Nascar's approach to NIL talent extends beyond the conventional choice of star football quarterbacks with substantial followings. The focus has expanded to include not just big schools but smaller institutions and other sports, with an eye on Olympic athletes and a balance between male and female talent. As today's audience on social media platforms are also younger and crave authenticity, Nascar aims to attract a broader and more diverse fanbase by embracing a range of talents as it plans to bring this strategy into 2024.
"The strategy is not only utilizing their name, image and likeness to promote Nascar and whether that's in the lead up to an event and driving, whether that's ticket sales or awareness," Morris said. "I think about getting these future athletes, whether that's professional sports or in the influencer space, to become Nascar fans, exposing them to it and their followers."
A major focus since last year for Nascar was college athletics, forming direct partnerships with the university of Alabama and the University of South Carolina. Sports sponsorships include football, baseball and men's and women's basketball, and promotional activities are conducted within the venues, as well as via radio broadcasts and other media. In the process of expanding its engagement with college athletes, Nascar conducted a thorough evaluation of its existing athletic partnerships to see what works for its media mix. In addition, Nascar worked with representatives of NIL talent to facilitate negotiations that resulted in current NIL deals.
"We're in the thick of things from our planning standpoint and I think the opportunity that we see with our college deals is through branded content," Morris said. "I think the ways that we can merge an opportunity to have a student athlete in an advertisement and whether that's them consuming the product of Nascar being there or talking about it, I think allows us to sell the experience in a different way than just your traditional advertisement that shows the racing and what it's like to be at the race."
Death Wish Coffee is entering the NIL space for the first time by sponsoring three football players from Ohio State, Michigan and Penn State. But the coffee company signed them up anonymously — blurring their names, image and likeness on its digital and television advertisements in a stunt to acknowledge NCAA's new rule over the amount of caffeine a college athlete can have before a game.
The campaign slogan to "grab life by the beans" worked with college athletes to poke fun at the rule, which limits the caffeine an athlete can consume before a game.
Samantha Siegal, CMO of Death Wish Coffee said this alternative play is designed to attract athletes who may have reservations about public sponsorships, allowing Death Wish Coffee to build meaningful partnerships behind the scenes and contribute to the athletes' overall well-being without causing discomfort or potential consequences for the athletes themselves.
"We recognize that that might make some athletes uncomfortable and they don't want to get in trouble, so we worked with them pretty closely to make sure that they understood that we wouldn't reveal their names or their identities," Siegal said.
"It's striking and will probably land with younger consumers because of how rebellious it is," said David Denham, executive director of strategy at the design agency Latitude. "It's a creative marketing solution to a unique juggernaut between the sponsor, the athletes and a specific policy of a governing association."
Siegal said that since Death Wish Coffee's NIL talent is unable to promote social media ads on their personal channels, the brand has taken the initiative to share these ads through digital out-of-home (OOH) platforms, TikTok and Instagram using its official brand accounts. The company leveraged its network of influencers to publish the ads via their own channels, acting on behalf of the NIL talent. This approach ensures the promotion of the content while adhering to the restrictions imposed on the talent's personal accounts as they also cannot personally like, engage, or reshare the content.
"Communicating that to our athletes was really important to us because we're not trying to disrupt the system with this," she said. "We're taking something that is understandable to the rulebook, and we're having a little bit of fun with it and that's how you're going to see us behave in service of bringing our spirit to this idea of living life to the fullest."
Aside from Nascar and Death Wish Coffee, other brands like Nerf — which ran a competition earlier this year, as previously reported by Digiday — have also taken a less than traditional approach to working with college athletes.
It is unclear how much of the Death Wish Coffee or Nascar's advertising budget is allocated to these efforts as both declined to share budget specifics. According to Vivvix, with paid social from Pathmatics, Death Wish Coffee spent a little over $2.2 million on advertising so far in 2023 while Nascar spent $1.8 million on advertising in 2023.
Michael Boychuk, co-founder of the independent creative agency Little Hands of Stone, highlighted that Death Wish Coffee and Nascar's departure from conventional approaches in NIL strategy is a strategic move that harmoniously complements the brands' unique characteristics.
"When it comes to NIL, big attention means big money. If you want a [Deion] Sanders in your ad, you're going to have to pay," said Boychuk. "And if you don't have big money, you're going to have to think outside of the box. Subversively blurring faces that NIL conformist brands would normally want to keep in a closeup is a brilliant flip the script that will get attention without having to spend to get there."
This story has been updated to clarify Death Wish Coffee's campaign.
https://digiday.com/?p=523899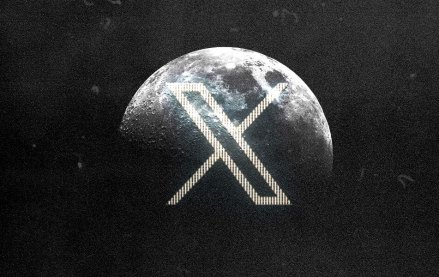 November 30, 2023 • 4 min read
In the packed DealBook conference in New York yesterday, owner Elon Musk bluntly told them to shove it.
November 30, 2023 • 2 min read
WorkTok, or CareerTok, is in full force. Combined, those hashtags on TikTok have over four billion views and it is benefiting Gen Z.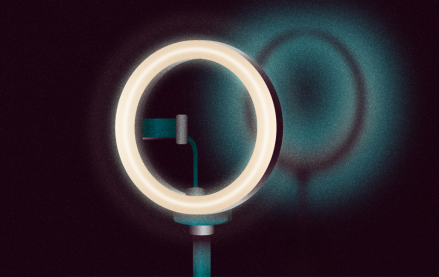 November 30, 2023 • 5 min read
In this week's Digiday+ Research Briefing, we examine how brands have been upping their TikTok investments this holiday season, how Lyft and the MSG Sphere are positioning themselves as ad opportunities beyond OOH, and how publishers are committing to building their events businesses in 2024, as seen in recent data from Digiday+ Research.