How Home Depot has remained 'Amazon-proof'
September 12, 2017 • 4 min read
• By
Yuyu Chen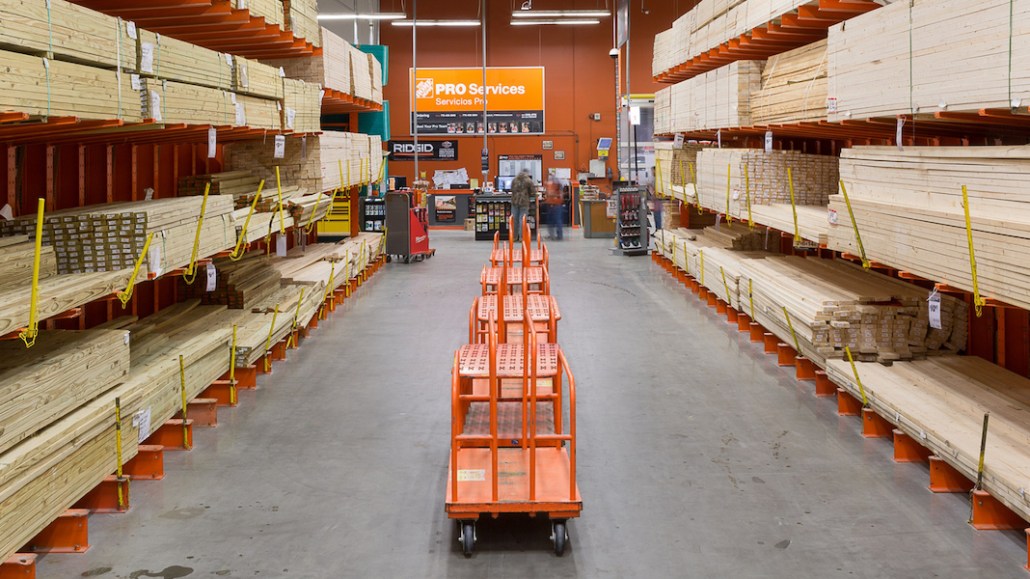 For Home Depot, Amazon doesn't seem to be as big of a threat as it is for fashion retailers and department stores. The home improvement chain's quarterly sales reached a record high this year when many retailers are closing their stores.
With more than 2,200 stores across the U.S., Canada and Mexico, Home Depot reported last month quarterly sales of around $28 billion, up 6.2 percent from the same period a year prior, and its same-store sales were up 6.3 percent from last year. This is the highest quarterly sales and net earnings in company history, according to Home Depot. Nonetheless, nervous investors knocked 3 percent off Home Depot's value out of fears the Amazon Effect could spread to all areas of retail.
Compared to other retailers, the home appliance industry is thought to be more insulated from the Amazon effect because people in general prefer physically seeing and touching big-ticket items in store, according to retail experts. But Home Depot's success can also be partly ascribed to its strong digital operations and focus on professional shoppers (service contractors, property managers and multifamily apartment owners), they said.
"Historically, Home Depot has been Amazon-proof because products like planks are hard to deliver, and they are not profitable through online shipping," said Jason Goldberg, svp of content and commerce for agency SapientRazorfish. "Home Depot is also a good digital executor. It started investing in online content like how-to tutorials and production descriptions early on, for instance. It also lets shoppers buy online and pick up materials at the store."
The urgency of home repair requires an instant solution that online ordering can't deliver, said Jim Cusson, president of retail agency Theory House. "If I want to buy a faucet, I want to hold the piece in my hand and see if it's the right size," he said, adding that Home Depot's in-store experience is intentionally geared toward professional shoppers like electricians and home builders, with work lighting, more bulk items and a broader selection of building materials, while its biggest competitor Lowe's targets average consumers.
In general, professional shoppers represent around 30-40 percent of Home Depot's sales, compared to 25-30 percent of Lowe's sales, according to Laura Kennedy, director of retail insights for Kantar Retail. In the company's earnings call in May, Craig Menear, CEO and president for Home Depot, said sales from professional shoppers outpaced those from do-it-yourself shoppers in the first quarter.
To cater to professionals, Home Depot rolled out a delivery program for them at the end of 2016 that offered delivery within a two- to four-hour window. The company also acquired Interline, a national distributor of maintenance, repair and operations (known as MRO) products, in 2015. Home Depot will allow more Interline professional customers to shop at its stores using a swipe card that is linked to their Interline account, according to Menear.
"Home Depot kicked off the MRO model, and now it is something that Lowe's is doing as well," said Kennedy.
Kennedy also believes that Home Depot is strong on mobile, a channel not many retailers understand, she said. For instance, Home Depot mapped out stores in its mobile app so users in stores can easily locate where an item is. The company also recently added augmented reality to the app so shoppers can view what doors, vanities and other large items would look like in their homes before they make a purchase.
Digital represents more than half of Home Depot's overall marketing budget right now, said Ted Decker, evp of merchandising for Home Depot, in the quarterly earnings call last month. Last week, Home Depot said it would work with Google Home to offer voice ordering for its home-improvement products.
Matt Sargent, svp of retail at retail consulting firm Magid Associates, believes some of Home Depot's success can simply be attributed to the housing recovery and the growth of first-time homebuyers. "The economy is recovering — we saw strong growth from Target, Lowe's and other retailers as well," he said.
The home appliance category may be more protected from Amazon than others, but that doesn't mean Home Depot is safe forever, according to retail executives. In July, Sears struck a deal to sell its private-label Kenmore appliances through Amazon. Sears is also launching a line of smart appliances that can be voice-controlled through Alexa.
"I don't think the deal has an immediate impact on Home Depot," said Kennedy. "But home appliance is now an interesting area to watch as Amazon gets into the space with a trusted brand."
Image courtesy of Home Depot