Here are the trends likely to have the biggest impact on social media channels in 2023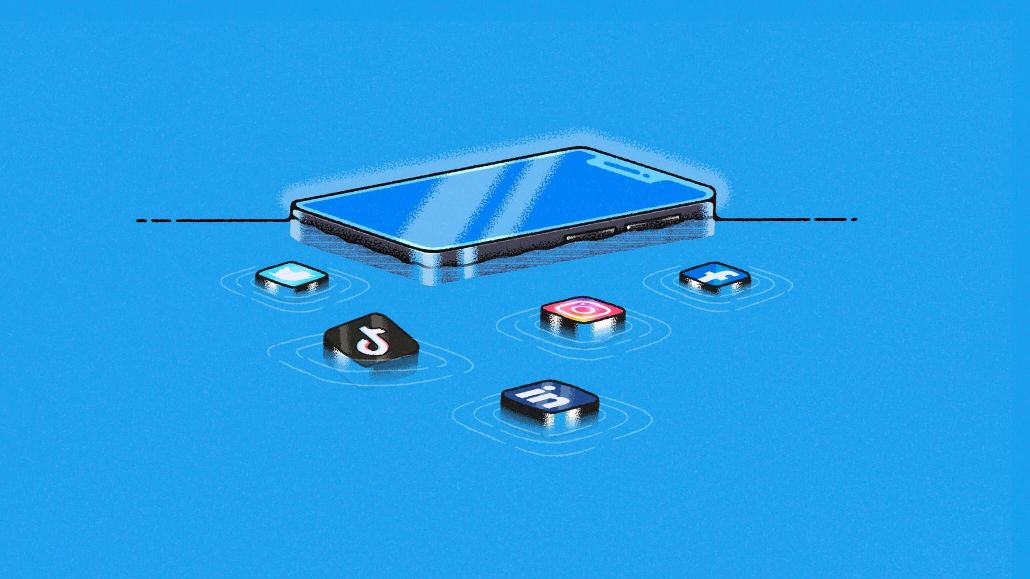 Ivy Liu
This article is also available
in Spanish
. Please use the toggle above the headline to switch languages. Visit
digiday.com/es
to read more content in Spanish.
Decentralized platforms, death of the cookie and predictive analytics are just a few of the major trends to dominate 2023 — and the social channels that are powered by them.
Consumer intelligence firm Talkwalker and customer engagement platform Khoros recently released a report predicting the top 10 social media trends for 2023, with a particular focus on how consumers are driving these changes. The firms analyzed their consumer intelligence and social media data. Other major themes include social commerce challenges and the bet on the metaverse.
"Brands and the industry still have a lot of work to do to be ready for the cookieless future," Rob Silver, evp and head of media at Razorfish, told Digiday.
Around social media, the report noted several key changes coming to platforms. While misinformation will continue to spread, Talkwalker found consumers are getting better at differentiating fake news from credible sources. This means brands and social networks can expect consumers to demand greater integrity and transparency standards next year.
That makes a move toward decentralized networks, for example, more appealing in coming years — with this technology potentially offering users greater privacy control over their data and profiles. It may also benefit content creators to earn more when profits do not go to social giants in a centralized network.
"While creators are at the core of most traditional social platforms, their presence and growth are increasingly being challenged by tough community guidelines and low-reward compensation models," said Jessica Berger, vp of innovation at Publicis Media.
Related to decentralization, the metaverse will continue to drive conversations throughout 2023. Talkwalker predicts more major players competing in the metaverse in coming months, joining the likes of Publicis, Samsung, Dentsu and Microsoft. Inevitably, certain challengers will eventually take off, while others will fizzle out — and consumers will decide which of these resonates with their real-world behaviors.
And when it comes to the future of marketing, the report points to predictive analytics as a bigger disruptor next year. While this is not a new trend, Talkwalker notes that the use of big data to predict outcomes will become more integrated in social media — in particular with social listening and other artificial intelligence capabilities.
Less than half of marketers have predictive analytics capabilities, but this may change in 2023 as they increasingly seek the ability to forecast a certain trend, topic or campaign and how it will perform in the future.
More highlights:
Next year, we will witness the beginning of the end of cookies, but the transition will not be easy. Consumer emotion analysis from Talkwalker's AI platform found that mentions of cookies ending across online signals are on the rise, with more anger detected. This points to people's increasing frustration over the privacy issue and desire for "drastic change, and fast," the report said. Silver at Razorfish added: "While there are emerging solutions that brands are exploring and we are seeing large shifts to closed loop ecosystems like retail media networks, few brands are moving fast enough towards durable first-party data solutions and are still stuck with heavy reliance on third-party cookies for targeting and measurement."
More multi-sensory experiences are coming to social media. We may see more content types and formats for the different senses on social platforms — that could be anything from audio experiences to fully-immersive environments. Brands will look for more innovation in new formats to connect with consumers.
Social commerce will experience ups and downs. Social shopping is still an iffy proposition, at least in the U.S. China, by comparison, sees more social media users making purchases and is expected to see social commerce account for 14.3% of all e-commerce in 2023, according to the report. With the cost of living rising, consumers will be seeking new shopping channels to make things more affordable. David Low, CMO of Talkwalker, added, "The U.S. lags far behind at just 4.9% [in social commerce], but we expect that over time social commerce growth will eventually trend upwards."
Sustainability and the environment will become a bigger focus for consumers. In 2023, brands that lead with sustainability efforts will perform better, with others that are greenwashing experiencing considerably more backlash, the report noted. Environmental keywords used by consumers and brands are increasingly overlapping, according to Talkwalker Consumer Intelligence. This could drive both sides to take action on environmental issues when they make purchasing decisions. "Consumers want to do their part but are also easily dissuaded if the experience is not as flawless as fast fashion acquisition," said Amy Lanzi, COO of Publicis Commerce.
https://digiday.com/?p=476114