Cheatsheet: Facebook now has 7m advertisers
January 30, 2019 • 3 min read
•
•
So much for privacy scandals dampening growth at Facebook.
Facebook exceeded Wall Street expectations with $16.9 billion in quarterly revenue and $6.9 billion in profit for the fourth-quarter of 2018. An especially impressive feat: Facebook is making an average of $34.86 per user in the U.S. and Canada, up 30.3 percent year over year. Its average revenue per user was up significantly in every region, the company said.
Despite a torrent of criticism over privacy scandals, Facebook's core constituencies never left: users and advertisers. Facebook expanded its user base in the quarter. Several top marketers have issued their concerns about Facebook, but they haven't pulled their ad dollars away from the platform. In a Digiday+ survey conducted in November of 182 ad buyers at brands and agencies, 62.1 percent said Facebook's recent scandals would have "no material impact" on their spending. In a separate November survey of 363 media buyers, 50 percent said they would increase spending on Facebook and 79 percent said they would increase on Instagram: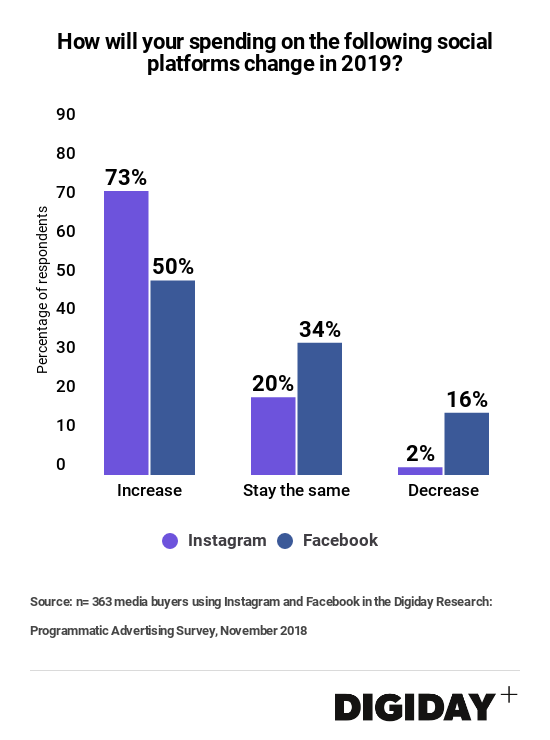 Here's what you need to know:
The key numbers:
2.32 billion monthly active users and 1.52 billion daily active users (both up 9 percent from the previous year).
2.7 billion monthly active users across Facebook, WhatsApp, Instagram and Messenger (up from 2.6 billion last quarter) and more than 2 billion use at least one of those services every day.
Added 20 million daily active users compared to the previous quarter (equal to what Facebook added between Q2 and Q3).
$16.9 billion in quarterly revenue (up 33 percent from the previous year).
Profit was $6.9 billion (up 61 percent from the previous year).
93 percent of its ad revenue came from mobile (compared to 89 percent in the previous year and 92 percent in the previous quarter).
Average revenue per user is $34.86 in the U.S. and Canada, compared to $7.38 worldwide.
What Wall Street wanted: 
Facebook beat Wall Street's revenue expectations, reporting $16.9 billion this quarter versus $16.4 billion predicted. The stock jumped 7 percent after the report's release in after-hours trading.
Facebook has 7 million advertisers
The platform's advertising base has reached a new milestone. Facebook has 7 million active advertisers, Facebook chief operating officer Sheryl Sandberg revealed. That growth plays into the company's goal of helping grow more small businesses and thereby taking their ad dollars. Facebook had announced 5 million in April 2017 and 6 million in November 2017. Bottom line: Don't expect any threats of an "advertiser boycott" to sway Facebook management. Facebook has managed to make it bulletproof when it comes to threats from even the biggest ad spenders.
Stories are still new despite 2 million advertisers, so far
According to CEO Mark Zuckerberg, Facebook's goal is to "deliver meaningful improvements that improve peoples' lives … that whole communities recognize and say, 'Wow, we're all doing something new on Facebook or WhatsApp.'" The most recent example of this type of reaction? Stories, Zuckerberg said. Both Zuckerberg and Sandberg said that despite consumers' rush to adopt Stories, advertising there is still underutilized. Sandberg said 2 million advertisers are on Stories. Facebook has made the buying experience as easy as a click of a button.
Facebook is betting on more commerce, especially on Instagram
Instagram may still be a favorite ad platform for DTC brands, but Facebook wants to be more a part of the retail experience by improving discovery and transactions. "We want to nail discovery. People are already interested in commerce activity and following businesses, and I think there's a big opportunity in enabling transactions, that you can trust [the sellers] and know that you're going to have a good experience," Zuckerberg said. Those experience can also be applied across Facebook's Marketplace and WhatsApp.
Watch isn't going anywhere 
The strategy behind Facebook Watch keeps changing. But Zuckerberg still wants video, and therefore Watch, to be a bigger part of his business. Zuckerberg said Facebook has worked to decrease the number of videos in news feed and instead drive users to the Watch tab. Zuckerberg said they want to emphasize engagement — likes and comments — on news feed instead of passive consumption. Though, Zuckerberg also said he wants Facebook's videos to be more interactive, not passive. One way Facebook has tried to do that is through features like Watch Party and Premieres.
https://digiday.com/?p=320525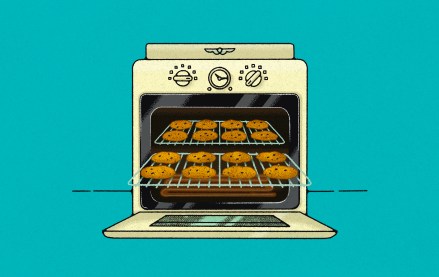 December 11, 2023 • 1 min read
Digiday Programmatic Marketing Summit attendees speak out on why they rate the overall industry's post-cookie readiness so low and what it'll take to raise it.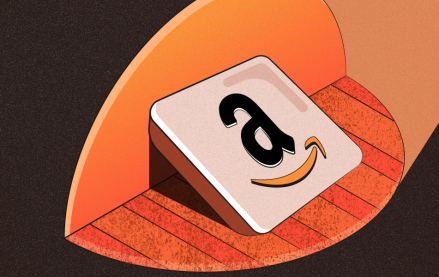 December 11, 2023 • 4 min read
Retail advertising is poised to have its moment, and brands and retailers are upping their marketing spend on Amazon and making the channel a more important part of their holiday plans this year.
December 8, 2023 • 3 min read
For Atlas Creative, expanding into Roblox is not solely a play to scale up. The company believes there are concrete benefits that will come with having a hand in multiple metaverse platforms.