Digiday Research: 43 percent of media buyers say they avoid news content
In an era of instant boycotts against advertisers by organizations like Sleeping Giants, brand-safety concerns are forcing media buyers to avoid news-related content for fear of public reprisals.
A survey of 400 media buyers by Digiday this November found that 43 percent of respondents said they explicitly avoid advertising next to the news and half of those say they're steering clear of news content more than they had before.
President Trump, who has a reputation for not being brand safe, is also on the list of things media buyers to stay away from. Nearly six-in-ten media buyers in the Digiday survey said they sidestep Trump-related content.
Whether or not a media buyer decides to shun news content can depend on the type of campaign they choose to run and their approach. For example, advertisers focusing on performance or audience targeting might be less sensitive to where the ads end up compared to advertisers prioritizing reach and branding.
Sam Appelbaum, general manager for YellowHammer Media Group said, "we have brands that advertise on content they don't agree with because the viewership from the audience is highly engaged and can really move the needle in terms of performance. If you're about reach and awareness, you can get that from other places and channels that isn't the news."
Certain types of companies like ones that are direct-to-consumer might also be less inclined to avoid news publishers. "A lot of direct-to-consumer brands are outcome-based marketers," one media buyer that wished to remain anonymous said. "They have morals, but the decision to advertise is less about the environment they advertise is and more about if there's very clear data that proves whether or not it makes sense." The media buyer went on to add that even for performance-based marketers there are certain red-lines not to cross such as advertising next to porn, terrorism, and malware.
If buyers choose to remain on news sites, they must understand that doing so comes with a risk. Appelbaum said, "for the vast majority of consumers, they logically assume a direct relationship between a brand and a publisher." Given the opaque nature of digital advertising, it's unrealistic for readers to see a programmatically served at and not believe that the company in the ad is directly supporting the content the publisher creates.
Luckily for media buyers, they have an arsenal of tools at their disposal to help ensure brand-safety standards are met when placing ads on news sites. Ilana Casser, senior vice president of integrated media at 360i, said that 360i employs whitelists and blacklists in addition to its own proprietary technology to help them avoid objectionable content. She also touted 360i's own targeting capabilities as a safeguard against brand-safety risks. "Because of our heritage as a data-driven agency, we're able to leverage our targeting ability to help our clients ensure they're comfortable with brand-safety standards."
But blacklists aren't without their flaws, communication between advertisers and their agency can pose problems and websites can change their domain names. There's also a cottage industry of vendors who provide keyword targeting services and other solutions to help publishers ensure brand-safe targeting.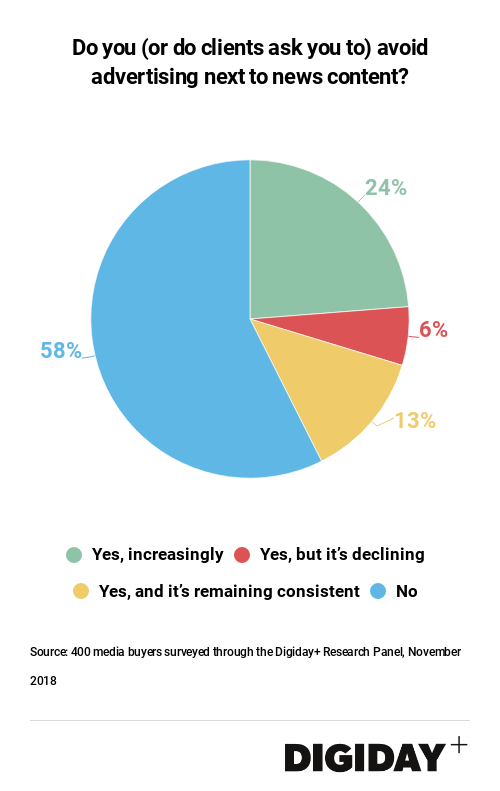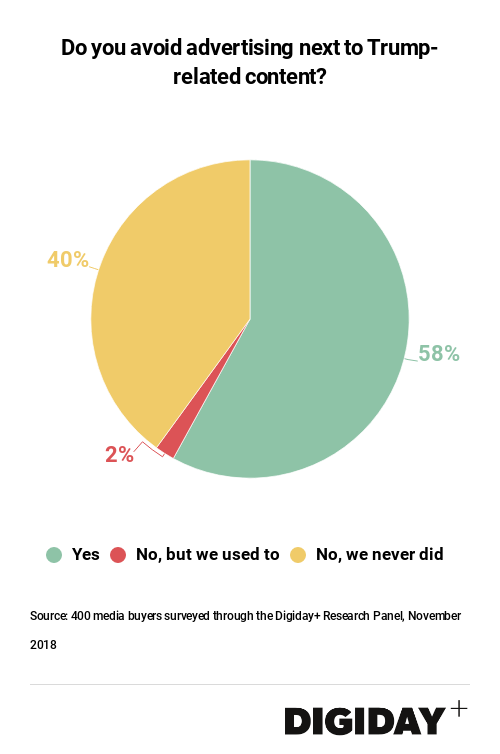 In some cases, the context is more important to determining if an article is brand safe or not than the publisher. "If we're running a campaign for a toy company and a story runs about children choking on toys, that's not a place we want our client to be even though the word 'toy' isn't necessarily something you would want to blacklist," said Oscar Garza executive vice president for media activation at Essence.
When clients do choose to avoid news content, either mainstream sites like CNN and Fox News or more polarizing sites like Breitbart, it doesn't affect the strategy behind the media plans according to Garza, "There's a lot of impressions out there, news is a small portion of that," he said.
Meanwhile Publishers have become acutely aware that they are being bypassed by media buyers. Fifty percent of 244 publishing executives surveyed by Digiday in November said they think media buyers are intentionally avoiding news related content. Vice Media recently urged media buyers to reconsider their blacklists because they make monetizing socially important journalism that much more difficult.
Publishers also know when media buyers are cutting back their spending. Appelbaum said, "if you're direct and drop out, it's super noticeable. Or If a deal ID is created and never transacts, that's noticeable. Almost all the supply side platforms will provide the publishers a brand-domain report and to see who advertised with them so they can tell when things change."
Garza said that publishers will frequently reach out if spending from a buyer drops a certain amount. "Depending on how much we spend with them, they can go into their ad server and see the declared ad buyer. If you're spending drops from $100 thousand per month to $50 thousand, you're going to get a call."
That's not to say that the news is all bad for publishers. There are changes they can make, such adopting certain contextual tools to create safe segments of their site for media buyers to target. "It's a dialogue with the publisher," said Garza. "If they go back and put the right protections in place, then we'll put them back on the list."