Slowly but surely, the TV ad market is changing in profound ways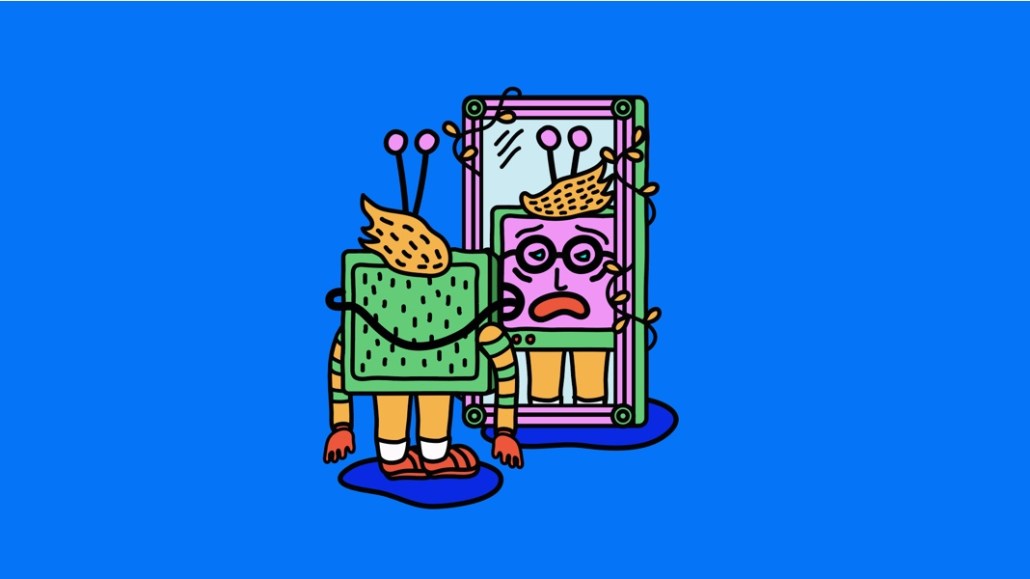 Image credit: Ivy Liu
For decades, TV's annual upfront marketplace has been organized around a bargain. In exchange for locking themselves into long-term commitments, advertisers receive lower rates than if they were to spend their money in TV's so-called scatter market, where networks sell ad space left unsold by the upfront sales process.
Now, driven by advertisers canceling portions of their upfront commitments and viewership going up, TV advertising's supply-demand dynamic has flipped to the point that it has become cheaper for advertisers to buy some TV inventory outside of the upfront. That's a profound shift, equivalent to scoring concert tickets from a scalper for less than the pre-order price.
In effect, what was once a tax is becoming a discount, threatening to lead cost-conscious advertisers to spend their money outside the upfront.
"Scatter pricing going below the upfront, if that happens, then the precedent is set because then why buy in the upfront? The whole point of the upfront is to get better pricing," said one agency executive.
Advertisers typically pay 10% to 30% higher prices in the scatter market compared to the upfront, according to two agency executives. In some cases, the divide can be more dramatic, with scatter CPMs 40% to 80% higher than upfront rates, according to a TV network ad sales executive. However, since March the gap between scatter and upfront prices has narrowed and even inverted.
Scatter ad prices, on average, have fallen to 30% below upfront prices, according to Standard Media Index, a research firm that compiles advertiser spending and pricing data from agencies. However, the aforementioned precedent has not been set — yet.
Scatter prices have not dropped below upfront rates for some of TV's most prized inventory. Broadcast networks' primetime inventory usually costs 25% to 40% more in the scatter market but now can be had for roughly the same price that upfront advertisers pay, per Standard Media Index.
That suggests that, even as upfront advertisers have cut back on their commitments, they have clung to the inventory most likely to fetch them a large audience. The continued demand for that inventory is why TV ad buyers are angling to create more flexibility within the confines of their upfront deals rather than redirect those dollars to the scatter market where they run the risk of that inventory no longer being available. And that could be what keeps the upfront kicking once live sports and networks' hit shows return.
"As high-quality programs start to come in the fall, you'll see that delta widen [with scatter prices returning above upfront rates]," said James Fennessy, CEO of Standard Media Index.
However, sports and sitcoms won't save every TV network. For networks to keep advertisers in the upfront, they need to offer what is not available in the scatter market. And so they have been.
To keep upfront advertisers from canceling their commitments, networks have offered to guarantee additional ratings points and inventory upgrades for advertisers that maintain their upfront commitments, according to agency executives.
Additionally, the moves by networks like NBCUniversal and Univision to reduce their ad loads are seen by agency executives as attempts to maintain some scarcity, which is the engine powering the upfront. If there are fewer ad slots available, advertisers will feel some pressure to lock up that inventory in the upfront rather than wait to see what might be available in the scatter market. "They've got levers on their side to decrease supply," said a second agency executive.
Confessional
"If you're selling a short-form show, there's still no better place to sell it to than Quibi, even if there's no audience. Facebook seems to be out of that game. Snapchat is fine, but the budgets are small, certainly compared to Quibi."

— Media executive
Stay tuned: Platform video ad recovery
The RPM crisis on video platforms like Facebook, Snapchat and YouTube appears to be subsiding. Some publishers have begun to see their platform video ad revenues rebound to March levels, though they remain short of their pre-crisis numbers.
One media company had seen its Facebook video ad CPMs plummet by roughly 50% between February and April, but in May, CPMs rose to be about 20% shy of the February average, according to an executive at this company. Another media executive said their company has seen RPMs and CPMs "on most platforms back to where we were in early March."
The media executives largely attributed the recovery to their companies post more videos and longer videos to the platforms so that they can carry more ads to offset the lower ad prices. Now the question is whether media companies will be able to maintain that output and whether the revenue will remain on an upward trajectory.
Numbers don't lie
$130,000: Cost to run a Hashtag Challenge on TikTok, the platform's flagship ad format.
-27%: Decline in national TV ad dollars in April compared to last year, according to Standard Media Index.
Trend watch: Ad-free vs. ad-supported viewership
We all know that streaming viewership has surged since March. But ad buyers have wanted to know whether that surge corresponds to an uptick in ad-supported streaming or whether people are just watching a lot more Netflix.
"Pre-Covid, we were seeing it was 50-50 between ad-supported and non-ad-supported [streaming viewership]," said one agency executive. "During Covid, we're guessing it's more ad-supported."
That guess appears to be correct. Both ad-supported and ad-free streaming services have seen viewership grow since March, but the growth has been stronger among ad-free streamers, according to Barclays analyst Kannan Venkateshwar.
However, while Netflix's and Amazon's viewership increases have outpaced Hulu's, YouTube has received the biggest viewership boost, according to Venkateshwar's analysis. Meanwhile, since March, free, ad-supported streamers Pluto TV, Tubi and Vudu have had an uptick in downloads and sign-ups, though that is not the same as viewership.
Quibi watch: Show cancelations
Less than two months after launch, Quibi has decided not to renew some shows, discussed changing others and canceled series that had yet to be produced, according to Bloomberg.
While Quibi founder Jeffrey Katzenberg has blamed the coronavirus crisis for the service's struggles, examples continue to mount of how the company has misjudged its debut.
What we've covered
Media companies will need to wait until 2021 for IGTV ad revenue:
Instagram has started testing ads on creators' IGTV videos and sharing 55% of the revenue.
Media companies have been told the monetization program won't open up broadly until next year.
Read more about IGTV here.
How Roku aims to win over TV and digital advertisers in this year's upfront:
Roku will offer incremental reach guarantees for TV advertisers to avoid overlap with their linear TV campaigns.
Roku will also guarantee lifts in site visits and app installs for advertisers using its OneView buying tool.
Read more about Roku here.
TV advertisers want new rights to pull out of ad deals:
Cancelation options will be a major focus in this year's upfront negotiations.
Advertisers will prioritize three main categories of cancelation options: cancelation windows, cancelation amounts and expansion rights.
Read more about TV advertising here.
The Bundesliga offers a glimpse as to how sports will restart:
The soccer league's first match after a 61-day hiatus drew record ratings.
A question is whether the Bundesliga can maintain that high level of interest once more sports recommence.
Read more about the Bundesliga here.
What we're reading
YouTube's uphill battle for streaming TV ad dollars:
YouTube has once again made TV the centerpiece of its upfront pitch, but the video platform still isn't an easy sell to streaming TV ad buyers, according to The Wall Street Journal. YouTube remains plagued by perception and reality. Some advertisers still see it as a largely a site and mobile app. And many advertisers don't see its content as comparable to TV. It probably doesn't help that YouTube is in the process of releasing its highest profile show.
Hollywood's plan to resume production:
A group of Hollywood studios, guilds and producers has drafted guidelines to resume production and sent the guidelines to California's and New York's governors, according to Deadline. The document deals with how to protect people on set from contracting coronavirus, and it calls for a compliance officer to ensure shoots follow the procedures.
Create your own streaming TV bundle:
Bloomberg has developed an interactive tool for people to see how much money they need to pay a month to stream their favorite shows. If your total comes in under $35, you're controlling your streaming budget better than most people (and certainly better than me).