What's driving the publisher pivot to video, in 5 charts (hint: ad $$$)
August 31, 2017 • 3 min read
•
•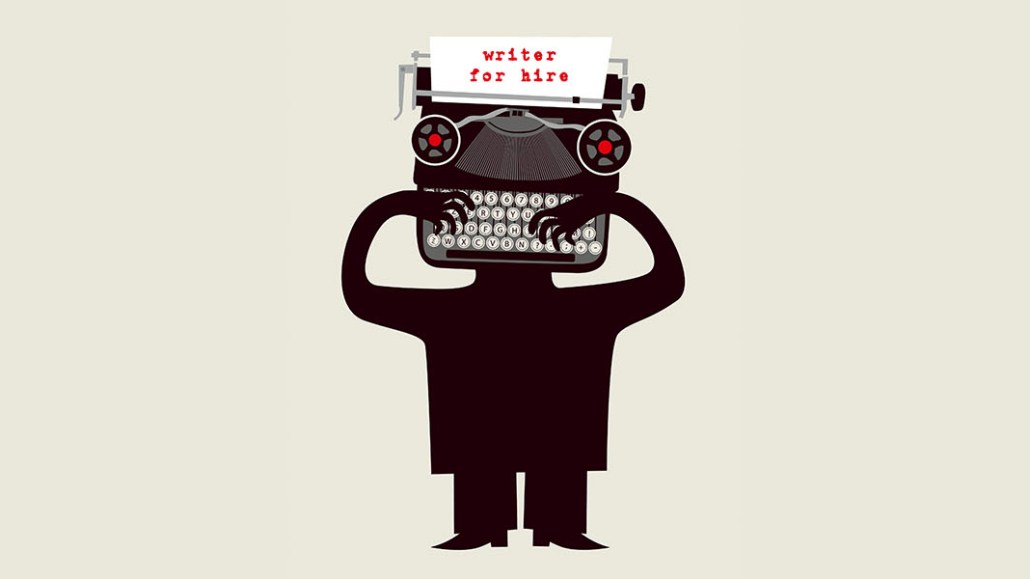 From legacy media companies like Fox to cannabis-themed startups, many publishers are going all-in on video.
Recent investments in video have usually come at the expense of the written word, as media companies like MTV News and Mic have laid off writers to shift to video. With ad budgets shifting to video, publishers are frantically chasing the money, spawning consternation and second-guessing throughout the media industry.
Here are five charts that summarize what's going on.
Shifting ad dollars
Video ad spend in the U.S. topped $10 billion in 2016, and by 2020, it is expected to exceed $18 billion, according to eMarketer.
As more ad dollars move to video, video takes up a larger share of ad buyer budgets. This spring, the Interactive Advertising Bureau and Advertiser Perceptions surveyed more than 350 advertisers who said that on average, they will spend 56 percent of their ad dollars on video this year.
"For brands, it's more feasible than ever to create high-quality film content and distribute it at scale," said Chris Denny, CEO at ad agency The Engine is Red.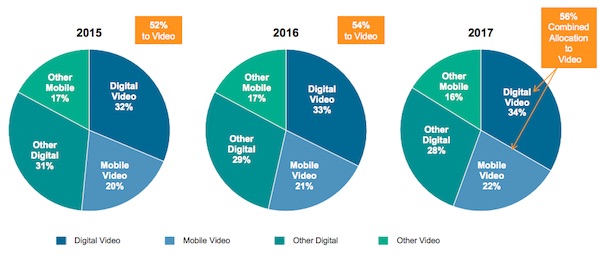 Publisher layoffs
While the pivot to video trend can be traced back to the spring of 2016 when companies like Mashable laid off editorial staffers to focus on video, it has ramped up in recent months. MTV News hasn't published a hard number of how many people they let go, but other publishers that recently made the shift have reportedly laid off at least 20 people apiece.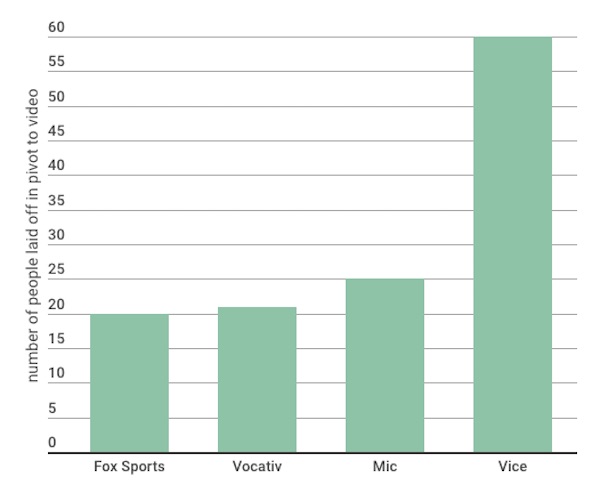 Social chatter
"Pivot to video" has been mentioned about 14,000 times on social media this year, according to Brandwatch. But virtually no one used that phrase online until June, when Vocativ, MTV News and Fox Sports each laid off writers.
Brendan Gahan, founder of ad agency Epic Signal, said the trend reflects how many publishers depend on Facebook for their traffic.
"Facebook has prioritized video and recently started rolling out Watch," he said. "For publishers who are reliant upon Facebook, as most are, this means they've got to adapt. While Facebook has been a great traffic source, publishers have grown reliant upon the platform and therefore are at the mercy of its whims, goals and desires, leaving them exposed."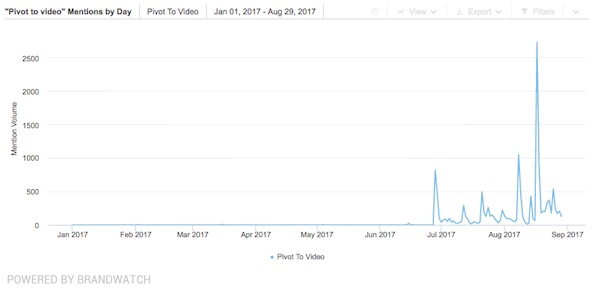 Media coverage
The firing of so many print journalists has led to a lot of existential articles about the state of the media industry. VentureBeat said the trend reeked of "desperation." The Ringer questioned whether "the same old corporate maneuvering" was behind it. Newsweek made the case that the pivots simply won't work. We, too, weighed in on the trend.
This summer, the phrase "pivot to video" has appeared in more than 1,600 headlines, according to Brandwatch.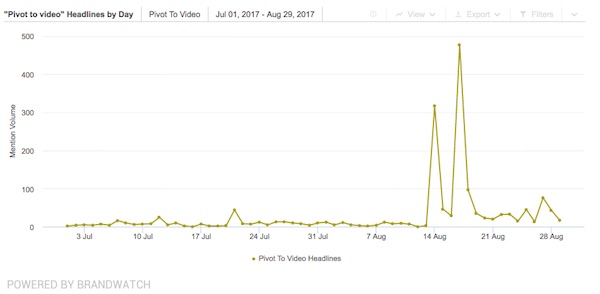 What users want
Print journalists have incentive to throw shade at video pivots since their livelihoods are at stake. But some data exists that backs their animosity. Despite the recent writer purges, the millennial demographic that advertisers are so thirsty to reach still prefers reading the news, according to a Pew Research survey.
"It makes no sense for a site that is not known for video to start offering video ads and content just to follow dollars," said David Smith, CEO of media-buying shop Mediasmith. "We want to put video dollars where consumers are attracted to video, not to snag them unknowingly."

https://digiday.com/?p=252154
This week's Future of TV Briefing looks at how this year's upfront and recent announcements from AMC Networks and Paramount indicate the progression of programmatic in the TV and streaming ad market.
This week's Future of TV Briefing looks at how major streaming service owners' subscription business fared in the third quarter of 2023.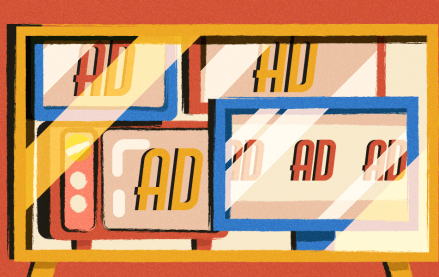 This week's Future of TV Briefing looks at what TV and streaming companies' latest quarterly earnings reports indicate about the state of the TV advertising market.