'We were never naive': Formerly Facebook-first, Attn recalibrates
February 1, 2019 • 4 min read
•
•
Facebook feed casualties have piled up, from Little Things to Mic to Cooking Panda. But for Attn, a 4-year-old social news publisher that once boasted a quarter billion video views a month on Facebook, the past year has been about adjusting on the fly and diversifying its business.
The company, with $37 million in venture backing, has started making more content for brands and relying less on its own distribution muscle. It's focused on producing digital content for TV shows, hopes to get a show of its own onto TV in 2019, and expects to turn itself into a mainstay in the small world of political and advocacy advertising, where budgets continue to migrate away into digital channels from television. The social video bread and butter of short clips with text overlaid on them is still around, but Attn is less likely to trumpet a "Facebook-first" approach compared to 2017.
In the process, Attn is wading into marketing-services territory typically marked by lower profit margins and increasingly stiff competition. But it's encouraged by its progress. The startup raised a $15 million series C round of funding at an undisclosed valuation last September and "more than doubled" its revenue in 2018, co-founder Matthew Segal said, adding that he sees a path to profitability "very soon." He declined to provide hard revenue figures.
"From the day we started this business, we were never so naive to think that any social platform's interest would perfectly align with ours," Segal said.
Like most other Facebook publishers, Attn's news-feed video views slid dramatically last year. Its main page went from a high of nearly 250 million views in April 2018 to less than 50 million views in December 2018, according to Crowdtangle data. Its high view counts in March and April should come with an asterisk; 24 percent of Attn's Facebook impressions in those months were paid for, according to BrandTotal data. Views from other Attn-owned Facebook pages, such as Attn:Video and Attn:Life, did little to make up the difference.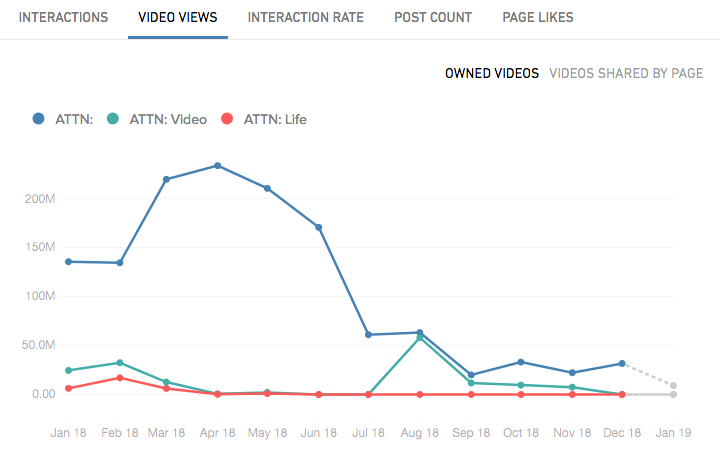 Much like Insider (or Mic), Attn reduced the raw number of videos it publishes to platforms while making each of them longer. The number of videos Attn uploaded to social platforms in the past three months dropped 16 percent, to 766, compared to the three months it published from March to May in 2018, according to Tubular Labs data. John Cassillo, a media analyst at TVREV, pointed out that most of the content uploaded most recently ran between one and five minutes; during the spring, 75 percent of Attn's content topped out at two minutes.
Attn is not abandoning Facebook. It has four shows on Facebook Watch, including "Your Food's Roots," a show about food starring Zoey Deschanel and "Undivided," part of the inaugural batch of news programs Facebook paid publishers to make last year. It is also one of a small handful of publishers making content specifically for Facebook-owned Instagram TV, including a show hosted by former Vice President Joe Biden.
Attn also continues to crow about its prowess as a branded content producer. A Facebook video it produced for Adidas was the second-most-viewed piece of branded content on Facebook in 2018, according to Brandtale data. It recently produced a video for Beats by Dre headphones starring Dak Prescott that has piled up over 43,000 shares.
In January 2018, the company announced it was working with Paramount Television on a linear TV adaptation of its Facebook series "America Versus." The series remains in development, Segal said, and there's no air date yet set. The company claims it has several other shows in development. It contributed a few segments to a documentary that aired on the cable channel Freeform. To cozy up more closely to TV companies, it produces after-show content for television programs including "Grown-ish" and "Good Trouble."
Attn has also busied itself making video for brands. According to a spokesperson, Attn played no role in distributing "around 40 percent" of the branded content it produced last year it had no hand in distributing. In 2017, it distributed 90 percent of the branded content it made, the spokesperson said.
Segal also hopes to make further inroads with political groups, nonprofits and other cause-driven organizations.
It has a long way to go among those advertisers. Andy Amsler, principal at Mothership Strategies, a digital ad agency focused on progressive causes and politics, said that, among the 120 campaigns it ran in 2018, Attn never came up as a possible source of investment.
Chris Talbot, a Democratic consultant and the founder of Talbot Digital, noted that nonprofits, political groups and candidates tend to be way behind on spending there.
"There's a growing profile for high-profile ad possibilities," Talbot said. "But it's far, far behind consumer marketers' investment."
https://digiday.com/?p=320712
This week's Future of TV Briefing looks at what an industry group's conditional certification of three measurement currency contenders signals about the TV ad business's measurement overhaul.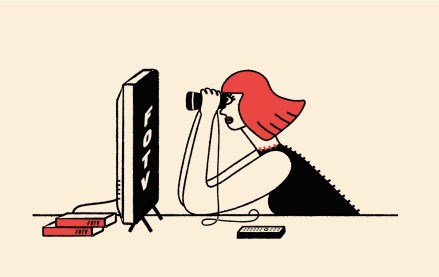 This week's Future of TV Briefing offers an updated list of the key terms that can cause confusion when talking about the TV, streaming and digital video industry.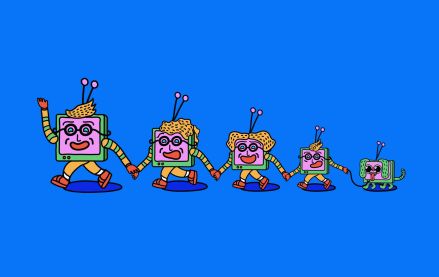 This week's Future of TV Briefing looks at what the Disney-Charter pay-TV distribution deal seems to indicate about the increasingly more-complementary-than-contentious relationship between traditional TV and streaming.