In case you missed it: Advertisers aren't pulling out of YouTube just yet
April 7, 2017 • 3 min read
• By
Digiday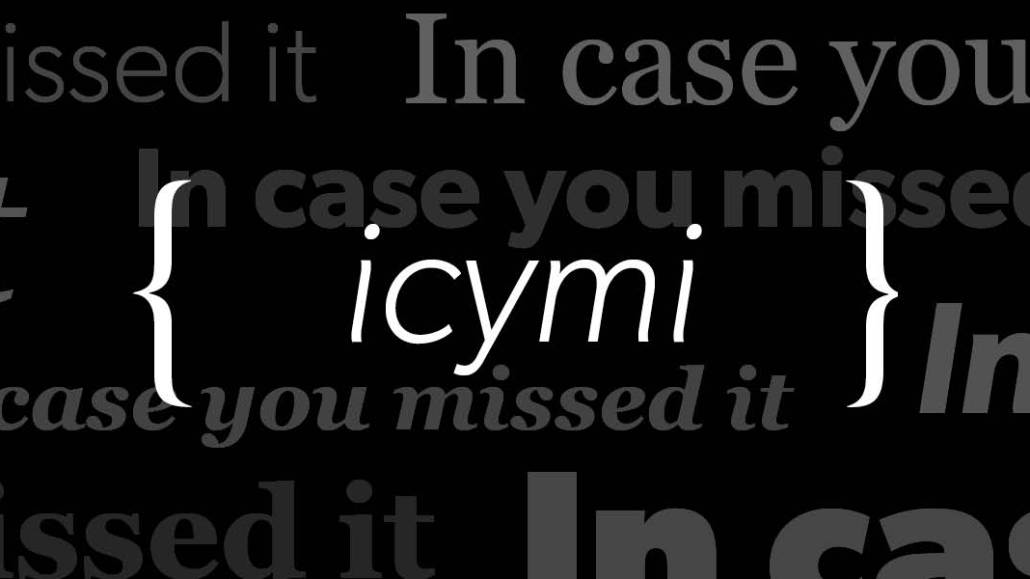 You've reached the end of another week, and so have we. So sit back (maybe with a can of Pepsi? OK, maybe not…), and catch up on the important stories you may have missed. Or just scroll to the bottom for your full list of weekend reads. 
Advertisers aren't pulling out of YouTube. At least not yet.
Following a Times of London report that YouTube was showing ads against racist videos, headlines would have you believe ad spend was about to fall dramatically on the Google-owned platform. But the bark seems to be more an attempt by brands and publishers to gain leverage of any kind against the ad giant, as advertisers suddenly began demanding discounts from Google, despite the fact that ads have run next to extreme content on YouTube for years.
Ad tracking firm Pathmatics didn't offer forecasts, but its data indicated that spend on YouTube has remained stable despite the controversy. (If you missed the news entirely, U.K. editor Jess Davies explains what, exactly, the big deal is.)
Agencies agreed, recognizing that creating a ruckus can be good for PR and negotiating. Said one buyer: "Pulling out enables them to make a headline about how they are completely clean and they got out first. They get a lot of PR value about being good guys on this, but they will probably go back in a few weeks and it doesn't affect them at all."
But it wasn't all bad for the video giant this week
YouTube also launched YouTube TV, a live TV service aimed at grabbing the ever-growing cord cutting audience. They'll compete with others already in the space, like Dish Network (Sling TV), AT&T (DirecTV Now) as well as an upcoming product from Hulu for the entertainment dollars that are increasingly moving away from existing cable products.
"Fundamentally, YouTube TV isn't all that different from Sling TV or DirecTV Now," wrote senior reporter Sahil Patel, "which also offer bundles of TV channels at an affordable price. It's also a business worth jumping into, as Sling TV and DirecTV Now have attracted 1 million and 200,000 subscribers at a time when cord-cutting is on the rise. Ultimately, though, YouTube TV is about YouTube getting more of its core users — 18-to-34-year-olds — to spend more time on its platforms."
While others are wrist-deep in figuring out video, ESPN is busy differentiating its content across non-video formats. On April 11, it will debut a new TV show called "We The Fans," consisting of half-hour episodes. But the program will spread much further around the sports media giant's digital platforms.
ESPN is calling it a "multiplatform" series that will start with video on digital and social and include an after-show podcast for every episode, graphics-heavy essays and other pieces. "We wanted a digital experience specific to what works on digital, a social experience specific to what works well on social," said Chad Millman, vp and editorial director for domestic digital content. If this sounds like a lot of cross-departmental work and getting people on the same page, you guessed right. Here's how they plan to pull it off.
Top reads from the week: The YouTube story
Big brand pullouts will have had limited impact on YouTube
The YouTube ad boycott, concisely explained
'They get a lot of PR value': Agencies say YouTube 'crisis' is about negotiations and saving face
And more:
ESPN is thinking beyond TV with 'special projects'
From our spring issue of Digiday Magazine: TV feels the heat from Google and Facebook
YouTube goes live with $35 internet TV service
How New York magazine is growing commerce revenue
Vox Media: Not the biggest, but that's OK