Glamour UK's refocused mission: less news, more video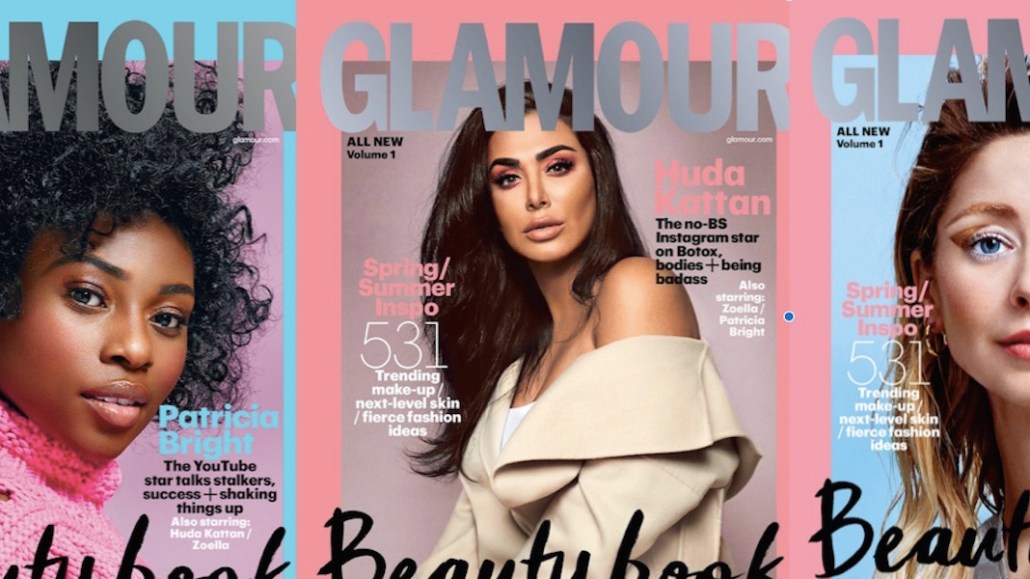 Condé Nast Britain's fashion title Glamour has revamped its content and commercial strategy to align with its new future as an almost entirely digital brand.
The publisher, which announced its plan last October to produce only two print issues a year, has spent the months since making radical strategic changes, which involved downsizing from 55 people to 40, creating a five-person video team and redefining its editorial direction and distribution.
Moving away from news
Digital editorial focus is shifting from quick-fire news updates, text-based product and beauty reviews and how-to videos to more in-depth articles that explore grittier subjects the title has previously shied away from, such as plastic surgery, ovarian cancer and prison life for women, according to Deborah Joseph, Glamour UK's newly appointed chief content officer. The goal: Cultivate a loyal, engaged audience and a strong brand identity on all digital platforms.
Beauty, culture and fashion will remain key editorial areas. Stories that spotlight celebrities trying new products are a news sweet spot for Glamour, and those will remain. But now the goal will be to create in-depth pieces based on them. "We're not just going for news content but quality content," Joseph said. "Quick news is a win for driving traffic, but for building loyalty, it's the intelligent in-depth content that works better."
The Glamour site and mobile app have been redesigned to reflect its shift away from being a news-based site to one that exudes the brand's specific tone and style. Previously, the site geared toward prioritizing the latest news, but the new site focuses more on creating visual impact against a millennial pink background.
"It's smart not to focus on the quick, high-volume disposable content in favor of longer-form [content]," said Charlie Cottrell, head of editorial at social agency We Are Social. "When publishers' ad revenues have dropped, they have typically gone after volume of pages. But the investment in quality over quantity is encouraging and gives more credibility to their audience."
Articles and videos that relate to mental health, beauty science and culture will be major areas of focus. Glamour UK will increase the amount of video it creates by doubling its previous output, according to the publisher. A new five-person video team has been created, and a new studio has been built within Condé Nast's London office, to be shared among the titles.
The aim is to create episodic, long-form series that run on Glamour UK's site and YouTube. Former print feature formats such as "Hey It's OK," which later evolved into a podcast, will shift to video. It will either live as long-form series on YouTube or be recut for social platforms like Instagram.
Prioritizing loyalty over reach
Creating episodic video for social platforms to keep people engaged will be a bigger focus, especially for Instagram Stories, whose referral traffic to Glamour UK increased by 25 percent since Jan. 1, according to the publisher. The team has created two weekly Instagram Stories: "The Glam Drop," which runs every Monday and features a beauty writer telling readers what products have arrived for her to sample that week, and "The Weekly Edit," which details editorial highlights of the week.
Instagram is a platform the title has previously underused, according to Camilla Newman, Glamour UK publishing director. "We're focused on creating these regular episodic franchises to capitalize more on the platform," she said.
Glamour UK's Facebook referral traffic has remained steady since the platform's algorithm change, according to Joseph, but the publisher has altered its strategy for posting to Facebook as a result. Next week, Glamour UK will launch a Facebook Group specifically to cultivate engagement with readers around content. "We want to own the beauty conversation on Facebook," Joseph said.
Glamour UK can also drive interest in the Facebook Group around its products such as the Glamour Beauty Club, a membership program that sends those that register product samples that brands pay to promote. The club has grown to 100,000 members in the last six months, and the publisher is speaking with an online retail brand about how to tie in e-commerce links so people can purchase its products.
However, Newman stressed that e-commerce will never be a major part of the publisher's revenue mix. "The idea with the Beauty Club is to create a loyal user base and community, providing them with a full service," she said.
One of the biggest changes for the publisher has been merging its editorial and commercial teams completely. From now on, editors will pitch content ideas directly to brands and agencies. Sixty percent of Glamour UK's revenue comes from branded content, but the aim is to direct all editorial resources on growing that now that the team will be almost totally focused on creating digital content.
"A lightbulb has turned on at Condé Nast over the last year, particularly at Vogue," said Laura Wade, vp of content and innovation for Europe, the Middle East and Africa at GroupM agency Essence. "Their brands have prestige, but when it comes to who we work with for branded content, there are many hungry digital players that have long made their editorial teams available to us. It's like they have understood that there needs to be more than that [brand prestige and heritage] and be more willing to try out new formats with us."
Images courtesy of Condé Nast
https://digiday.com/?p=277651