Future of TV Briefing: The TV ad business shrank in the third quarter of 2023
Ivy Liu
This Future of TV Briefing covers the latest in streaming and TV for Digiday+ members and is distributed over email every Wednesday at 10 a.m. ET. More from the series →
This week's Future of TV Briefing looks at what TV and streaming companies' latest quarterly earnings reports indicate about the state of the TV advertising market.
Ahh-dvertising
The post-strike landscape, SAG's AI agreement, Disney's TV network portfolio and more
Ahh-dvertising
TV network owners' latest quarterly earnings reports were broadly a downer. That is, their ad revenues were down year over year across the board. Streaming ad revenues, on the other hand, were up across the board — but not by enough to offset the traditional TV declines.
"While streaming advertising remains robust, the state of the overall linear ad market during the second half of this year has been disappointing," Warner Bros. Discovery CFO Gunnar Wiedenfels said during the company's earnings call on Nov. 8.
Here's a quick breakdown on how ad revenue trended in the third quarter of 2023 for the major TV and streaming companies. Disney is omitted from the list because the company doesn't report its ad revenue, but its latest quarterly earnings report still had plenty to say about the state of its ad business, which we'll get to farther down. And Netflix is omitted because the company does not break out its ad revenue and has said "ad revenue would not be material to our business in 2023" ('nuff said).
AMC Networks: down 18%
Fox: down 1.6%
Fubo: up 34%
NBCUniversal: down 8.4%
Paramount: down 8.7%
Roku (platform revenue, which primarily consists of ad revenue): up 18%
TelevisaUnivision: down 1%
Warner Bros. Discovery: down 9.9%
As you can see, only Fubo and Roku reported year-over-year ad revenue increases, and it just so happens that these are the only two streaming-only companies on the list. As stark a picture as that contrast paints, however, the divide gets a lot clearer when looking at Paramount's and Warner Bros. Discovery's ad revenues.
Both Paramount and WBD broke out streaming ad revenue separately from traditional TV ad revenue. And both reported year-over-year gains in streaming ad revenue and losses in traditional TV ad revenue.
Warner Bros. Discovery (streaming): up 30%
Warner Bros. Discovery (traditional TV): down 12%
Paramount (streaming): up 18%
Paramount (traditional TV): down 14%
But even that isn't the whole story. Streaming is new and the future, so it should be growing. Meanwhile, traditional TV is old and eroding, so it is expected to shrink. The issue, though, is that streaming ad revenue's growth is pretty far off from making up for traditional TV ad revenue's decline.
For Paramount, streaming ad revenue increased by $67 million, whereas traditional TV ad revenue decreased by $270 million. And for WBD, streaming ad revenue increased by $32 million, but traditional TV ad revenue decreased by $235 million. That's a $203 million gap in both cases.
The gap between streaming and traditional TV ad revenues is even bigger, though: $1.27 billion for Paramount and $1.57 billion for WBD.
It's not great. And we haven't even gotten to Disney yet. Again, the House of Mouse doesn't break out its ad revenue, but it did share some tidbits.
Disney's traditional TV ad revenue was lower because its TV networks served fewer ads and received fewer viewers.
ESPN reported "a modest increase" in ad revenue.
Disney+'s average revenue per U.S. subscriber increased by $0.19 "due to higher advertising revenue."
Hulu's ARPU (excluding its pay-TV subscribers) decreased by $0.28, in part because of lower ad revenue.
That is, Disney's traditional TV ad revenue decreased. No surprise there. Meanwhile, ad revenue for Disney+'s less-than-one-year-old ad-supported tier appears to have increased. Again, no surprise. Even ESPN's ad revenue increase isn't all that surprising considering that the writers' and actors' strikes pushed traditional TV advertisers to direct even more dollars to live sports.
But then there's Hulu. Not only did Hulu's ARPU for its primary subscriber base decrease because of lower ad revenue, but ARPU for its pay-TV subscribers also decreased because of lower ad revenue. In fact, the latter decrease was bigger — $0.72 versus $0.28 — and lower ad revenue was the only cited reason.
In other words, the predominant ad-supported streamer is seeing its ad revenue decline. Now, considering how closely Hulu's programming library is tied to traditional TV, that may have plenty to do with the writers' and actors' strikes affecting viewership. But during Disney's Nov. 8 earnings call, interim CFO Kevin Lansberry attributed the decline to "lower political and technology category advertising."
Glum. And the outlook isn't much brighter. Certainly not for the traditional TV ad business, but the streaming ad outlook may be a bit dimmer than expected, at least for the foreseeable future.
Case in point: Roku expects its video ad revenue to increase year over year in Q4 2023, but even then the company included a caveat: "However, we remain cautious amid an uncertain macro environment and an uneven ad market recovery," the company said in its letter to shareholders released on Nov. 1.
WBD's Wiedenfels was more pointed in his outlook: "It is becoming increasingly clear now that, much like 2023, 2024 will have its share of complexity, particularly as it relates to the possibility of continued sluggish advertising trends," he said.
What we've heard
"The [TV ad] marketplace has still been pretty soft. We haven't seen it pick up yet. People aren't saying there are huge, opportunistic deals, but we see stipulations coming down. If we want to do a sponsorship deal, normally it requires a match spend, and they've come down on the match spend ask."

— Agency executive
Numbers to know
$240 million: The value of the National Women's Soccer League's new four-year U.S. TV and streaming rights deal.
9.3%: Percentage share of pay-TV subscribers that the the top providers lost, in aggregate, during the third quarter of 2023.
112.6 million: Number of Disney+ subscriptions as of the end of Q3 2023.
$10: Monthly price for a planned bundled subscription to Netflix's and Max's ad-supported tier through Verizon.
12.2%: Percentage share of broadcast TV networks' scripted lead roles in the 2021-22 season that were performed by people with disabilities.
What we've covered
From product placement to the Netflix Cup: marketers weigh up the unconventional twist in its ad strategy:
Netflix asked advertisers to pay $4 million to sponsor its celebrity golf match, including a $2 million ad buy.
The limited size of the streamer's ad-supported audience remains an issue for advertisers.
Read more about Netflix here.
As the strikes end and Hollywood gets back to business, what happens next for advertisers and ad buyers?:
With the actors' strike over, celebrities will once again be available to promote their projects.
How the strike's resolution will affect the ad market remains to be seen.
Read more about the post-strike ad landscape here.
What we're reading
Hollywood gets ready to return to work:
With the Screen Actors Guild strike over, TV and streaming productions can start back up, but first those productions will need to sort out the availability of cast and crew members as well as locations, according to The New York Times.
TV networks deal with post-strike fallout:
The writers' and actors' strikes sank the first half of TV network's broadcast seasons, and the second half isn't looking that much better as advertisers and audiences turn their attentions elsewhere, according to Ad Age.
The Screen Actors Guild's AI agreement:
Major TV and film studios have agreed to ask for consent before creating AI versions of actors, to say how they will use those versions and to pay for the usage, according to Rolling Stone.
Disney looks to rebalance its TV portfolio:
The House of Mouse is trying to determine how many of its TV networks to hold onto, with Freeform and National Geographic Channel seeming the easiest to part ways with, according to The Wall Street Journal.
The short-form video platform serves up roughly one ad out of every three posts, according to an Insider analysis.
Want to discuss this with our editors and members? Join here, or log in here if you're already a member.
https://digiday.com/?p=525587
This week's Future of TV Briefing looks at how this year's upfront and recent announcements from AMC Networks and Paramount indicate the progression of programmatic in the TV and streaming ad market.
This week's Future of TV Briefing looks at how major streaming service owners' subscription business fared in the third quarter of 2023.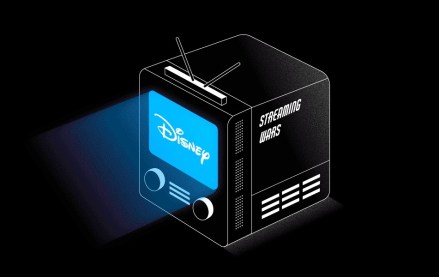 This week's Future of TV Briefing looks at how Disney's data clean room business has progressed since rolling out two years ago.