Future of TV Briefing: How TikTok has influenced media companies' videos on platforms like Snapchat and YouTube
September 8, 2021 • 10 min read
•
•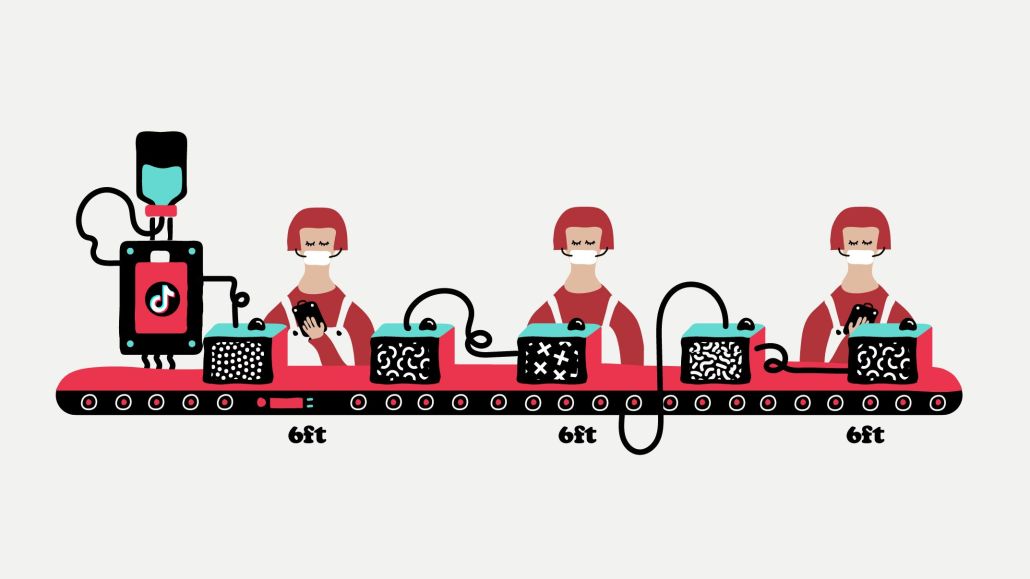 Ivy Liu
This Future of TV Briefing covers the latest in streaming and TV for Digiday+ members and is distributed over email every Wednesday at 10 a.m. ET. More from the series →
The Future of TV Briefing this week looks at how TikTok has been subsumed into video makers' approaches to other platforms, including Instagram, Snapchat and even YouTube.
The TikTok takeover
Measurement's free-for-all phase
WTF is Ad-ID?
Agnes Chu's impact on Condé Nast Entertainment, Amazon's smart TV plans and more
The TikTok takeover
The key hits:
The pace of videos is speeding up, with a heightened emphasis on the opening two seconds.
Visual effects artists are in demand to recreate TikTok's effects for use on other platforms.
TikTok (and the pandemic) has helped to open audiences to less highly produced clips.
Over the course of several months this year, Group Nine Media's Thrillist started to see viewers of its Snapchat Discover channel drop off earlier than they had in the past. "It was harder to get people to stay and tap through the editions. Even halfway through the edition, watch time started to drop off," said Erin Weaver, senior director of audience development at Group Nine.
It turned out the falloff wasn't a Snapchat-specific phenomenon but a TikTok-induced impact. "The cuts were too slow," Weaver said.
TikTok's surging popularity over the past year and a half appears to have coincided with audiences on other platforms adopting similar behaviors and programming preferences, such as a lower tolerance for slow-paced videos. That is particularly true of platforms that share an aesthetic and audience with TikTok, like Snapchat, which is oriented around short-form vertical video and is popular among teenagers and twenty-somethings. But media companies — including BDG, Donut Media, Group Nine, Tastemade and Team Whistle — are finding that applying their TikTok video strategies — such as quicker cuts and more visual effects — can improve their videos' appeal to audiences on the likes of Instagram and even YouTube as well.
"In the past two years, in particular through quarantine when everybody's been at home consuming all of this, has been when we've really seen [TikTok] start to influence YouTube and other platforms," said Jesse Wood, chief creative officer at Donut Media.
Two seconds or less
TikTok's biggest impact so far on the broader digital video landscape is how it seems to have shrunk the window for videos to capture audiences' attentions. "You get roughly two seconds to get people's attention now. On Facebook, it used to be 10. On YouTube it was 30 seconds," Weaver said.
"The first two seconds are now the most important two seconds on every platform," said Wesley Bonner, head of social and audience development at BDG.
When BDG began using TikTok roughly two years ago, the platform advised the media company on the importance of a video's opening frames, recommending that BDG include a video's headline text within the first second or revealing the final look for a makeup video off the bat, according to Bonner. That may sound counterintuitive when juxtaposed with traditional TV's tease-only ethos, but the idea on TikTok is to give people the final result so they are more inclined to stay to see the process. And it doesn't only work on TikTok. "That's one we pretty much do across the board now," he said.
TikTok's accelerated pace seems to stem from its origin as lip-synching app Musical.ly. In addition to people singing, dancing and acting to the beat of a song, videos are being edited to the beat. "That's something that naturally as a viewer you start to notice how fast the pacing is. Every couple seconds, there's some sort of visual stimulation on screen," said Lauren Arso, gm of social at Tastemade.
To regularly refresh what's seen on screen, though, means recording more clips with different looks. For example, when Tastemade is shooting an action shot for a food video, "we're thinking through what are two or three different action shots we can get and what are some creative angles we can do."
The visual effects ripple effect
Within the past 18 months, TikTok has influenced Team Whistle's digital video creation as well as how it hires the people to make those videos. "We've increasingly emphasized that any newly onboarded social programmers have chops with [Adobe's visual effects editing software] After Effects," said Joe Caporoso, evp of media at Team Whistle.
Those visual effects skills have become even more important for two reasons. First, TikTok has made visual effects a bigger means of captivating audiences, similar to what Snapchat has done with its augmented reality filters. Second, as other platforms like Instagram have rolled out rivals to TikTok, they have begun to penalize posts repurposing TikTok videos and carrying the latter platform's watermark. As a result, video makers are pressed to recreate TikTok's native visual effects to replicate them in videos posted as Instagram Reels, YouTube Shorts or native Facebook videos.
The ability to internally recreate TikTok's visual effects can also be a boon business-wise. Visual effects have become a bigger component of Team Whistle's branded content campaigns this year, and being able to apply them to other platforms opens up the distribution options, which is advantageous heading into the heady holiday marketing period. The interest in visual effects in branded videos is "not going to change in Q4," Caporoso said.
Redefining production quality
TikTok is not solely responsible for shifting the standard for production levels. The pandemic-impose production hiatus and shift to remote production primarily precipitated the proliferation of professional videos that were shot on people's phones and in people's homes. But TikTok has helped people realize these videos can still be quality content.
TikTok "has definitely shifted the standard and requirements and expectations for the audience in terms of production value," said Wood.
While the media companies interviewed for this article, including Donut Media, still aspire to high production levels, they have also observed a different bar for quality. For example, the blurry background that corresponds with a shallow depth of field may be associated with a cinematic aesthetic, but contrasted with the score of TikTok videos filmed on people's phones, such cinematic videos can come across as commercials.
Group Nine's PopSugar saw TikTok's redefinition of production quality come into play for a mental health series it produced for YouTube earlier this year. The series' videos incorporated clips from interviews with mental health experts that were recorded over Zoom. Typically, the Zoom-shot clips feature a limited picture and audio quality and have coincided with viewers dropping off when those types of clips appear. However, said Weaver, "we didn't see any of those drop-offs the way that historically we would have on other channels pre-COVID, pre-TikTok."
What we've heard
"Even though we're back in the studio, our best video is still someone in front of a green screen talking to the camera."

— Digital video publisher
What we're watching
Two decades after its debut, the advertising industry's attempt to institute a universal ID system for ads and cut down on overexposure is gaining some traction among media companies.
If you're unclear on what Ad-ID is or need a refresher on how it works, we made a video explaining it (there's also a written explainer for the text-minded).
Numbers to know
3.42: Number of streaming services the average TV household is expected to subscribe to by the end of 2021.
$950,000: Price to run a TV ad during the NFL's Thanksgiving slate of games.
$1: How much Hulu will increase the price for both its ad-supported and ad-free subscription tiers in October.
17: How many months ahead of time Fox Sports will start selling ad space for Super Bowl LVII.
76 million: Number of expected subscriptions to streaming services among Latin American households by the end of 2021.
Stay tuned: Measurement's free-for-all phase
Based on the uptick in measurement providers in my inbox as the Media Rating Council has suspended Nielsen's accreditation, right now appears to be the biggest opening yet for companies to usurp the dominant measurement provider's position.
But from conversations I've had with executives at measurement firms, media companies and ad agencies, I'm thinking the more likely outcome is that the days of any single dominant measurement provider are done. Either that or Nielsen will reclaim its perch (which for the purposes of this item is a less interesting idea).
Nielsen has been the gold standard for measurement for decades. While many questioned the accuracy of its panel-based approach, TV networks and advertisers have continued to cling to it, if only because Nielsen's viewership numbers have become ingrained as the basis for their deals. Nielsen's role has been further reinforced as connected TV platforms and streaming services have adopted it. But that is unraveling after the MRC confirmed the VAB's claim that Nielsen undercounted TV viewership during the pandemic.
Now there is no gold standard for measurement, and eventually, there may not even be a standard.
Nielsen rose to its position by virtue of the uniqueness of its panel and retained its roost through its continued usage over time. At some point, Nielsen became not so much a measure of actual TV viewership but a yardstick against itself. Ad buyers and sellers knew — they had to have known — that Nielsen's numbers were more indicative than empirical.
Maybe 100 million people don't actually watch the Super Bowl, but it's pretty clear that plenty more people watch the NFL's championship game than any other program on TV and, at the least, Nielsen put a number on it.
Maybe a connected TV campaign didn't actually reach 3.2 million people, but if Nielsen said it did and that the linear TV delivery fetched 5 million people, then that's enough to compare the cost efficiencies.
Now, the snowballing effect of Nielsen as a measurement standard seems to be melting. What that appears likely to create is a sea of measurement solutions sans any singular standard.
There's an argument to be made that the new standard will not be any single company's measurement solution but the concept of census-based measurement, i.e. counting audiences on media properties directly as opposed to relying on a panel of people and projecting their behavior across the broader population.
But then what becomes the difference between Measurement Provider X and Measurement Provider Y? And how do ad buyers and sellers decide on what metrics to base their guarantees and judge their performance and evaluate the full playing field?
Either there is some meaningful differentiator, which then would likely lead to a fragmentation of measurement solutions as ad buyers and sellers find reason to support some but not all and maybe not even all the same ones. Or there is no meaningful differentiator, in which case the door is left open for Nielsen to repair itself to remain in the fray and potentially even retake its position.
Nielsen was ubiquitous because it was unique and unique because it was ubiquitous. But it had to be one before it could become the other. In this potential post-Nielsen era, it will be hard for any other company to become both.
What we've covered
Women of Color Unite's Cheryl L. Bedford is fighting 'exclusion by familiarity' in entertainment:
Women of Color Unite operates two programs that are aimed to help women of color get in the door and move up the Hollywood ranks.
Its #StartWith8 program originated after the murder of George Floyd in May 2020 and gets established people in Hollywood to commit to giving their time and energy to support eight women of color apiece.
Listen to the latest episode of the Digiday Podcast here.
Barstool Sports will launch a channel on Sling TV:
The bets-focused sport outlet's channel will be programmed with a repository of existing programming.
Barstool Sports will also carry a number of live college football pre-game shows.
Read more about Barstool Sports here.
What we're reading
How Agnes Chu is building up Condé Nast's entertainment business:
After taking the reins of Condé Nast Entertainment in 2020, former Disney+ executive Agnes Chu has overseen a division of the magazine publisher that has increased its revenue by 33% this year, according to The Information. But, while Chu is boosting CNE's traditional entertainment bona fides by bringing in other Disney alum, CNE's business is still largely dominated by ad-supported digital videos posted online and to platforms like YouTube and Facebook.
Amazon preps its own smart TV:
Amazon aims to debut its own branded smart TV in the U.S. potentially this fall, according to Insider. The Amazon-branded smart TV will mark the e-commerce giant's entry into the burgeoning smart TV landscape, which is a growing segment of connected TV viewership and where smart TV makers like Samsung and Vizio are toeing up against the likes of Amazon and Roku in the broader CTV platform war.
Documentaries have become prized programming:
Streaming services like Netflix have been increasingly investing in documentary films and shows as audiences have gravitated toward the nonfiction fare, according to Variety. However, the uptick could come with downsides, such as lowering standards for factual programming and a narrowing focus on proven genres like true crime.
https://digiday.com/?p=424864
This week's Future of TV Briefing looks at how major streaming service owners' subscription business fared in the third quarter of 2023.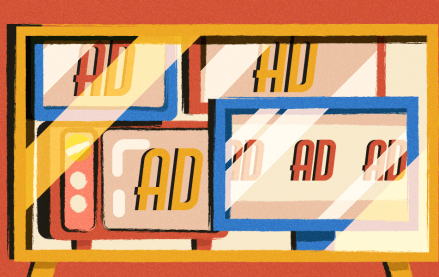 This week's Future of TV Briefing looks at what TV and streaming companies' latest quarterly earnings reports indicate about the state of the TV advertising market.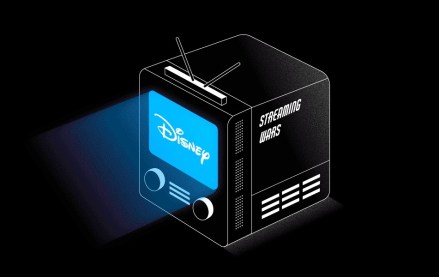 This week's Future of TV Briefing looks at how Disney's data clean room business has progressed since rolling out two years ago.