Future of TV Briefing: How programmatic may shake up the traditional upfront model this year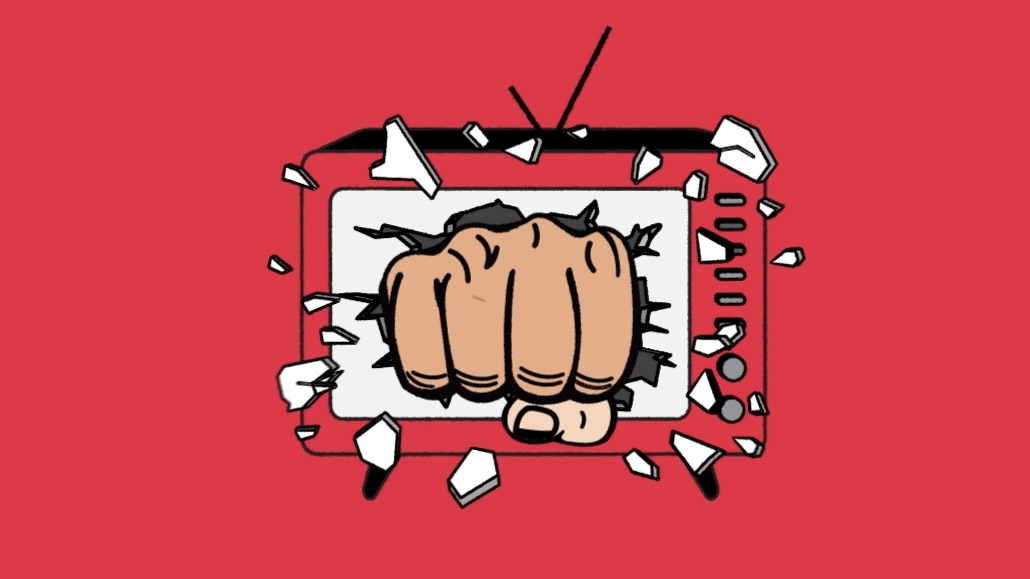 Ivy Liu
This Future of TV Briefing covers the latest in streaming and TV for Digiday+ members and is distributed over email every Wednesday at 10 a.m. ET. More from the series →
This week's Future of TV Briefing looks at the preliminary discussions TV networks are holding about whether to credit advertisers' programmatic spending throughout the year toward the upfront commitments made this summer.
The Programmatic Upfront

What to watch for in the 2023 TV upfront marketplace
Apple and the NFL eye streaming rights changes, Twitch and TikTok are having a hard time and more

The Programmatic Upfront

The key hits:

TV networks are considering allowing advertisers' programmatic spending toward their upfront commitments.
Historically, programmatic dollars did not really count toward upfront deals.
How much credit each programmatic dollar should receive remains in question.

The upfront model may actually change this year. Fine, it's still unlikely to undergo a complete overhaul and see an end to advertisers making year-long commitments with TV networks in exchange for favorable ad prices and preferred inventory access. But TV networks are discussing how to make those commitments much more fluid, with programmatic spending playing a more primary role.

"The very early conversations with the big [agency] four holding companies is trying to figure out a way to create something that's more like a 52-week framework than just an upfront. How do we create a deal that builds in more flexibility and variables that come in?" said one TV network executive.

TV networks have been holding preliminary talks with some agencies about adapting the traditional TV upfront model to function like digital's pay-as-you-go format by crediting the money advertisers spend throughout the year toward their upfront commitments, according to TV network executives.

"What people seem to be open to discussing right now is allowing those [programmatic] dollars to count towards the larger rate of change discussions and the larger upfront overall. That's a big change," said a second TV network executive.

To be clear, programmatic has been part of the upfront conversation in recent years. But advertisers' programmatic spending did not really figure into their upfront deals. "We were not really crediting [advertisers' programmatic spending toward their upfront commitments]. They were sort of sidecar deals because we just didn't know how to handle them," said a third TV network executive.

A challenge for the TV networks in handling programmatic spending as part of advertisers' upfront commitments is that programmatic purchases are somewhat antithetical to the upfront. The upfront is designed to allow TV networks to secure ad dollars ahead of time, where programmatic enables advertisers to spend their money in real time. But considering the state of the TV advertising market heading into this year's negotiations — more on that in the video below — TV network executives recognize the upfront's traditional rigidity risks turning off advertisers and turning away ad dollars.

They also acknowledge the challenge of asking advertisers in this economy in the spring to sort out their budgets for the fall through next summer. Actually, not just the challenge of that ask, but the chance that advertisers will come up with an initial, hypothetical budget when making their initial upfront commitments only to later arrive at a more realistic budget and cut their upfront orders, as happened last year.

"More and more, you're getting these kinds of fake-pledge budgets. It's not like it used to be where the upfront was somewhat sacred: If you committed, you are committed. Now the dialogue is more like, 'It's a placeholder.' And there's been a lot more breakage the last couple years, going from hold to order, than we ever saw in the past," said the first TV network executive.

So, if TV networks cannot really rely on advertisers' upfront commitments as revenue, then what's really the point of continuing to operate exclusively under the artifice of the traditional upfront model? Why not endeavor to enact a way of providing advertisers' the flexibility to spend when they like while encouraging them to spend as much as the TV networks need?

And so that is the option preliminarily being put on the upfront table. But there remain specifics to sort out before upfront buyers and sellers put pen to paper this year.

Foremost among the considerations for TV networks is how to most effectively implement programmatic in an upfront commitment so as to incentivize an advertiser to fulfill the commitment amount. That consideration comes down to the calculation of exactly how much to credit an advertiser's dollar spent programmatically to the amount of dollars the advertiser committed in an upfront deal.

"Programmatic is becoming such an increasingly important part of activation that it does deserve credit. Whether it deserves 100% credit or 75% credit when you're starting to establish rate of change…," said the third TV network executive.

While TV networks are willing to discuss counting programmatic spending toward advertisers' upfront commitments, they are wary of to what extent they can count on that revenue.

"You won't know how much money [a TV network will receive] from those accounts until real time. It'll be on a rolling basis," said the second TV network executive. "You're going to have to trust that, if you put the flexibility and the pricing in place that allows those dollars to run, they're going to be realized."

What we've heard

"The biggest challenge marketers have is, if they're going to use alternative currencies, they can't do that across all media companies and look holistically. This is the big rub."

— TV network executive

What to watch for in the 2023 TV upfront marketplace

To go along with the upfront preview series I'm doing in this briefing, I made a video recapping the state of the TV advertising business heading into this year's negotiations and, as described in this week's lead article, what TV networks are looking to do about it.

Numbers to know

200 million: Number of Fire TV-powered devices that Amazon has sold since launching the connected TV platform in 2014.

14.1%: Percentage growth year over year in premium streaming subscriptions in 2022, half the growth rate of 2021.

20%: Projected percentage growth year over in year in ad revenue for streaming services in 2023.

22%: Percentage share of agency professionals surveyed by Digiday+ Research who said they spend a large or very large portion of their budgets on YouTube marketing.

What we've covered

Fubo's Lynette Kaylor typifies the modern TV ad sales exec:

Before joining Fubo last summer, Kaylor worked on identity tech at Dentsu's Merkle.
At Fubo, she's focused on building up the streamer's first-party data strategy.

Listen to the latest Digiday Podcast episode here.

Netflix's CPM still under media buyers' skin months into its disjointed push into advertising:

One agency exec groused about Netflix's $55 CPM, which is higher than rivals like Disney+, HBO Max, Peacock and Hulu.
Agency execs remain optimistic that Netflix will eventually become a must-buy for advertisers.

Read more about Netflix here.

As its future hangs in the balance, TikTok tries to keep advertisers on its side:

TikTok has been sharing a document with marketers in an attempt to dispel myths about the platform.
The 16 myths include TikTok's ties to the Chinese government and how it uses people's data.

Read more about TikTok here.

TikTok's CEO faces bipartisan skepticism in first Congressional hearing on security concerns:

Members of Congress questioned the platform's connection to the Chinese government as well as issues relating to data privacy, advertising, content moderation and mental health.
Civil and digital rights groups continue to protest against a potential TikTok ban.

Read more about TikTok's hearing here.

Short-form video needs better monetization. Creator funds aren't the way to do it:

TikTok's, Meta's and YouTube's creator funds have not not sufficiently solved the short-form video monetization issue.
Revenue-sharing programs remain the preferred alternatives, though they've yet to prove all that lucrative for creators.

Read more about short-form video monetization here.

What we're reading

Apple eyes more live sports rights:
Apple is weighing a deal to secure U.K. streaming rights to English soccer matches, according to Bloomberg.

Twitch is having a hard time:
The Amazon-owned livestreaming platform has been willing to lose top creators, has suffered from a lack of clear, cohesive strategy leadership and has struggled to keep pace with rival platforms' ad businesses, according to The Washington Post.

TikTok is also having a hard time:
TikTok's congressional hearing did not go well for the platform, as Congress members' questions and CEO Shou Zi Chew's answers made a potential TikTok ban seem more likely than it appeared before the hearing, according to Platformer.

NFL considers Thursday Night Football flexibility:
The league and its owners will decide later this week whether to enable Thursday Night Football matchups to be moved around in order to help viewership, according to Sports Business Journal.

YouTube subscriber counts depreciate:
YouTube channels' subscriber counts have become a less valuable metric because of the ease of gaining subscribers via YouTube Shorts, according to Insider.

Want to discuss this with our editors and members? Join here, or log in here if you're already a member.

https://digiday.com/?p=497080
This week's Future of TV Briefing looks at how the streaming ad market's programmatic guaranteed vs. private marketplace debate is reaching a compromise.
This week's Future of TV Briefing looks at how this year's upfront and recent announcements from AMC Networks and Paramount indicate the progression of programmatic in the TV and streaming ad market.
This week's Future of TV Briefing looks at how major streaming service owners' subscription business fared in the third quarter of 2023.