Future of TV Briefing: Ad-supported streaming enters the broadcast era
May 4, 2022 • 12 min read
•
•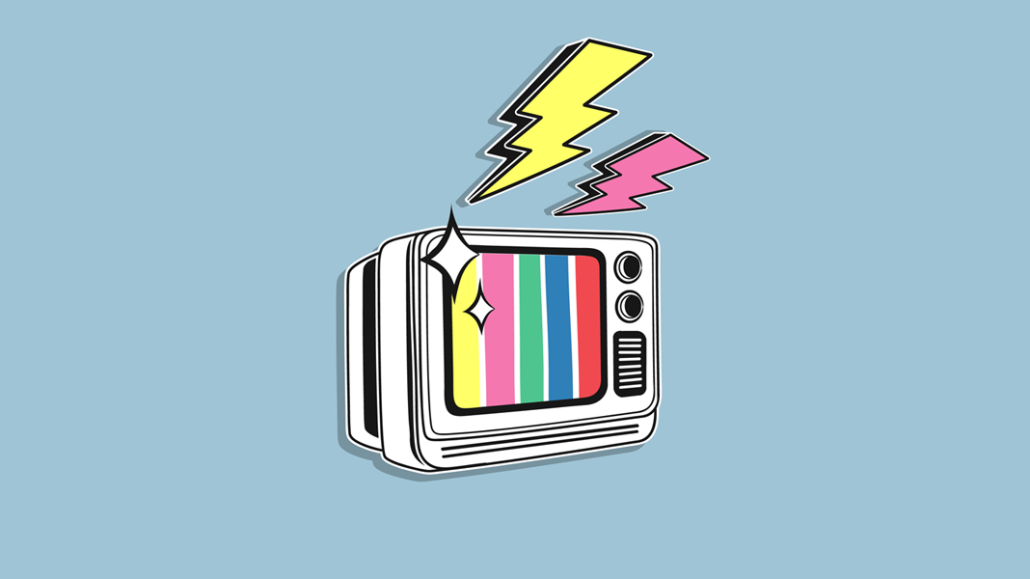 Ivy Liu
This Future of TV Briefing covers the latest in streaming and TV for Digiday+ members and is distributed over email every Wednesday at 10 a.m. ET. More from the series →
This week's Future of TV Briefing looks at how Netflix's and Disney+'s plans to add ad-supported tiers are ushering in the broadcast era of streaming.
The new broadcasters
Paramount's Q1 2022 earnings report
CTV's "other" rival for ad dollars
Roku sees Starz, Vice Studios for sale, Comcast-Charter's CTV foray, Twitch's financial tweaks and more
The new broadcasters
The key hits:
Disney+, HBO Max-Discovery+, Hulu, Netflix, Peacock and Paramount+ stand to be the ad-supported streaming equivalents to broadcast TV networks.
The rise of these streaming broadcasters could help to consolidate the streaming ad market for advertisers if ad-supported streaming audiences coalesce around them.
But this consolidation risks recreating traditional TV's seller's market within streaming — unless ad buyers are able to successfully broaden the definition of TV.
With Netflix and Disney+ planning to add ad-supported tiers, the ad-supported streaming market is entering its broadcast era. The rounding out of major ad-supported streamers should help to shore up the relative lack of supply in the streaming ad market for advertisers. However, ad buyers are wary of consolidation at the top recreating and reinforcing the unfavorable-to-advertisers economics of traditional TV.
Credit to Brad Stockton, svp of U.S. national video innovation at Dentsu, for coming up with the concept that, by adding ad-supported tiers, major subscription-based streamers are becoming the streaming equivalent to traditional broadcast TV networks (and for doing so even before Netflix's announcement). It's an analogy that other agency executives agree with and welcome.
"I love the idea of the broadcast era because that's gonna change things dramatically. Obviously, people went to those services so that they didn't see ads, and now there's an option there, but we get to crack into that space too," said Connelly Partners partner and director of media services Michelle Capasso during the Digiday Business of TV Forum on April 21.
The idea of streaming broadcasters is also a concept that broadcast TV network owners seem to be embracing.
Consider what's happening with Hulu. Originally jointly owned by broadcasters ABC, Fox and NBC to serve as their streaming outlet, Disney assuming ownership of Hulu has coincided with NBCUniversal beginning to take its programming off Hulu to put it on Peacock, which is now its chosen streaming outlet.
Other major broadcasters are making similar moves by plugging their own streamers with their linear programming — Paramount-owned CBS with Paramount+ and Disney-owned ABC with Hulu and Disney+ — all of which will be ad-supported by the end of this year. Add Warner Bros. Discovery's HBO Max and Discovery+, which are slated to combine into a single service, and eventually Netflix to the mix, and this is the lineup of streaming broadcasters that Stockton and others are referring to.
"The big six apps are the broadcast partners," said one agency executive.
This streaming broadcaster concept would seem to overlook the free, ad-supported streaming TV services, like Paramount's Pluto TV, Roku's The Roku Channel and Amazon's Amazon Freevee, which would seem better suited to become broadcast TV's heirs apparent given audiences' free access to them. But for years, the FAST services have been considered akin to cable TV with their lineups of always-on channels that largely serve as wallpaper entertainment for people to put on while doing other tasks. So they serve a role in the streaming ad market as a tier-two inventory source and something of a safety net for advertisers to ensure they are reaching the audiences they may be missing on traditional TV or on the so-called streaming broadcasters.
The rise of these streaming broadcasters is a welcome development among advertisers, especially if it helps to address the supply and reach challenges they face in streaming. In the first quarter of 2022, only 20% of U.S. households used an ad-supported, on-demand streaming service in the first quarter of 2022, while FAST services had a slightly higher penetration at 25%, according to Kantar's Entertainment on Demand. By comparison, 81% of U.S. households used a subscription-based streamer in the period.
"There's a limited supply of eyeballs going to ad-supported streaming," said a second agency executive.
Furthermore, audiences have fragmented across the major streaming services. Nearly two years after Peacock's debut, a little more than a year after Discovery+'s launch and nearly a year after HBO Max and Paramount+ added ad-supported tiers, agency executives said they are still having to advertise across the services because audiences have yet to consistently coalesce around certain services. "Not all streamers contribute equally to reach, and the reality is that they're still growing penetration," said GroupM executive director of research and investment analytics Bharad Ramesh during the Digiday Business of TV Forum.
However, while the potential for advertisers to at least consolidate the bulk of their streaming ad buys to the streaming broadcasters would make ad buyers' jobs easier, the risk inherent in that consolidation is that it could recreate traditional a TV's seller's market where the broadcast TV network owners hold the bargaining power and are able to press for higher prices and a higher share of advertisers' budgets.
This scenario is where those FAST services and especially platforms like YouTube and even TikTok come in. By expanding the definition of what advertisers consider premium video beyond traditional TV and streaming services stocked with TV programming to include digital videos that people may watch on TV — YouTube's CTV viewership has been on the rise, and TikTok does have a CTV app — advertisers are able to widen the supply of inventory, which can help to keep prices in check and give buyers leverage when dealing with the streaming broadcasters.
"We are looking to include some of the social partners [in upfront deals], and we've done some work with them where we're saying, 'We need to expand the definition of premium video,'" said the second agency executive.
That is to say, ad-supported streaming's broadcast era may instead be better considered an epoch within the era of TV's broadening to encompass all video.
What we've heard
"The current number of [free, ad-supported streaming TV] platforms and how similar they are is unsustainable. That's part of the reason why we're bullish on being on all of them because we don't know who's going to win."

— Streaming executive
The Rundown: Paramount's Q1 2022 earnings report
Paramount's first quarter earnings report featured some strong numbers related to its streaming business. Its streaming subscriber base grew, as did its streaming subscription and advertising revenues. But the biggest year-over-year uptick was the amount of money that Paramount is spending on its streaming business — which the company labels as "direct-to-consumer" — which had the effect of increasing the amount of money the company is losing in streaming.
The key details:
$1.1 billion in direct-to-consumer revenue, up 82% year over year
$742 million in DTC subscription revenue, up 95% year over year
$347 million in DTC advertising revenue, up 59% year over year
62.4 million total streaming subscribers after 6.3 million subscribers in Q1
39.6 million streaming subscribers for Paramount+, which added 6.8 million subscribers in Q1
$585 million in revenue for Paramount+, up 148% year over year
67.5 million monthly active users for Pluto TV, up 3.1 million MAUs in Q4 2021
$253 million in revenue for Pluto TV, up 51% year over year
$1.5 billion in DTC expenses, up 107% year over year
-$456 million in adjusted operating income before depreciation and amortization for its DTC business, a 206% increase in the amount of money lost
To be fair, every major TV network owner is losing money while building up their respective streaming businesses. So Paramount is no different in that respect. However, Paramount's streaming costs and losses are not the only numbers cited above that stand out.
You may have noticed that Paramount+ added 6.8 million streaming subscribers in Q1, but Paramount's overall streaming subscriber base only increased by 6.3 million subscribers. In other words, Paramount's other subscription-based streamers — Showtime, BET+ and Noggin — collectively lost 500,000 subscribers in the period. Paramount did not break out what percentage of its streaming expenses went to those three streamers, which account for roughly a third of its streaming subscriber base.
Another number worth calling out is Pluto TV's monthly active user count — not for the number itself but for what it actually represents. Typically, user refers to an individual person using a given service. Not in Pluto TV's case. "The Monthly Active Users ("MAUs") count reflects the number of unique devices interacting with the Pluto TV service in a calendar month," according to an earnings document that Paramount released on Tuesday. In other words, the number of people using Pluto TV each month could not have grown at all, and instead its existing user base may just be using the FAST service on more connected TVs, phones, computers and other devices. To be clear, that's unlikely, but we have no way of knowing either way from the provided number.
Numbers to know
>13 million: Number of paid subscribers that NBCUniversal's Peacock had at the end of the first quarter of 202.
>20%: Percentage share of time people spend on Instagram that is spent watching Reels.
-112,000: Number of pay-TV subscribers that Charter lost in the first quarter of 2022.
37%: Percentage share of U.S. streaming subscribers that do not subscribe to a traditional pay-TV service.
CTV's "other" rival for ad dollars
Given the ad-supported streaming boom covered above, it should be unsurprising that connected TV continues to increase its share of advertisers' digital video dollars. What is surprising, though, is that CTV has yet to overtake the money going to other forms of online video, including the out-stream video ads appearing on article pages, according to the Interactive Advertising Bureau's 2021 Video Ad Spend and 2022 Outlook Report.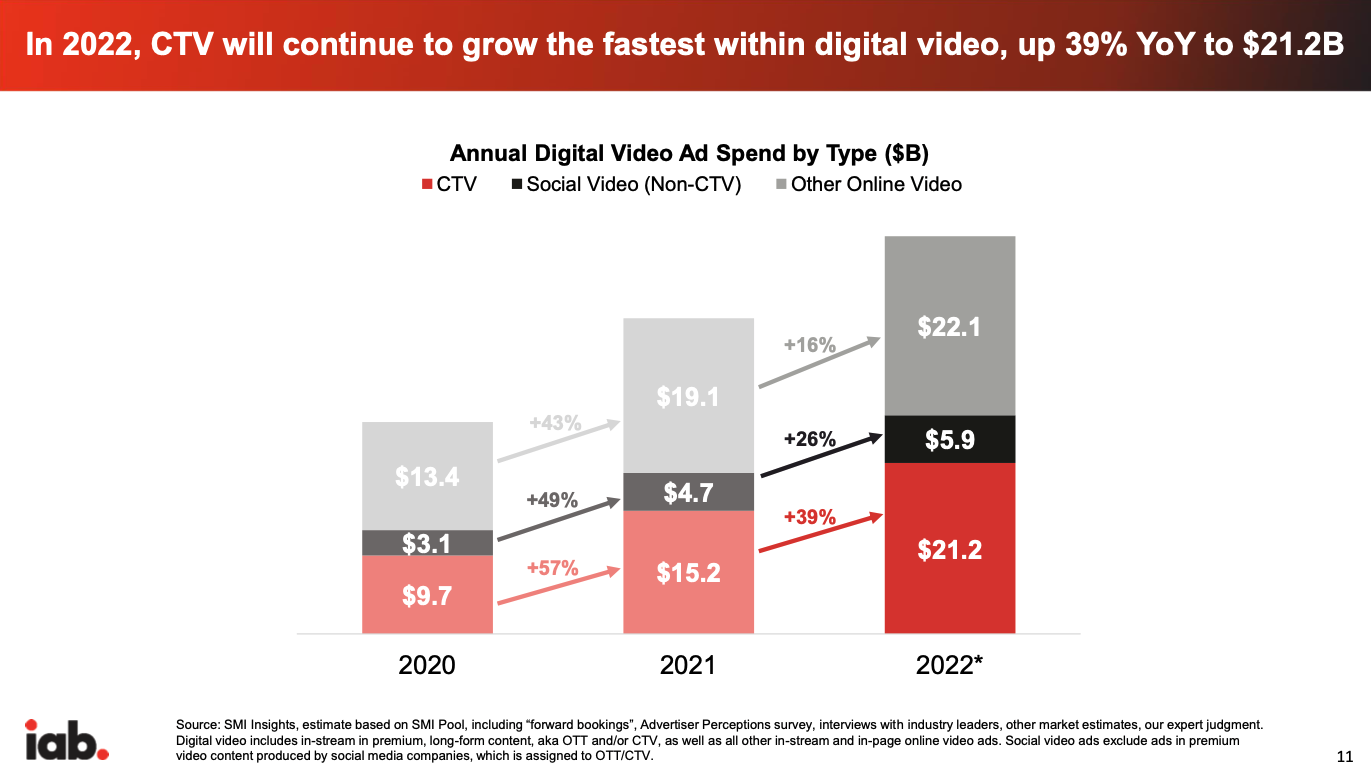 The surprising thing about the dominance of the "other digital video" category is that it excludes what are typically considered the primary recipients of advertisers' digital video dollars. It does not include major ad-supported streamers like Hulu, Pluto TV or YouTube TV. And it doesn't include digital video platforms like YouTube and TikTok, both of which are bucketed as "social video" to their likely chagrin.
Instead, the IAB's report defines "other digital video" as "short-form video from web/app-based publishers." Vague as that definition is, by deducing the excluded digital video sources, "other digital video" seems to refer to the not-so-premium forms of digital video, such as the videos that publishers inject into text-based article pages simply in order to have video ad inventory to sell.
To be clear, CTV is ascendant. The amount of money going to CTV advertising is growing at a quicker clip than either "other digital video" or social video. And CTV seems to be on pace to take the leading share of digital video dollars next year. But among the factors fueling that will be the deprecation of third-party cookies and mobile IDs.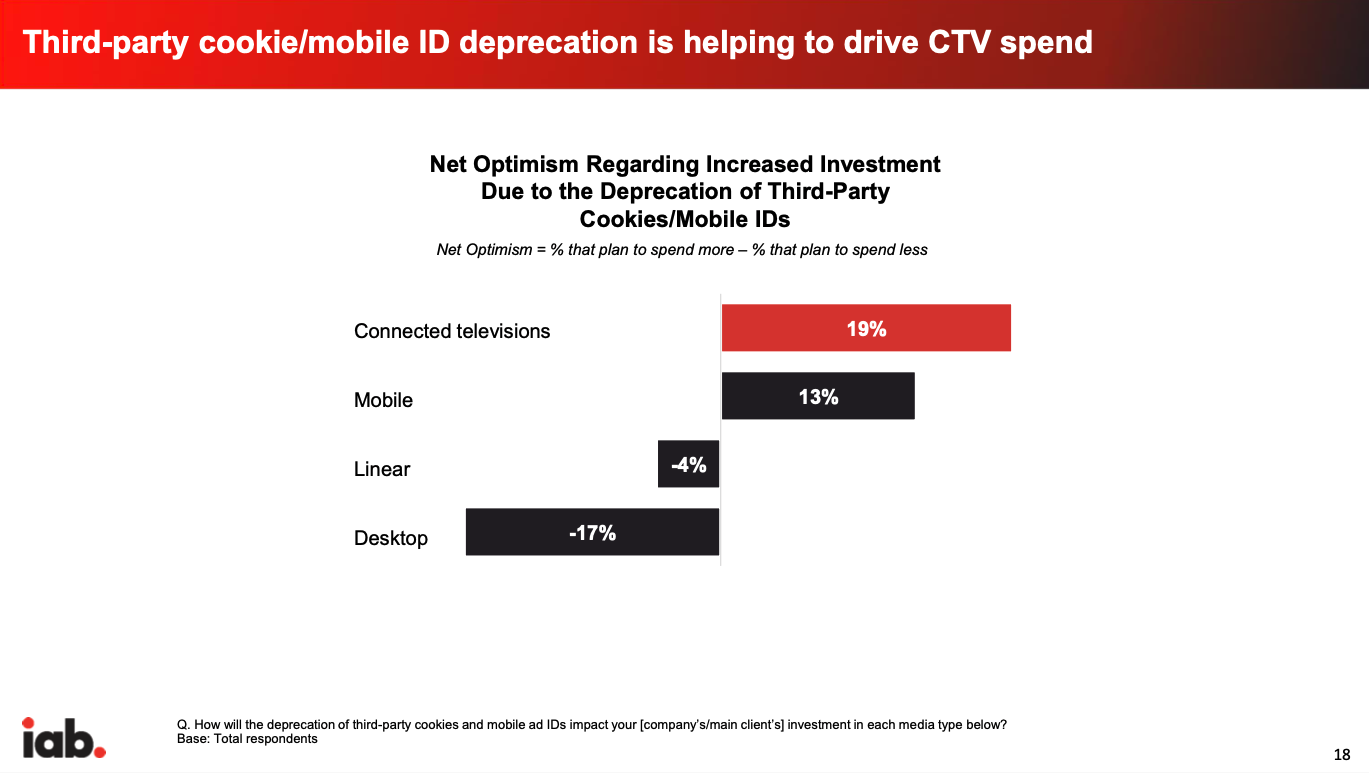 In other words, as much as CTV on its own may be attractive to advertisers, it is being aided by the fact that that "other digital video" bucket — appealing to advertisers for being cheap and easy to measure and attribute — is becoming unappealing because of the looming limitations advertisers will face in measuring and attributing their online video ads. And even then, only 25% of an undisclosed number of surveyed ad buyers said they plan to shift money away from social video or other digital video ads.
What we've covered
CTV platforms and ad-supported streamers kick off NewFronts Day 1:
TV and tech companies, including Amazon, Fox's Tubi, NBCUniversal's Peacock and Vizio, talked up the coming together of traditional TV and streaming.
The announcements revealed new products designed to insert advertisers into the programming as well as to evaluate the performance of advertisers' streaming campaigns.
Read more about NewFronts Day 1 here.
With commerce at the center, how an Instagram influencer turned Amazon Live host:
Instagram influencer Katie Sands was one of the first hosts for Amazon's shoppable live video program Amazon Live.
The interview with Sands caps off the Digiday Podcast's four-part series on creators.
Listen to the latest Digiday Podcast episode here.
How the creator economy is growing amid the pandemic:
Digiday has produced a series of stories that explore various facets of the creator economy.
The Creator Machine article collection spans stories how publishers are working with creators, how creators are capitalizing on their intellectual property and how the role of social media manager has changed.
Read Digiday's Creator Machine article collection here.
Roku's active account base reaches 61 million, but growth weighed down by ongoing supply chain issues:
Roku increased its total revenue and account base in the first quarter of 2022.
The connected TV platform owner also reported upticks related to its advertising business.
Read more about Roku's latest earnings report here.
What we're reading
Roku sees Starz:
Roku and private equity firm Apollo Global Management — which owns Yahoo — are looking to place a joint bid for up to a 20% ownership stake in Starz, according to The Wall Street Journal.
For sale: Vice Studios:
Vice Media Group is looking to sell Vice Studios, which happens to be the media company's biggest source of revenue, according to The Information.
Comcast-Charter join the CTV platform war:
Connected TV platforms are often described by industry executives as the streaming equivalent of traditional pay-TV providers. Little wonder then that traditional TV providers Comcast and Charter have formed a joint venture to operate a CTV platform and take on the likes of Amazon, Roku and Samsung according to CNBC.
Twitch considers tweaks to creators' financial take:
Amazon-owned Twitch is weighing whether to incentivize streamers to run more ads as well as to lower the cut some streamers receive for subscription sales, according to Bloomberg.
The counterintuitive upfront pitch:
Linear TV may be eroding, and streaming may be the future, but some TV network owners are seizing on the former as the centerpiece of their upfront pitches to advertisers this year. Those network owners see the subscription-based streaming fight as opening an opportunity for their networks to better compete in the linear TV ad market, according to The Hollywood Reporter.
Hollywood's COVID guidelines extended:
Film and TV unions have agreed to keep the industry's COVID protocols in place as they wait to agree to an updated set of guidelines with the Alliance of Motion Picture & Television Producers, according to Deadline.
https://digiday.com/?p=446949
This week's Future of TV Briefing looks at how this year's upfront and recent announcements from AMC Networks and Paramount indicate the progression of programmatic in the TV and streaming ad market.
This week's Future of TV Briefing looks at how major streaming service owners' subscription business fared in the third quarter of 2023.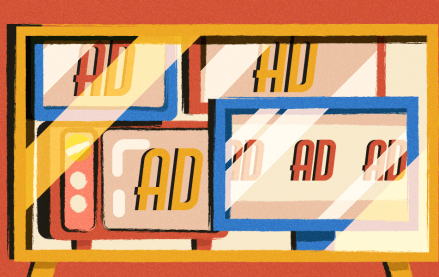 This week's Future of TV Briefing looks at what TV and streaming companies' latest quarterly earnings reports indicate about the state of the TV advertising market.