Future of TV Briefing: A Q&A with Vox Media Studios' Chad Mumm
June 22, 2022 • 12 min read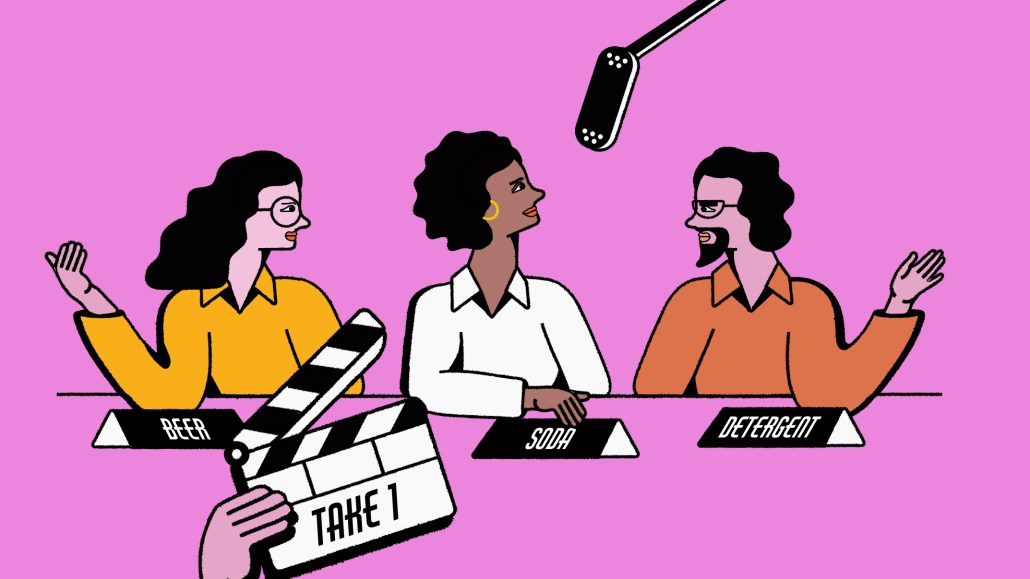 This Future of TV Briefing covers the latest in streaming and TV for Digiday+ members and is distributed over email every Wednesday at 10 a.m. ET. More from the series →
This week's Future of TV Briefing features an interview with Vox Media Studios' chief creative officer Chad Mumm who talks about the media company's latest show and how the production business has evolved.
The present of Vox Media Studios
Trend watch: Streaming seizes on traditional TV's slow month
Roku's deal terms, TikTok's commerce program, streaming kids' programming and more
The present of Vox Media Studios
Seven years after Vox Media formed an entertainment division to produce shows to sell to TV networks and streaming services, Vox Media Studios is both profitable and prolific. The media company's entertainment arm has around 18 shows in production, having debuted 48 series since its inception, according to Vox Media Studios chief creative officer Chad Mumm.
The scope of Vox Media Studios' shows has also expanded. Vox Media's acquisition of Group Nine Media has added kids and family programming to the mix, for example. And then the studio has also been working with more of Vox Media's publications to produce shows, such as tech-centric documentary series "The Future Of" which it produced with Vox Media's tech news publication The Verge and that premiered on Netflix on June 21.
This expansion in scope led Vox Media Studios to restructure itself earlier this year. In addition to Epic — the film-and-TV studio Vox Media acquired in 2019 that specializes in scripted movies and TV shows — there's the scripted team from New York Magazine, a team focused on narrative documentary and nonfiction programming and a team concentrated on unscripted lifestyle programming.
"We've previously not been so vertically focused in terms of content category. But now just by necessity, we've had to organize ourselves and be a little more structured in that way," said Mumm.
The interview has been edited for length and clarity.
Beyond being the first Netflix show from The Verge, does "The Future Of" represent any evolution in Vox Media Studios' work?
Every show is an evolution. There's never really been a show like "The Future Of," and it draws a lot of learnings from our experience making various versions of "Explained" [a show that Vox Media Studios produces for Netflix that is based on Vox.com's explainer format] throughout the years.
It's not the same team that's doing it. We have a different showrunner and things like that. But some of the techniques that we use to build the predictions, we used a lot of similar reporting ideas and structure that we do for "Explained." We wanted the predictions about the future [in "The Future Of"] to feel as satisfying as the explainers do in "Explained."
We always say a good explainer is kind of like a T-shape. You start with something really broad, you get to the T and you go all the way to the very bottom of it, and you go really, really deep on something, and then that gives you this new kind of turn or a surprising twist to that thing you were explaining that you didn't really expect.
With "The Future Of," did you all try anything new from a production or even pre- or post-production standpoint?
Pressure-testing and pushing forward our animation workflow that we had built to make ["Headspace Guide to Meditation" for Netflix] and were able to really deploy for this series. We also worked with a really amazing storyteller named Rose Eveleth, who we brought in to partner up with The Verge to help make predictions. She's a podcaster. She has a podcast called "Flash Forward" where she does predictions about the future, and she's a very smart journalist. We brought her in to basically help lead the predictions team. And it was really fun to see her and The Verge teamwork through predicting a future that felt really plausible because that was the main goal from the beginning with the show.
This show was produced during the pandemic when every kind of production had to make some number of adjustments. What are the ones that you've kept in the toolbox now as things have kind of returned to normal from a production standpoint?
Definitely being able to hire great people regardless of where they're located has been something that we continue to do. It used to be being in-person in a city was a prerequisite to having a senior role on a show like this. But in this case, because we were in production during the pandemic, we were able to bring in amazing creatives and producers and story teams from all over. The show really was a bicoastal production between New York and L.A., and I think we wouldn't have been able to do that and hire those same people if were fully based in one office.
Vox Media Studios is producing "The Future Of" with 21 Laps Entertainment. Is that a different type of production arrangement for Vox Media Studios? Historically you all have kind of done everything on your own.
We're the production company of record for this one, so it's really no different. [21 Laps Entertainment is] creative stakeholders with us and obviously had an amazing track record of making really human science fiction [as the production company behind "Stranger Things"]. Especially with something like predicting the future, you could easily veer off into feeling like these pop-science magazines and you're just writing for a tiny audience. They were really helpful at continuing to push our teams to think about how to make it really accessible and really broad and really fun and really human and emotional and not being too in the weeds of technology that we lose audiences. So from a production standpoint, 21 Laps is our partner. But we did this in studio with our physical infrastructure and our resources.
Vox Media Studios has done shows with a number of different Vox Media properties at this point, and now there are more Vox Media properties with Group Nine coming into the fold. What parts of the process work regardless of publication, and where do you need to tailor the process to the individual publications or where the people from the publications need to be involved?
Every time we've ever worked with an editorial network, the thing that's been consistent is the leads of those brands are executive producers that are embedded with our creative teams on a real level. It's not a token thing. That is the direct result of the strategy that we set up six, seven years ago. We didn't want to be partnering our editorial brands with third-party production companies and having those edits happen at some other person's office who makes reality TV shows and is not able to live up to our own editorial standards.
In this case, [The Verge editor-in-chief] Nilay Patel and [The Verge executive producer] Nori Donovan, they were the executive producers. They've been in every story meeting. They've been in every cut giving notes. Their teams have gotten a chance to work on the series and contribute in really cool ways. And it truly is a Verge product.
A newer development over the past two to three years, some Vox Media properties have their own connected TV apps. And The Verge has even produced original programming like the Handspring documentary "Springboard" for its CTV app. Does that change how you think about rights management for shows that you pitch to TV networks and streaming services?
Not really, to be honest. The Verge obviously has a very successful video team, and they have their own programming mandates to continue to grow their audience and their opportunity with the stuff that they can produce on their own. Our job is to basically be the market-maker for our editorial properties when it comes to Hollywood. With "The Future of," this was not really anything that The Verge was doing. But they had unique expertise. So when we came up with this idea and we brought them into it, it was only going to happen if they were fully in and fully invested. But it's not like we're holding stuff back from Hollywood because of the [CTV app]. Those things are just really complementary.
Vox Media completed its acquisition of Group Nine Media earlier this year, and Group Nine had its own studio and had signed a development deal with Discovery last year. How has Group Nine been brought into the studio?
We inherited a really great team that had come a long way and really was coming into a year where they were going to be premiering a lot of shows that are the fruits of several years of work. Thrillist with "Messy History of American Food" and NowThis with their series "Uprooted", these shows are working on [Discovery+], and The Dodo continues to be successful in the kids and family and lifestyle space. When we got a chance to look at their projects in the pipeline, we were really excited to have them join our team. We kind of reorganized the studio to take advantage of some of the things that they were really good at that we weren't as deep in, including kids and family stuff and lifestyle-oriented programming.
Talking about the broader buying market for shows at this point. Companies like Warner Bros. Discovery are tightening their programming budgets. The Information reported that Netflix may have to pay up to 20% more to license shows and movies for its upcoming ad-supported tier. So companies' own costs are having to go up, and they're trying to manage those costs by, in some cases, cutting budgets. How has the buying market for shows changed this year, and then how are you having to adapt the studio's strategy in light of those changes?
We're not changing our strategy. We've always had a very deliberate approach to development. We tend to pitch and develop fewer shows, but we tend to go bigger with that work. We've always also been more focused on the streamers than the broader cable landscape. So in general we still feel really good about the future being a streaming world. Whether that's ad-supported or [subscription-based], they're still going to need shows that speak to this modern audience. You see that with "The Future Of" and [true-crime documentary series] "Mind Over Murder," which premiered last night on HBO. Two totally different series produced by the same studio that address two totally different parts of the market.
As the industry dynamic shifts a little bit, we don't see any less interest in the kinds of stuff that we want to make. These things tend to go in cycles. We could end up in a scenario where — I wouldn't say the economic opportunity — but it swings back toward producers a little more, potentially, if networks are more cost-conscious. But I haven't seen any real direct evidence of slashing budgets or anything like that. If there's a great series that they feel like they're going to miss out on with one of their competitors, there's always going to be a market there.
What we've heard
"The secret weapon of YouTube at the moment is their viewership on TV devices. No one's watching TikTok on their home TV. No one's watching Facebook on their home TV. The RPMs on TV viewership are astronomical… For a brand that will typically do $2-3 RPM on mobile, we're talking a $10-15 on TV."

— Matt Gielen, CEO of Electric Monster
Trend watch: Streaming seizes on traditional TV's slow month
Streaming's slowdown has picked up the pace and continued to catch up on traditional TV in the latter's slowest month of the year, according to Nielsen's The Gauge viewership report for May 2022.
"May is historically the month when TV viewership is at its lowest, and this year fell in line with that trend, as total time with TV fell 2.7%," the measurement provider wrote in a company blog post. However, while broadcast and cable TV's watch time dropped by 3.5% apiece, streaming's watch time rise by 2%, and streaming's share of overall TV watch time also increased.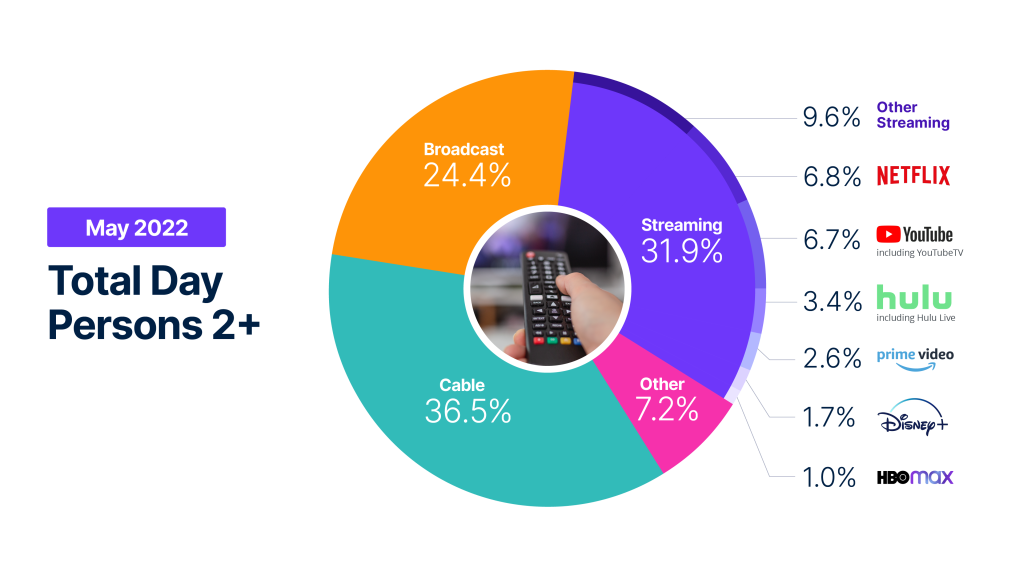 Streaming's share of total TV watch time increased by 1.5 percentage points from April to May. While broadcast and cable TV ceded some share, the biggest loser was, unhelpfully, the "other" category, which spans gaming, set-top box video on demand, streaming via set-top boxes and whatever sources Nielsen can't measure (which seems to make this measurement very much a guesstimate).
Within the streaming bucket, YouTube saw the biggest growth in its share of viewership on a TV screen. The Google-owned digital video platform's share rose by 0.6 percentage points. Netflix followed with a 0.2 percentage point increase, while Amazon Prime Video and Hulu each inched up by 0.1 percentage point. Disney+ and HBO Max saw their shares stay the same from April, as did the streamers grouped into the "other streaming" category.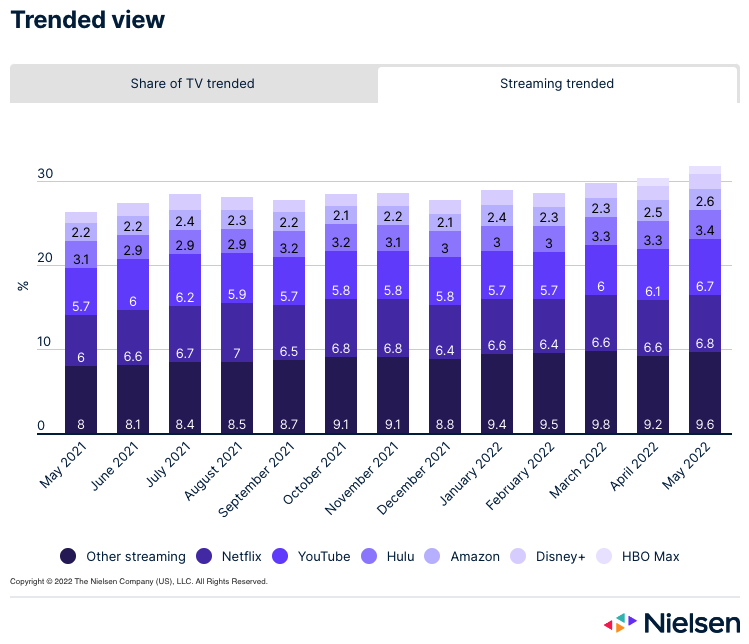 Numbers to know
>1.5 billion: Number of people who watch at least one YouTube Short each month.
29%: Percentage share of U.S. households that used an ad-supported streaming service in 2022, compared to 21% for subscription-based streamers.
13%: Percentage year-over-year increase in revenue for subscription-based streamers this year, down from a 20% year-over-year increase in 2021.
40%: Percentage share of NBCUniversal's upfront deals this year that are not based on traditional age-and-gender guarantees.
>10%: Percentage increase in upfront ad dollars that Paramount expects to secure this year compared to last year.
What we've covered
Omnicom and Instacart agree to share data that connects sales data to TV ad spend:
The agency holding company will be able to see how many people saw an ad on TV or streaming and then purchased a product through Instacart.
The deal will use Omnicom's clean room infrastructure that's already set up with NBUniversal and Disney.
Read more about Omnicom's and Instacart's deal here.
TikTok wants its "low key" approach to Cannes Lions to cement it as a serious player:
For its Cannes debut, TikTok has two spaces at Cannes with members of its C-suite in attendance.
TikTok is using Cannes, in part, to educate advertisers and agencies on the platform.
Read more about TikTok's Cannes presence here.
Why the Los Angeles Times is investing in a social media content creation team:
Called 404 by L.A. Times, the team includes content creators, artists, filmmakers, writers and even a puppeteer.
The team is focusing on content for Instagram and TikTok in particular.
Read more about the L.A. Times' creator team here.
What we're reading
Roku tweaks its distribution deal terms:
Roku plans to change the terms of its distribution deals by decreasing the revenue received by content suppliers by 5 percentage points and requiring free, ad-supported streaming TV channel operators to use Roku's own content delivery and ad insertion tech, according to Protocol.
TikTok's commerce program loses influence:
TikTok's live shopping program in the U.K. has fallen out of favor with creators for reductions in revenue among other issues, according to Financial Times.
Free, ad-supported streamers seek to seize the moment:
With subscription-based streamers seeing subscriber growth slow and even stall, free, ad-supported streaming services like Paramount's Pluto TV and Fox's Tubi are looking to bolster their programming libraries in order to take advantage of the subscription fatigue that seems to have finally set in, according to The Wall Street Journal.
Instagram and Snapchat look to keep up with social shifts:
Instagram is preparing to test an update that will make the Meta-owned app look more like TikTok, while Snapchat is testing a paid tier (creatively called "Snapchat+") that mirror some of Twitter's Twitter Blue paid tier, according to Gizmodo.
Streaming is not child's play:
Streaming's push for children's programming has encountered some growing pains, with the likes of Netflix, Warner Bros. Discovery and Disney taking steps to ease their feet off the gas, according to Insider.
https://digiday.com/?p=452156
This week's Future of TV Briefing looks at what an industry group's conditional certification of three measurement currency contenders signals about the TV ad business's measurement overhaul.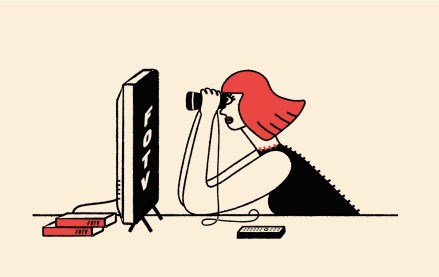 This week's Future of TV Briefing offers an updated list of the key terms that can cause confusion when talking about the TV, streaming and digital video industry.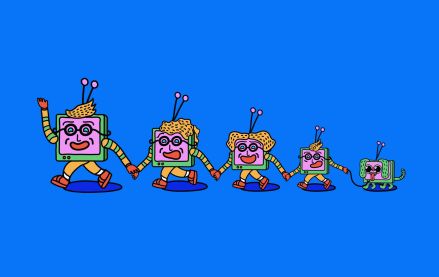 This week's Future of TV Briefing looks at what the Disney-Charter pay-TV distribution deal seems to indicate about the increasingly more-complementary-than-contentious relationship between traditional TV and streaming.