Cheat Sheet: Connected TV platforms, ad-supported streamers pitch audience reach, original programming on first day of NewFronts
May 4, 2021 • 8 min read
•
•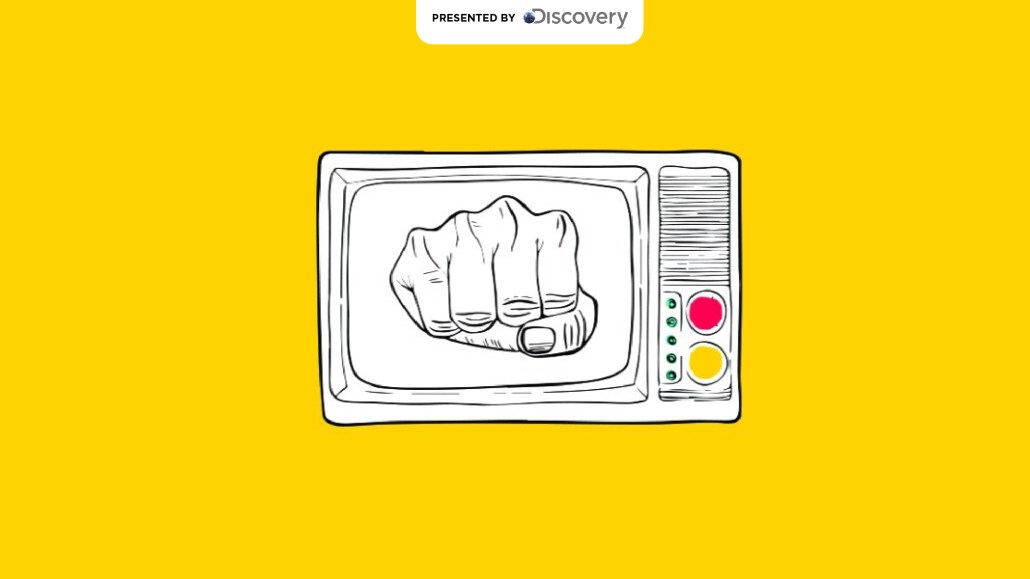 Ivy Liu
More people between the ages of 18 and 34 are watching streaming than linear TV. Streaming TV reaches an audience that is not tuning into linear TV, which is declining. Cord cutting is accelerating. That was the argument from most of the companies trying to lure ad buyers to spend money on their connected TV platforms and ad-supported streaming services on the first of the four-day Interactive Advertising Bureau's 2021 NewFronts event, which kicked off yesterday.
The key details:
Connected TV platform owners Amazon, Roku, Samsung and Vizio touted the number of people their platforms reach.
Ad-supported streaming service providers Crackle and Fox's Tubi announced original programming line-ups.
Presenters also pitched advanced advertising products, including a tool to manage how many times someone is exposed to a campaign and a method to retarget CTV viewers on other devices.
Roku
Roku's NewFronts message: "start with streaming." In other words, put your money into the streamers before traditional buys in linear TV.
Roku says it added 14 million new accounts in 2020, according to Alison Levin, vp, ad revenue & marketing solutions at Roku. Roku provides over 40,000 free movies and TV shows to its viewers, who have a median age of 39. In the first quarter of 2021, Roku reached an estimated 70 million people in the U.S., up 103% year-over-year, according to its presentation.
To reach those people across its CTV platform, Roku once again pitched its ad-buying platform OneView and touted offering Nielsen's reach and frequency reporting by age and gender across linear TV, streaming, desktop and mobile, according to the company.
The OneView dashboard lets brands select the audience they want to reach (using their own customer data, Roku's audience data or data from other providers), run their campaign on Roku's free, ad-supported streaming TV service The Roku Channel and add in other media buys and measure performance (such as web visits, app downloads, store visits or cost per acquisition). Nielsen tags are added across advertisers' upfronts brought into OneView, with daily reports to compare performance with other platforms or devices, for example.
"It's been a holy grail forever for the buyers to be able to have a single metric of reach and frequency across all channels. It's been hard to do… together we are bringing that to something that's measurable, consistent and scalable," Nielsen CEO David Kenny said during the presentation.
The company has also launched Roku Brand Studio to create branded content with advertisers; its launch partner is Maker's Mark. Additionally, the company is offering to sell 15-second spots on The Roku Channel at half the cost of a 30-second spot, to make it easier to compare with traditional TV buys. Roku has also lowered its window for upfront advertisers to adjust or cancel 100% of their commitments from 14 days to two days before a campaign's launch.
Finally, Roku has rebranded the more than 75 shows it acquired from Quibi (which went out of business) as "Roku Originals," with programs that feature stars like Kevin Hart and Demi Lovato. Those shows will be made available for free to watch on The Roku Channel.
Crackle Plus
One of the earliest ad-supported streaming companies, Crackle Plus will roll out a redesign of the user interface for its ad-supported connected TV app Crackle in the third quarter. It will come with a content guide, better search and recommendation algorithms and a content calendar to show what's coming to the platform soon. Its launch sponsor is Vizio. Smartphone users will be required to sign in, for ad targeting and recommendations across platforms (what you're watching on Crackle can inform recommendations on Popcornflix, another ad-supported streamer owned by Crackle Plus).
Crackle Plus has more than doubled its content programming in the past year, adding over 200 hours of original and exclusive programming, according to Philippe Guelton, president of Crackle Plus and evp of online networks at Chicken Soup for the Soul Entertainment, Inc., which acquired Crackle from Sony in March 2019. By the end of this year, the company will add 34 new distribution outlets, including properties on Comcast's Xfinity Flex CTV platform and streaming pay-TV service fuboTV. Crackle Plus has 30 million monthly users across platforms, according to the company.
Crackle Plus also recently expanded their partnership with streaming brand Plex to sell advertising across their entire platform, and it announced partnerships with Bridgestone Multimedia Group to create more content in the faith and family category. Additionally, the company will launch a new AVOD platform called Chicken Soup for the Soul this fall. It will have scripted TV shows for adults and families as well as unscripted lifestyle shows and documentaries.
Fox + Tubi
As a free, ad-supported platform, Tubi's Newfronts presentation focused on hammering home the fact that advertisers are the center of the Tubi revenue universe. Acquired by Fox one year ago, the platform pushed its slate of more than 30,000 owned-and-operated and acquired titles, its ad solution technology Advanced Frequency and its new slate of original content that's launching this year.
Advance Frequency's aim is reducing ad repetition in programming that happens when advertisers buy from multiple aggregators. Using algorithms to scan frames, the tech tracks the number of times a company's logo or text is repeated on screen in a household and removes redundancies, according to Tubi brand ambassador and Fox NFL reporter Erin Andrews in the presentation. For one client, this tech blocked 26 million repeat impressions, which allowed it to increase its daily reach by more than 100,000 streamers at a cost per unique reach that was 19% more efficient than a traditional campaign, she said.
Tubi's other major point of focus was its 140 hours of original programming that it will start launching this year. Some of these projects include Shark Month in August, seasonal movies and shows around holidays, documentaries on the British royal family and true crime, as well as animated content created with its sibling company Bento Box Entertainment. This content is also being produced using data from Tubi's Content Intelligence tech — its algorithm that tracks what viewers watch to build profiles on its audience and provide tailored recommendations based on interests, said Adam Lewinson, the platform's chief content officer.
Samsung
Samsung debuted three new products during its presentation: Samsung TV Plus Editorial Sponsorship, Samsung Discovery Masthead and 1st Screen Plus.
Samsung's advertising platform Samsung Ads reaches consumers across 45 million households. Samsung TV Plus, the company's free, ad-supported streaming TV service, saw 84% year-over-year growth in monthly active users and a 34% year-over-year increase in time spent on the service. The streamer has over 160 live channels.
Samsung TV Plus "gives advertisers all the benefits of traditional linear TV buy with all the benefits of addressability and accountability of digital," said Tom Fochetta, svp of Samsung Ads, said during the NewFront presentation.
Samsung TV Plus Editorial Channel Sponsorship will let advertisers take over an entire streaming channel, reaching viewers via multiple ad units. "It's our first ever opportunity to allow advertisers to own all of our owned-and-operated channels across Samsung TV Plus," added Cathy Oh, vp, global head of marketing and analytics at Samsung Ads.
The 1st Screen Plus will serve an ad thumbnail in the first slot in the home screen menu. Hovering over that thumbnail will expand an ad on-screen. The new Discovery Masthead format (available on Samsung TV's Universal Guide and its app store) will only allow one advertiser to run a campaign at a time via a masthead banner ad.
Vizio
Each month 12 million people across the U.S. use Vizio's smart TV platform SmartCast, according to founder and CEO William Wang. Vizio represents 20% of the smart TV marketplace, according to the company's presentation.
Vizio's vp of engagement Steve DeMain introduced the company's new personalized content initiative, Features, which uses the Vizio's first-party viewership data to create and deliver custom content experiences for audiences and advertisers across SmartCast-powered TVs. "It helps solve the search and discovery problem that gets us all," DeMain said.
As part of the Features program, Vizio is launching a gaming and e-sports channel with Subnation and a short form video series with Variety, dedicated channels for the LGBTQ community as well as the categories of home and DIY, live concerts, comedy and true crime.
Vizio also brought up some of its more advanced ad products, like True Incremental Reach, which measures the percentage of ad impressions that hit unreachable households not exposed to advertising on linear or broadcast. A new product called Household Connect enables advertisers to retarget consumers on other devices based on what they saw on Vizio TV. In other words, if a viewer is served an ad through their Vizio TV, that same advertiser can follow that viewer and serve them more ads on their mobile device, computer or other smart TVs in the same household.
Vizio also announced a partnership with Verizon Media, an effort to build upon both companies' viewership data for opt-in smart TVs and mobile cross-device users, to create cross-platform and connected TV advertising solutions.
Amazon
Amazon's ad-supported streaming video programming — including videos on gaming-centric streaming platform Twitch as well as free, ad-supported streaming TV service IMDb TV — reaches 120 million unique people, up from 20 million people in January 2020.
IMDb TV, in particular, has experienced a 138% increase in viewership year over year and 62% of its viewers are between 18 and 49 years old. The ad-supported streamer will continue to debut more original scripted and unscripted series, including one from Dick Wolf (the creator of the "Law & Order" and "Chicago" franchises) and another with interior designer Jeff Lewis, a makeover home design series.
Amazon's presentation also showed off the ability for viewers to buy products directly from ads on IMDb TV, by adding it to their Amazon carts via the remote or virtual assistant Alexa.
In 2022, 15 Thursday Night Football games will air exclusively on Amazon's Prime Video (a year earlier than previously announced), with new pregame, halftime and post game shows.
— Kayleigh Barber contributed reporting.
https://digiday.com/?p=413131
This week's Future of TV Briefing looks at how the streaming ad market's programmatic guaranteed vs. private marketplace debate is reaching a compromise.
This week's Future of TV Briefing looks at how this year's upfront and recent announcements from AMC Networks and Paramount indicate the progression of programmatic in the TV and streaming ad market.
This week's Future of TV Briefing looks at how major streaming service owners' subscription business fared in the third quarter of 2023.