'We don't want to throw noodles against the wall': Axios sees video as a complement, not focus
July 18, 2017 • 2 min read
•
•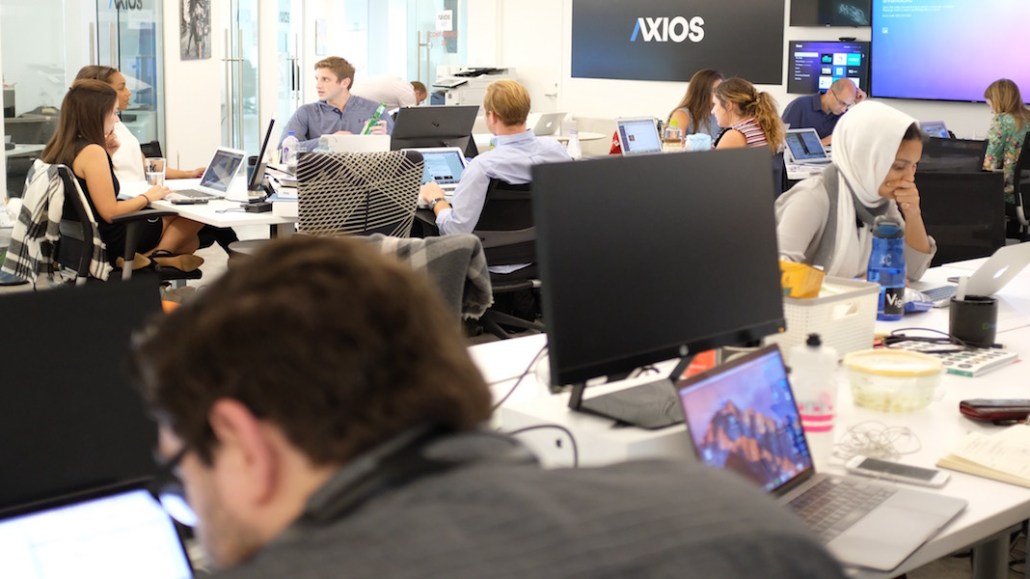 As some publishers go all-in on video, Axios is taking a more measured approach.
The 7-month-old publisher now has 77 full-time employees, but just three in editorial devoted full time to video. Meanwhile, Axios has rolled out 10 email newsletters, with plans for an upcoming subscription product. Rather than one-off videos, Axios is zeroing in on series.
"Trump 101″ explains all things Trump. "Almost Now" explores how emerging technologies like robots and artificial intelligence will impact economies. "Smarter Faster," which is sponsored by JPMorgan Chase, examines how business leaders approach social problems like education inequality and municipal bankruptcies. "Sourced," which launched last week, centers on Axios reporters discussing details related to their stories.
"Serializing our video production adds to our ability to reinforce our branding," said Bubba Atkinson, managing editor at Axios. "We don't want to throw random noodles at a wall."
Like Axios' articles, its videos are short. Most of them are under two minutes long. As seen below, the videos feature few graphics and usually focus on a single subject. "Smarter Faster" and "Almost Now" feature narration, while the other series do not. "Sourced" videos are unique among Axios' videos for being shot on location rather than in a studio.
Each video gets published to Axios's own website and to its Facebook, YouTube and Twitter accounts. Axios does not have an Instagram or Snapchat account.
Facebook accounts for the bulk of its video views. In June, Axios had about 1.6 million video views on Facebook, up from about 1 million views in April, according to Tubular Labs. Its YouTube channel has only about 25,000 views.
With a three-person video team, video is not the main focus at Axios. For comparison, Vox Media has about 20 staffers focused on its explainer video channel. The Atlantic has about a dozen employees creating videos that are underwritten by brands like Netflix and Microsoft.
Axios plans to hire more video producers by the end of the year, but the company declined to share how many people it anticipates hiring. The company also declined to provide details about its subscription model, which its founder Jim VandeHei said in November could cost $10,000 a year.
The "Smarter Faster" series is the only one currently being monetized. Just as Axios opts for custom units in lieu of display ads for its website and Apple News articles, the publisher plans to avoid inserting pre-rolls or mid-rolls into its videos, said Kendra Tucker, svp of audience and platforms at Axios.
"We're hoping to first build an audience," she said. "Then, over time, we'll look at sponsorships to apply to a topic that a brand would be interested in."
Photo via Axios
https://digiday.com/?p=245981
This week's Future of TV Briefing looks at how the streaming ad market's programmatic guaranteed vs. private marketplace debate is reaching a compromise.
This week's Future of TV Briefing looks at how this year's upfront and recent announcements from AMC Networks and Paramount indicate the progression of programmatic in the TV and streaming ad market.
This week's Future of TV Briefing looks at how major streaming service owners' subscription business fared in the third quarter of 2023.