In a tough ad climate, small publishers are finding success in small donations
May 14, 2018 • 3 min read
• By
Digiday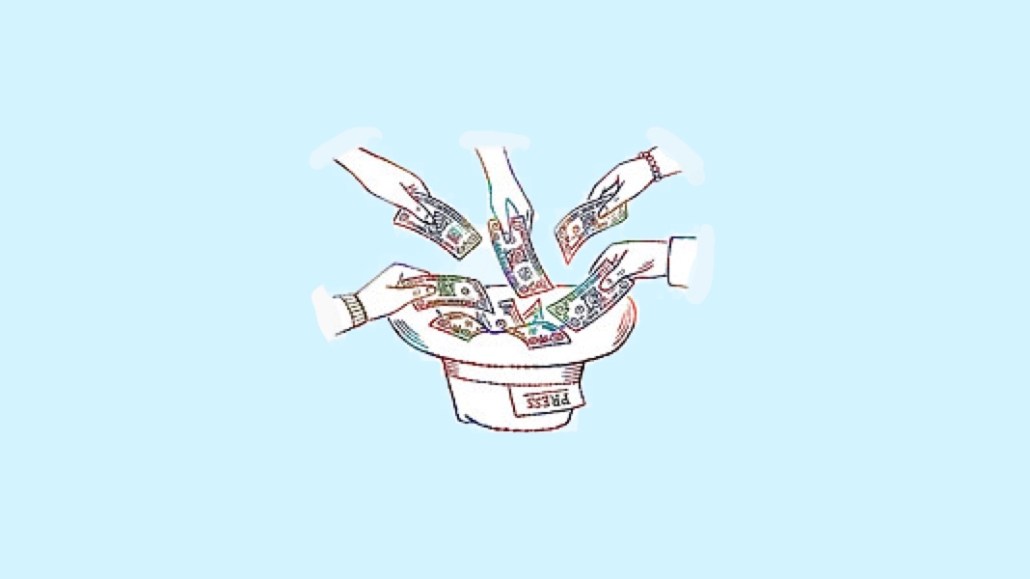 Digital advertising is competitive and the subscription business is tough, but digital publishers are finding hope in small-dollar donations.
This month, LAist and DCist, Los Angeles- and Washington-focused local news sites once owned by DNAinfo, will each launch Kickstarter campaigns. They're hoping to mirror the success of their sister site Gothamist, which more than doubled its $100,000 fundraising goal through a Kickstarter campaign that ended May 4. The donations are meant to set both sites on a new course, where donations, rather than advertising, represent their largest stream of revenue.
"The advertising model that DNA[info] was trying to develop really struggled in terms of gaining the kind of scale digital publishers need to have," said Bill Davis, the president of Southern California Public Radio, which now owns LAist. "The way we think it can be sustainable is not primarily advertising, but [with a revenue model] that starts with contributions from the audience."
Much like publications that experienced a Trump bump in their subscription revenues, news publications seeking donations from readers saw a big change in readers' willingness to open their wallets. A prominent example is Guardian US, which got into the black in 2017 with help from some 300,000 supporters worldwide who account for around a third of its revenue.
In the first four months of this year, ProPublica reported that it added 11,000 small-amount donors giving nearly $1 million. That's behind the $3.4 million in such donations it got in 2017, but ahead of the $2.8 million it got in 2016 and 2015's $450,000. In 2017, online donations accounted for 12 percent of ProPublica's revenue, up from 2 percent in 2015.
Much of the 2016 jump can be attributed to the election. But the growth that's followed suggests that small publishers may be entering a new era, rather than experiencing the end of a fluke. "Our individual giving was transformed by the response to the election," ProPublica President Richard Tofel said. "But I don't believe we are ever going back to where we were before the election."
Publishers' definition of "small" donations varies. The Guardian's preset donations start at $7. ProPublica, which considers anything under $10,000 to be a small donation, starts its preset donations at $35. Both also have a pay-what-you-want option.
Though news and journalism ventures represent a small share of Kickstarter's overall projects, the success of projects over the past 18 months suggests that people are more willing to contribute to news publishers, said Margot Atwell, the director of Kickstarter's publishing projects division.
Atwell pointed to fundraising campaigns by Block Club Chicago, which was created by the same team that led DNAinfo Chicago, and Brooklyn Deep, a local news publisher focused on central Brooklyn, as examples.
"I think this connects to the larger trend we're seeing in online journalism where people are willing to pay," Atwell said.
LAist plans to use its visitors' reading history to target them with tailored requests for donations. Some of those requests will aim to drive recurring donations, which publishers prefer over one-time gifts because they make for more predictable revenue. Others will be used to figure out which messages resonate best.
Every publisher's audience is different, but publishers that have sought donations from readers say they work best when they focus on the impact of their journalism.
"The most effective messages are when we say, 'Here's some cool stuff we wrote that had an impact on the world,'" said Judd Legum, the editor-in-chief of left-leaning politics site ThinkProgress, which has solicited member donations in the past and recently began focusing on membership revenue. "The people who donate to us believe in our mission."