'There's been no emails or interest': As the drama over TikTok intensifies, advertiser interest cools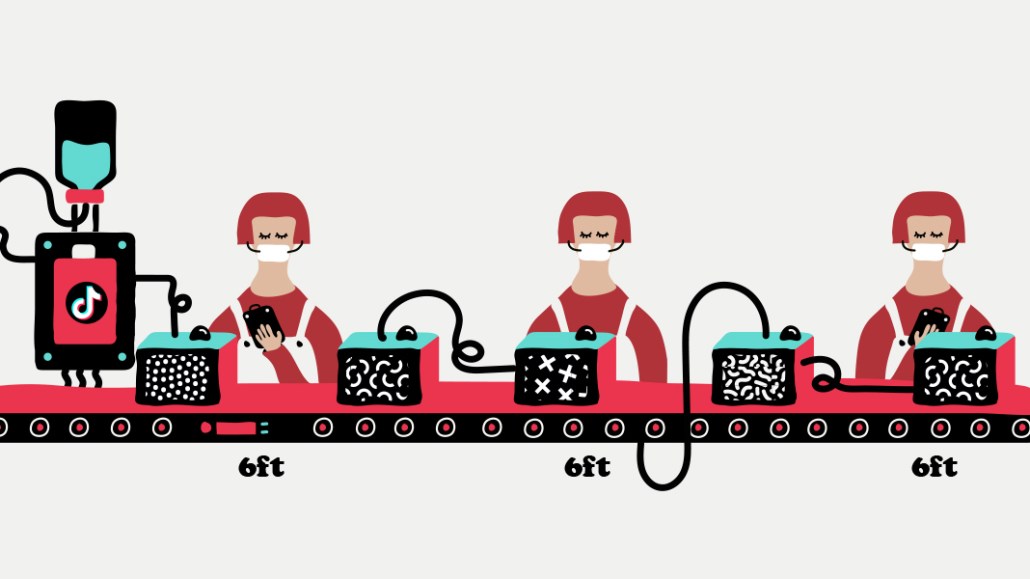 Ivy Liu
Just when advertisers were starting to take notice of TikTok, along comes a geopolitical crisis to make them think twice about it.
Unfortunately, as the app's popularity among a wider group of users has grown, media budgets have plummeted, particularly for mid- and upper-funnel spending — where TikTok is most likely to be considered for those running campaigns for the first time. Advertisers want to be executing campaigns in areas where there will be longevity, and TikTok, they say, has not proven to have that on offer yet.
"It's only recently that larger advertisers have taken baby steps into advertising on TikTok and so it's not a priority to them in the same way Instagram or YouTube is," said Mary Keane-Dawson, group CEO at influencer marketing agency and TikTok creative partner Takumi.
That's not to say the ensuing drama around TikTok won't affect advertisers' plans. In some ways, it already has, particularly for those who had already been experimenting, or fully taken the plunge on TikTok prior to the coronavirus crisis.
"We've had two of our clients hold back their influencer campaigns on TikTok until September to avoid being caught in the middle of the storm around it," said Joe Gagliese, CEO at influencer marketing agency Viral Nation that works with advertisers such as Campbell's, Tencent and Activision Blizzard. "The reality is the prospect of TikTok going away is at the bottom of the list of priorities for larger advertisers that are having to furlough people in multiple markets and reallocate media dollars into next year."
It's far easier for advertisers to step away from a social network like TikTok when they don't depend on it for growth as evidenced by last month's Facebook boycott. Some advertisers couldn't wait to restart their campaigns after a month without the social network. TikTok, however, is still considered by many advertisers to be untested and not a channel that would have a direct impact on their goals given that its audience skews toward younger demographics who have lower disposable incomes. If they can, then advertisers will sit on the sidelines and watch the drama around TikTok's future in the U.S. unfold.
"No one has reached out with new collaborations, which is odd as normally I'd get one or two inquiries a week," said Oliver Burton, a creator on TikTok with over 720,000 followers. "Since the news has come out there's been no emails or interest. I've even chased a few people to get their thoughts but plans for TikTok seem to be on hold for now."
Execs from the app have been trying to reassure influencers and marketers not to make any hasty decisions. –
"I spoke to someone at TikTok earlier this week and they told me not to worry. They insisted that TikTok in the U.S. is different to TikTok in China," said an agency exec on condition of anonymity for fear of jeopardizing any future commercial deals with the platform. "My contact said talk about TikTok's future in the U.S. is nothing to worry about and would be resolved soon."
Still, it pays to have a backup plan should the app get banned.
Some advertisers are going as far as to put contingency clauses in their contracts with influencers to guarantee that their TikTok campaigns will run on Instagram in the absence of the video-sharing app. Indeed, talent execs at companies like Viral Nation and Select Management Group have seen these requests more frequently ever since talk of a ban in the U.S. first started to boil over last month. Just as TikTok benefited from the Facebook boycott last month, its rivals are poised to snap up its content should it be banned.
"We have been exploring emerging platforms like Triller, which has overtaken TikTok in the app store, so if the situation around TikTok does change then we can react accordingly," said Stephanie Lamb, account director at influencer marketing agency Tailify. "We're also discussing Instagram Reels with some of our clients, which is coming out soon. We're future-proofing strategies for clients so that we can move campaigns on TikTok over to other platforms if they pose better opportunities."
But the problem with repurposing content from one platform to another is it should never be a straight swap, marketers have previously warned. There should always be flexibility in the core campaign idea, narrative, formats as well as in the relationship between advertisers and influencer, but in essence, there are clear benefits to postponing campaigns over pushing it out in a forced and inauthentic way on a channel for which it wasn't designed.
"Content from TikTok on other platforms is hit and miss," said Avila. "I can upload a video on TikTok and it gets three million views, but when I put that same vide on Twitter it only gets around 2,000 views."
Ultimately, for advertisers, it isn't so much who owns the app, but the intense scrutiny of the platform that has had its fair share of controversies, ranging from dangerous challenges to sexually suggestive content. The platform has often been accused of exposing its young user base to an unsafe environment. And there aren't many advertisers on TikTok so campaigns stand out more during the good and bad moments, which isn't necessarily desirable when it's adjacent to a geopolitical tussle.
https://digiday.com/?p=374569