The Telegraph's Robert Bridge on pivoting to a freemium model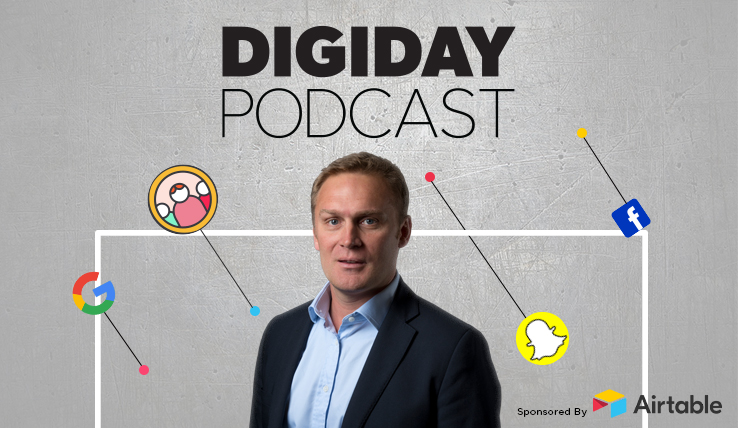 Digiday+members enjoy early access to the Digiday Podcast to stay one step ahead. Become a Digiday+ member here.
Subscribe: iTunes | Google Play | Stitcher | Anchor
In the pivot to subscriptions, a variety of paywall and subscription models are emerging. The Telegraph chose a freemium model to make sure visitors to the site power its advertising business, and subscribers keep coming in for distinct content.
"When I arrived [at The Telegraph], every time we tried to drive more subscriptions, we would constrict the meter," said Robert Bridge, chief customer officer at The Telegraph, on this week's Digiday Podcast. "That had a negative impact on our advertising business and our nascent e-commerce businesses [at the time]."
That paved the way for a freemium model that puts 15 to 20 percent of The Telegraph's content behind a paywall, with the rest free to access. The publisher's goal for 2018 is to register at least 3 million users.
On this episode, Bridge discusses The Telegraph's subscription model, its relationships with the platforms and its approach to turning site users into subscribers. Edited highlights appear below:
Converting users to customers
"We've been through the process of trying to define the various states of audience coming to our site. Those people who are anonymous, who are not logged in or registered, we define them as users. When someone becomes registered, they transact with us, and they become a customer. We're thinking about everyone and their journey from being a user to a customer or subscriber, or in transaction with us."
Keeping competitors in mind
"We want to grow our ad and e-commerce business. We need volume and scale for that. So we pivoted to a freemium model. Then, we're also in a market where you've got strong players, who are going to be free in the foreseeable [future]. We put our most differentiated content behind the paywall, which is about 20 percent of our scale. The rest brings in people into the funnel and helps make a user [start] the journey into being a subscriber. And they can be profitable from an advertiser perspective."
Going niche
"We're trying to [stay] niche-focused. If you register for politics, then you get a value-add for that registration, like a newsletter, that you wouldn't get otherwise. As you go across the site, there are elements of it that are not consistent as a straight meter. The meter has its own issues. The logic is the number of articles you hit, but not [the quality of] articles, are equal. The move to premium has increased retention rate significantly. They don't churn nearly as much. With the hard paywall, there seems to be a better understanding of the offering than the metered approach."
How platforms affect the subscription business
"Google is positive for the subscription side of our business. They have started to produce elements on their road map that help publishers with our subscriptions. We pulled out of Facebook Instant Articles. We didn't see a path on Facebook to the subscription side of our business, at least in the volumes we wanted. Apple News has been a positive experience for subscriptions. We've been selling subscriptions in there for a while now. It's also our No. 1 referrer for driving people into our app. We're getting more subscribers from Apple [News] than Facebook. Plus, we're making some advertising revenue off Apple News."