Slate's Julia Turner: 'Every publisher of smart content is shifting to loyalty'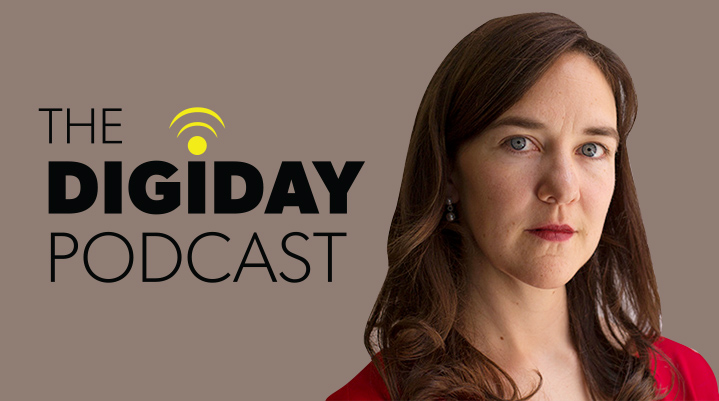 Subscribe: iTunes | Stitcher | RSS
Slate's editor-in-chief Julia Turner believes that, even 20 years in, the company still occupies a unique space in digital news media. The news and culture publisher has had recent success with its two-year-old premium tier Slate Plus, through which Slate opted to keep its site free while giving members perks like ad-free podcasts, members-only stories and discounts to live events.
Like so many other serious publishers, Slate enjoyed something of traffic bump in the wake of the election. Turner has since realized that part of the value of its content is being able to share it with others: Creating more free content helps Slate's ad-supported site, which it's still committed to growing. Turner admits, for example, that their embrace of Twitter may not exactly be trendy any more, but it's the platform that works best for them.
She joins Digiday's editor-in-chief Brian Morrissey to talk about the focus and goals of the mid-scale publisher in the midst of changing digital and social media trends. Here are some highlights, lightly edited for clarity.
Trends come and go but your brand is forever.
"So much of thriving and surviving online is knowing which waves to surf and which waves not. You have to take the long view and assess whether [the new social media tools] actually fits with your audience, and how you connect with them, and what you're trying to do for them. Or whether it is a fly-by-the-night thing, or something that could be great for another brand but not yours."
Podcasting is great for forging direct connections — and advertising to them.
"Every publisher of smart content is shifting to loyalty at the moment. Podcast advertising is incredibly effective. It's effective anecdotally, it's effective in research. We started podcasting in 2005, and stuck with it. Slate offers companionate insight. And it's insight delivered by people you come to know, and because you know them and their worldview and perspective on the news. What we could feel before we were even able to monetize this podcast was that the level of engagement in the users was intense and insane, and that they were engaging with us around this core thing that we strive to offer. It just felt aligned with our mission and with building a real audience."
Publishers are doubling down on loyalty.
"Every publisher of smart content is shifting to loyalty at the moment. For a long time, we tracked people who came to the site 8 times and 25 times a month. We started tracking the numbers at the height of the Facebook boom. Like many publishers, I think an important way to think about audience now is as a funnel and not as a quest for eyeballs. That monthly comScore, UV number, is not your audience. Those are leads on people who could become your audience. So we look at total engaged time, podcast downloads, newsletter subscriptions and plus memberships. We also still look at home page visitors, which is very unfashionable but we have a really strong homepage."
Let data be your guide — but don't become its slave.
"I think it's important rolling out any kind of data plan to a newsroom to emphasize that this is intended to help you make informed decisions. But I don't think there should be quotas around particular performance. It's important that my writers and editors not be competing against each other for total engagement, but that they be competing against their past performances."
No one has cracked the video ad experience yet.
"Advertisers only advertise where things work. Video is incredibly tempting because that's where so much of the spend is. People want to make video assets and put them around other video assets. But television ads themselves, that's a broken model. Putting television ads in front of web video, that doesn't strike me as a very effective model. It's fundamentally an irritant."
Twitter is Slate's favorite platform.
"We put more emphasis on Twitter than a lot of other places. Twitter has become terminally uncool now, and generally has become more toxic. So many smart, influential, news-hungry people are there. So we overinvest in Twitter compared to other places and we find that it's an incredible driver of loyalty. In some ways, Twitter for some core of our audience is like an RSS feed for Slate. It has become their Google reader. Even if its not the trendiest bet, it's where we connect with our readers."