'We're making inroads': Reddit is trying to tighten its relationship with publishers
March 8, 2018 • 4 min read
• By
Digiday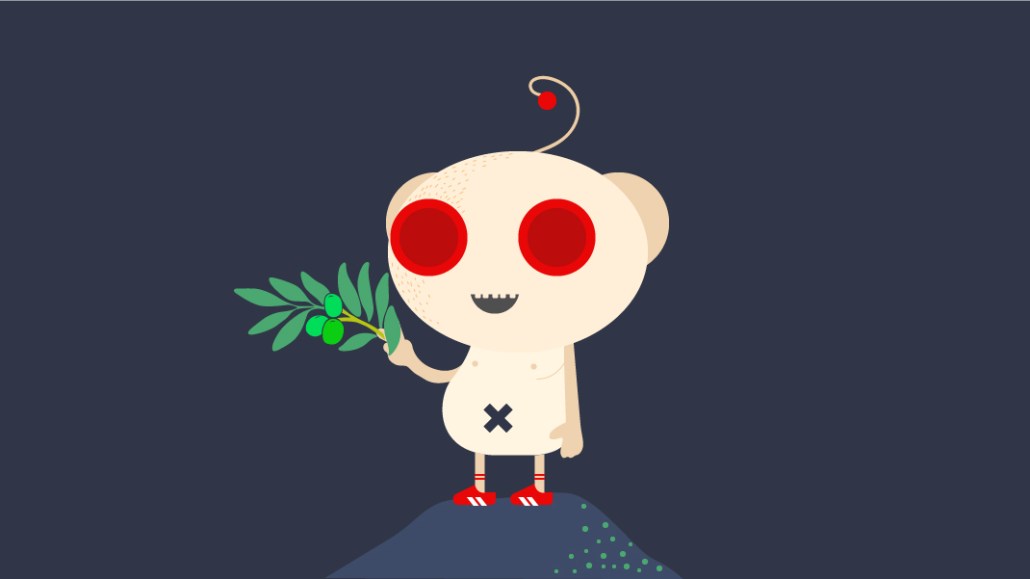 After nearly a decade of indifference, Reddit is cozying up to publishers.
Over the past year, a media partnerships team of four has ramped up efforts to bind publisher content and Reddit users closer together. It has rolled out new features, including profile pages and native video hosting. It has also stepped up efforts to work with publishers on content-focused initiatives both on and off Reddit's platform, including its editorial collaboration with Time magazine and a WBUR-produced podcast, "Endless Thread," which started in January.
These efforts come at a moment when publishers are looking for new ways to connect more directly with their readers.
"I'm starting to feel like we're making inroads," said Alexandra Riccomini, Reddit's first director of business development and media partnerships, who oversees Reddit's publisher relationships. "How we function, necessarily, is with third parties. I'd love to see our continued march toward becoming one of those platforms that's top of mind for publishers."
For years, Reddit has intrigued and confounded publishers. Those that tried to promote their content too hard wound up getting accounts suspended; others found themselves feuding with the site's community, who felt publishers were mining the site for story ideas without properly crediting Reddit users themselves.
And any publishers that tried to start a dialogue with Reddit got nowhere, mostly because there was nobody to start a dialogue with. Prior to 2016, Reddit did not have any employees dedicated to publisher or advertiser relations.
"Everyone who came up in the early social media for news days, one of the first things you learned was: Reddit is anti-publisher," said Amanda Zamora, chief audience officer of the Texas Tribune. "It's been a remarkable shift, I think."
Riccomini's earliest moves were designed to smooth relations between Reddit's users and publishers. Tools were launched in May 2016 to encourage publishers to source and credit Reddit users in their pieces. In February 2017 came an integration with CrowdTangle, which let publishers monitor how their content was being shared inside Reddit.
Other product changes made over the past year were meant to encourage publishers to use Reddit more. In years past, publishers trying to share their content on Reddit could be warned or banned if they violated the platform's "1 in 10" rule, which required that no more than 10 percent of the content that accounts shared be promotional. That rule was relaxed last spring. In December 2017, Reddit rolled out profile pages that let publishers post content directly to their followers, without fear of getting banned for spamming.
Reddit remains an influential source of story ideas for publishers. But the changes made to the platform this past year have allowed for more exchanges between Reddit's audience and publishers. "It's a place where our fans flag content for us and highlight things we should be covering," said Kate Coughlin, the director of audience development at National Geographic Partners.
Overall, Reddit's referral traffic to publishers is less than 1 percent of all social traffic and declined 45 percent in the past year, according to Shareaholic. But the effect has been noticeable, if modest, for publishers that have put in time. "Traffic from the profile page has been nice and steady," said Gene Park, a social media editor at The Washington Post.
Park said he still sees the work he does on Reddit as experimental and wouldn't say how much referral traffic Reddit drives to the Post. And while he thinks Reddit can become a powerful source of referral traffic, traffic in and of itself is not the end goal of the work he does on the platform. Park said Reddit's product changes let publishers communicate with Reddit's user base, in line with a Post mandate that its journalists should be more transparent about their work.
To some publishers, that is especially important as they try to diversify their audience away from Facebook and Google. "With everything that's going on with Facebook, we're trying to figure out some other places where we can grow our audience and interact with them in smart ways," said Connor Finnegan, senior audience development manager at Inverse, which launched an Inverse profile page on Reddit in January.
Finnegan said Reddit has become a better place to show his site's content to a new audience. "On other platforms, like Facebook or Twitter, it's hard to stand out," Finnegan said. "And we find the feedback we get on [Reddit] is a little more sophisticated than the average Facebook comment."
As the year rolls on, Reddit also plans to do more original content with publishers such as original video, applying the playbook it used on the Time and WBUR collaborations, Riccomini said. Reddit will also add more content programming to the platform that publishers can participate in regularly. She wouldn't say which publishers or platforms would be involved; she said both were developed to help all the involved parties. "I don't believe in one person taking from the other," Riccomini said. "It's got to be a mutual value-add."