Publishers pursuing international subscribers face market-specific hurdles
April 11, 2018 • 3 min read
• By
Digiday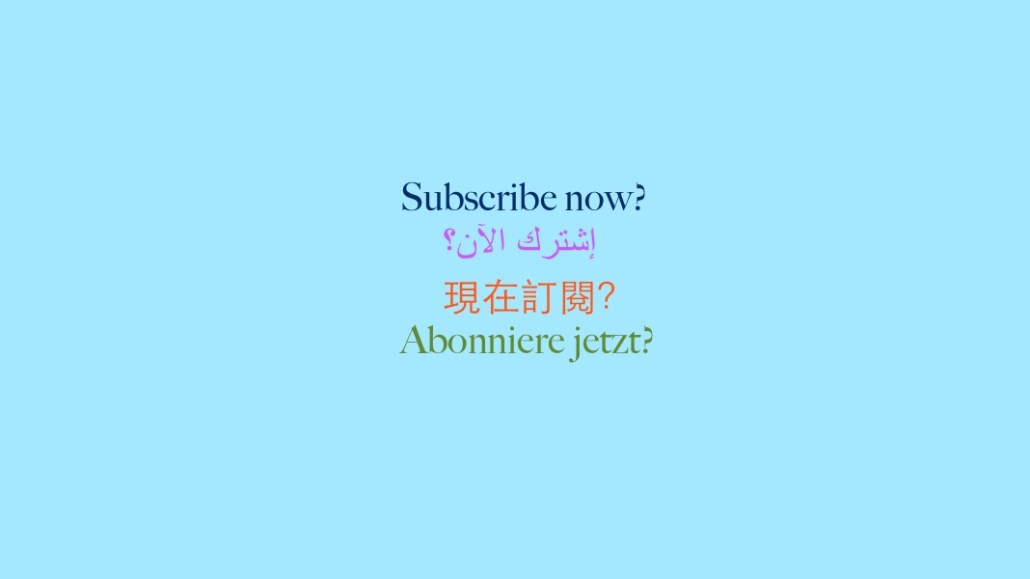 Publishers focused on growing consumer revenue will take opportunities wherever they can find them, even abroad. But international markets come with specific challenges, including a low propensity to subscribe, complicated tax issues and lower awareness of U.S. publishing brands.
Awareness gap
Thirty-eight percent of American publisher respondents said international expansion would be important to their business in 2018, according to a Digiday Research survey. Markets outside the U.S. hold promise for publishers looking for subscribers, too. But the hill is steeper for publishers that don't have strong brand awareness overseas.
"There is an opportunity for a couple U.S. publishers, but not for all of them," said Lisa Jaeger, a partner in the media practice at the strategic consultancy Simon-Kucher & Partners.
Some address this problem by forging partnerships with local media companies, a move typically made to bolster ad sales. Bloomberg Media, for example, has partnerships with media companies from Mexico to Saudi Arabia, which provide access to local advertising dollars, local reach and marketing muscle.
"International success for media companies generally comes from a mix of quality content, strong brand equity, symbiotic and collaborative partnerships in market, and hard detail-oriented work," said M. Scott Havens, Bloomberg Media's global head of digital. "When you take a brand that's not global, that may not translate as well as others that have international scale and recognition."
Cultural differences
People aren't exactly wild about paying for news in the U.S. But in Europe and elsewhere, the concept is more foreign. While 16 percent pay for news in the U.S., just 13 percent of Australians, 8 percent of Canadians and 6 percent of Britons paid for news in some form, according to the Reuters Institute.
Price pressure
The price consumers are willing to pay for content differs from market to market. Publishers including The New York Times and The Wall Street Journal are offering introductory rates as low as 99 cents per month to grow their international subscriber bases. Such a low price can help get volume, but makes it hard to get people to pay full price.
"I'm concerned about the price image they're building here," said Jaeger of the American publishers charging low introductory rates. "In research we've done, what we've found is that those customers who subscribe to a new offer at a very low price are in many cases just subscribing because of the price."
VAT
The value-added tax, or VAT, is a cost that the supplier of any digital content or service to the European Union must collect on all transactions, then pay back  to the EU, at a rate that differs by market. While the EU sets a baseline rate of 17 percent, member states are free to raise it at their discretion, or even lower it in certain exceptions; in some cases, the VAT is as high as 25 percent.
Each EU member state has its own way of accounting for the VAT payment as well, which adds a layer of complexity to publishers' accounting and fulfillment systems.
Payment systems
Online payment with credit cards may be common in the U.S., but overseas, it can be a different story. "In some countries in both Europe and Asia, personal credit card use is not as common as other payment forms, and those payment forms vary widely across countries," said Miki King, vp of marketing at The Washington Post. "Additionally, in some areas, there is a general lack of awareness of news subscription services."
The Post, which has quadrupled the size of its international subscriber base over the past year, said it is testing PayPal-esque systems in parts of Southeast Asia and experimenting with various payment methods and subscription promotion messaging.
https://digiday.com/?p=283327