Under new leadership, Dwell is betting on its marketplace and membership models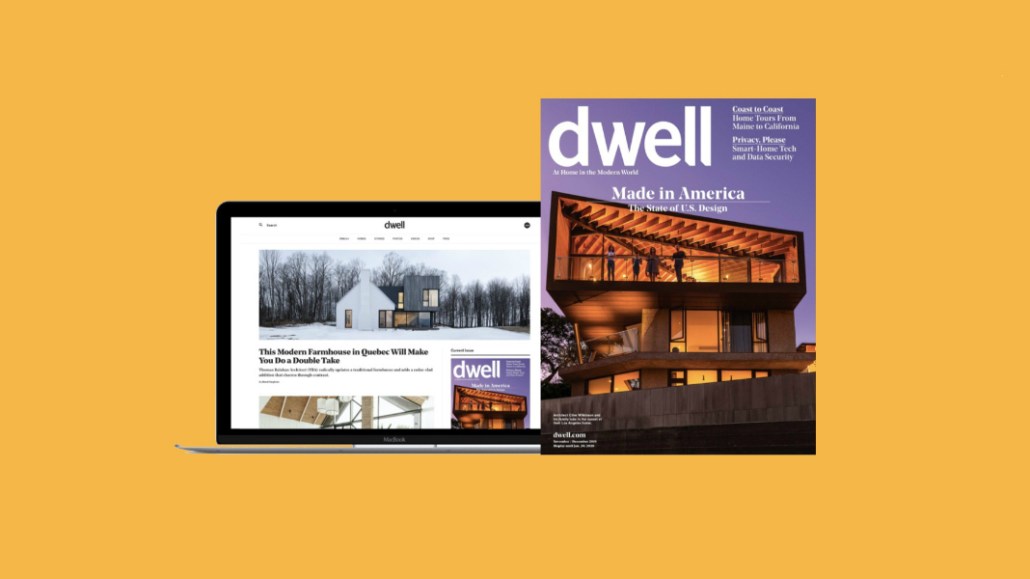 Dwell's new CEO, Zach Klein, expects his shelter publication to earn most of its revenue from digital sources by the end of this year. And he's relying on the company's new membership model, affiliate business and real estate marketplace.
From September to January the publisher boosted its number of Dwell+ members 50% each month over the prior one after launching the subscription product in June. While chief revenue officer Nicole Wolgram said her team has surpassed many of the goals set for the performance of Dwell+, her company would not disclose the current number of Dwell+ members. A one-year Dwell+ membership costs $39.99, or $49.99  if bundled with a print magazine subscription.
"We're going to continue investing in that subscription platform" in order to become a fully "digital-first" business, Klein said.
Two other business activities bring in 10% of the company's revenue: The Dwell Shop, an e-commerce site launched by the publisher at the end of 2017, and a real estate and vacation-rental marketplace.
Although Dwell turned a profit in 2018, it did not do so last year as a result of the publisher's extensive investment into expanding its digital products, Klein said, but he projects the company will be profitable again in 2020. In 2018 the company began to explore ways to diversify its operations beyond production of its print magazine and in 2019 it embarked on creating the real estate marketplace and the membership programs, he added. The additional revenue streams are offsetting the losses that Dwell is encountering with its print advertising efforts.
Dwell's affiliate and marketplace businesses are "a great way to [develop a] prototype very quickly [of] how influential we are in different areas," such as travel, real estate and shopping, Klein said, noting that these will be major focal points for further development this year.
The publisher's marketplace curates real estate and vacation-rental property listings submitted by readers. They submit for the publisher's consideration the online links to their sale or vacation rentals from listings on third-party platforms, such as Airbnb or Vrbo. Editors review the photos and reviews for each submitted listing, then contact the owner to learn more about the property. If a listing is approved to appear on Dwell's marketplace, the homeowner pays a fee to Dwell. The number of listings on Airbnb and other residence-sharing platforms have become so numerous that Dwell can provide value to readers by its curation, Klein said. "Quality is so inconsistent that it requires a third party to qualify that these are Dwell homes," he said. "We can be the marketplace for that."
While Klein would not share what Dwell charges for a marketplace listing, he estimated that about 10% of his company's 2019 revenue came from its home-sale and vacation-rental marketplace combined with its affiliate commerce revenue. Additionally, he said Dwell's affiliate commerce revenue increased 60% from 2018 to 2019.
A Dwell+ membership offers readers a mixture of content and tools. Each day Dwell currently publishes about a dozen online stories about the architecture and design industries that are not posted behind a paywall. But the goal for Dwell+ is to add new platforms and products that are only for members, Klein said.
The content from Dwell's print magazine that is posted online is for members only; the same is true for its online house tours, video programming and renovation and how-to guides. A Dwell+ membership also lets members bypass the fee if their submitted vacation and home listings are selected.
In December the publication reached 9 million people in total across its digital and print publications and social media presence, according to Klein. Comscore reported that in December 2019, Dwell.com had more than 1.1 million unique visitors to the site, a 41% increase over the number for the same month a year earlier. The Alliance for Audited Media said as of Dec. 31, 2019, Dwell had a print circulation of more than 250,000 readers.
Peter Doucette, managing director in the telecom, media and technology practice of FTI Consulting, said no one blueprint exists for a publisher to create a membership model, but he said Dwell+ is just in the "1.0 phase." 
Doucette said Dwell is wise to experiment with the marketplace business but needs to ensure that the curation process results in high-quality listings. "Pursuing a membership model means premium" content, he said. "How do you provide a high-quality marketplace to complement premium experiences?"
https://digiday.com/?p=358632