Hearst UK's Duncan Chater on how publishers are diversifying their revenue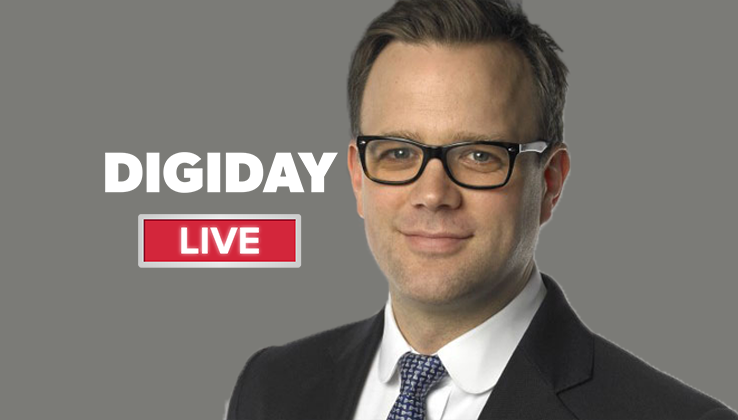 Subscribe: iTunes | Stitcher | RSS
For publishers diversifying their revenue streams, it's all about embracing the marketer's mentality.
"Consumer behavior around mobile is growing. The latest stat says on average, people check their phones over 200 times a day. Marketers are taking money from traditional display to digital marketing, emphasizing one-to-one consumer dialogue, deeper storytelling and experiential," said Duncan Chater, Hearst UK's chief brand officer, at the Digiday Publishing Summit Europe in Monaco in February. "Millennials say they would rather spend money on an experience than a product. We are at an all-time low trust with consumers, and [there are] a lot of concerns around brand safety in the minds of marketers."
Chater discusses the data, content and licensing arms of Hearst UK's business. Hearst UK's position as a legacy brand also sets it up for building a strong events business and playing into influencer marketing strategies.
Edited highlights from the session appear below:
Using data to inform content
"What's new for us is we're adapting to a new polling system. It drives significant insights for us to connect with right consumers at the right time. We're making it fun, easy and relevant for our consumers to tell us what they buy, when, what their price point is. We push this out not only on our platforms, but also on social media platforms. With all that data, we inform our content strategy and move our consumers further down the funnel. So we can start targeting specific users based on their information to get a distinct action from them right at the end of the funnel, like a buy it now button or learn more. So we can take this to our commercial partners for some deep learning."
Events
"We have built an events agency, and last year they activated 100 events. We had 1.3 million people at those events. That drove an audience of 185 million people through digital amplification of those events. We built a lot of our events through our brands, but we're also launching our events business into a white-labeled events agency where we're putting up events for brands themselves."
Licensing
"We've started to understand the power that our brands can offer to different products and services when layered on. For Men's Health, we endorse healthy meatballs, a gym range. Our most successful partnership is with DFS, where we're selling just over £50 million [$69 million] worth of sofas every year. If you understand the value, your brand can offer real value to other partners."
Content studio
"We work hard with our culture to offer partners the most from our expertise. We have a content studio. Our biggest contract is with Asda. That relationship has broadened. We do their digital content, but also advertisements, in-store materials. It's producing a lucrative new business route for us."
Influencer marketing
"We're in the age of the influencer. We're starting to use our own staff to star in our campaigns that we run. We did a campaign for Procter & Gamble's Olay, starring our beauty editor Eve Cameron. We took their product and ran it through our high-tech facility at the Good Housekeeping Institute and sent the product to 500 readers, who tested it for eight weeks. The results are presented by Eve on the advertisement. It's run for over six months now."