Harper's Bazaar is confident that its editorial content will inspire its readers to go shopping, so it is beefing up ShopBazaar.com, the online e-commerce store that weds the fashion magazine's editorial coverage with a full commerce platform.
ShopBazaar was launched in 2012 as a way to compile all of the products seen in its parent fashion magazine into one easy-to-shop destination. At the time, Harper's Bazaar's director of e-commerce Pamela Kruse (who left the company in 2013 and is now the director of digital at Burberry Americas), said that the e-commerce site was the outcome of continuing requests from readers who wanted better help finding the items they saw in the magazine.
Now, it incorporates the commerce site into the publication of the print magazine.
"Our print editors work very closely with our merchant to ensure that products they are featuring in stories can also be available for purchase on ShopBazaar," Caitlin Weiskopf, executive director of ShopBazaar. "For example, if our market editor is featuring a new designer she's excited about, our merchant will coordinate to bring the same designer onto ShopBazaar in time for the story to publish — allowing the credits to be available for purchase."
Fashion magazines have continued to look to e-commerce as a way to usher in additional revenue by pairing the expertise of an editorial team with a shoppable platform. Condé Nast is busy transitioning its online property Style.com from a fashion content site into the global e-commerce hub of the publishing company. High expectations are set for Style.com, but Condé Nast has stumbled in the marriage of content and commerce in the past. Condé's now-defunct Lucky magazine joined forces with e-commerce platform BeachMint to form a new company, The Lucky Group, in 2014, but the operation shuttered a year later.
Harper's Bazaar, a Hearst property, named the ShopBazaar platform as one of its key components of digital growth last year. The magazine reported a 45.9 percent year-over-year audience growth, with its Web audience growing by 233 percent and its mobile audience by 139 percent. Across all platforms, Harper's now has an audience of 8.78 million. To help drive that growth, Harper's Bazaar is funneling resources into ShopBazaar — a minimum of four pages in the print edition are dedicated to fully shoppable content, adding up to about 200 ShopBazaar pieces per issue.
With an emphasis on the online and mobile channels, Harper's Bazaar overhauled the ShopBazaar user experience to better compete against e-commerce companies. Called "ShopBazaar 3.0," the newest iteration of the platform added a series of updates meant to improve the customer experience online and on mobile, as well as integrate more editorial content onto the site. Harper's also hired a fleet of "personal stylists" who can respond to customer inquiries submitted at any point during the purchase process on ShopBazaar.com.
"Customer experience can set an e-commerce site apart," said Tony King, CEO and founder of agency King and Partners. "And these types of operations usually fail because there's not enough emphasis on the backend of things."
The e-commerce site also added international shipping, faster load times and a simplified one-click checkout process. Designers like Proenza Schouler and Philip Lim were recruited to sell through ShopBazaar, and more product-driven editorial content, not found in the magazine, has been incorporated on the shopping platform.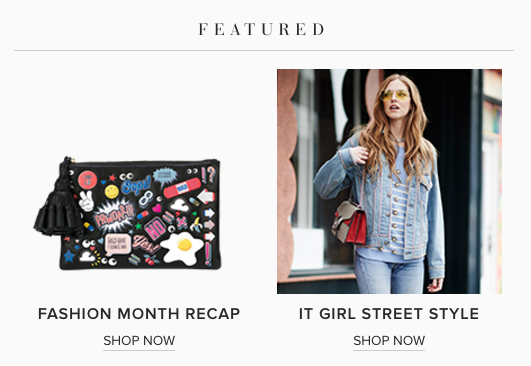 "The Trends," a tab on ShopBazaar.com, is a curated editor's guide to shopping Harper's content in an organized way. Unlike "Shop the Issue," which allows readers to find all the products featured in the magazine online, The Trends section takes overarching ideas and timely events, like "The Ease of Spring Style" and "Fashion Month Recap," and compiles that editorial coverage into shoppable capsule collections. They rotate out as seasons and events change.
"We see a definite spike in conversion when the subscriber copies are received, and the products that are featured in magazine are the majority of those sales," said Weiskopf. "Plus, we work with designers on exclusive items which are only promoted in the magazine and through ShopBazaar's digital channels, email and social, making them exclusive to our brand subscribers."
https://digiday.com/?p=169418