May 26, 2020 • 3 min read
•
•
This research is based on unique data collected from our proprietary audience of publisher, agency, brand and tech insiders. It's available to Digiday+ members. More from the series →
The light at the end of the tunnel is pretty far off.
Even as the economy bounces along to a re-opening, the crisis' impact on the media industry is only just starting to be felt.
The current crisis has been unique in that it has caused some massive accelerations of shifts already taking place: The decline of ad-supported media, the pivot to reader revenue and the overall "boring," simple-but-hard principles of making content that people will pay for.
This has been exacerbated by issues from advertisers: The current situation means advertisers continue to block coronavirus-related content, causing ad revenues to plummet even as traffic climbs up.
We've seen this play out in various ways from a myriad of publishers: News publishers are pushing subscriptions directly in order to make up for lost ad revenue. And as we detailed earlier, publishers with strong subscription businesses and other ways of diversified revenue streams and low cost structures will win.
Our latest research report takes a deep dive into how publishers have fared over the past quarter.
Key Hits:
Publisher revenues took a hit in the first quarter, but the second-quarter is poised to be worse.
News publishers had a rougher time, with more reporting worse financial performances
Site traffic has gone up for most publishers even as revenue has gone down
The average publisher expects things to normalize in early 2021
The impact across business lines has been varied, with programmatic and direct-sold ads, along with events, worst hit
Full results of the survey, including dives into business lines and site traffic data, are available to Digiday+ members below.
01
Publisher revenues took a hit in the first-quarter
In our survey of 127 publishers, 52% of publishers missed their first-quarter numbers. About 23% managed to exceed their forecasts, while 25% hit them.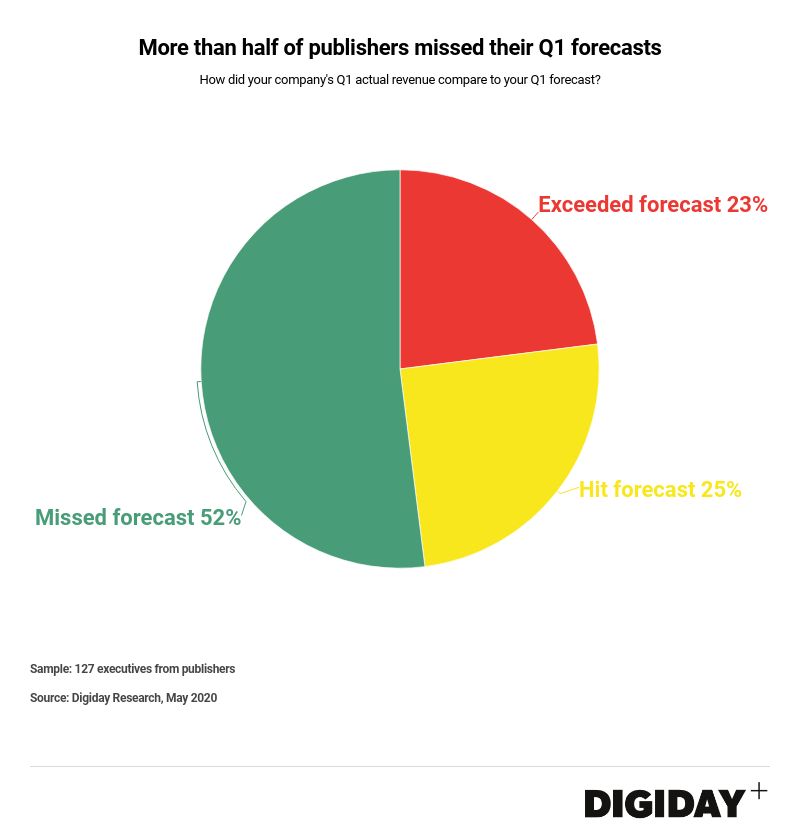 Back in March, Digiday Research found that 88% of the publishing executives surveyed expected to miss business goals for the entire year. About 85% of them expected to see a decline in ad revenue, 79% in event revenue and 68% in commerce revenue.
It's been an especially tough time for news publishers: 59% of them said they missed their forecasts in the first quarter, and 19% of them exceeded it.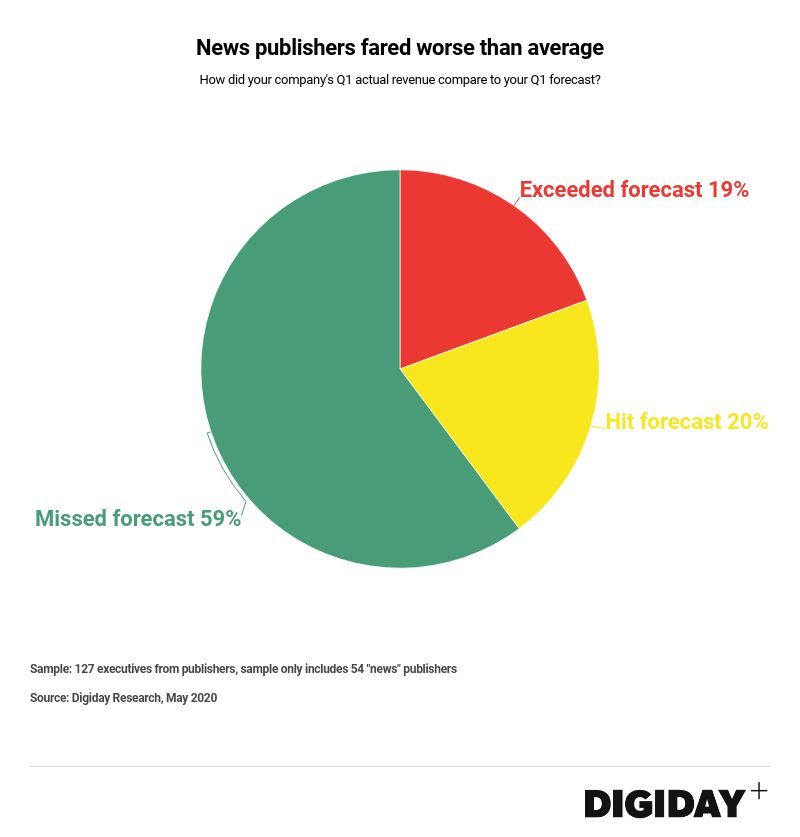 Publishers bracing themselves for a worse second-quarter: Only 2% of raised forecasts, 17% have kept them flat, and the vast majority — 80% — have lowered forecasts.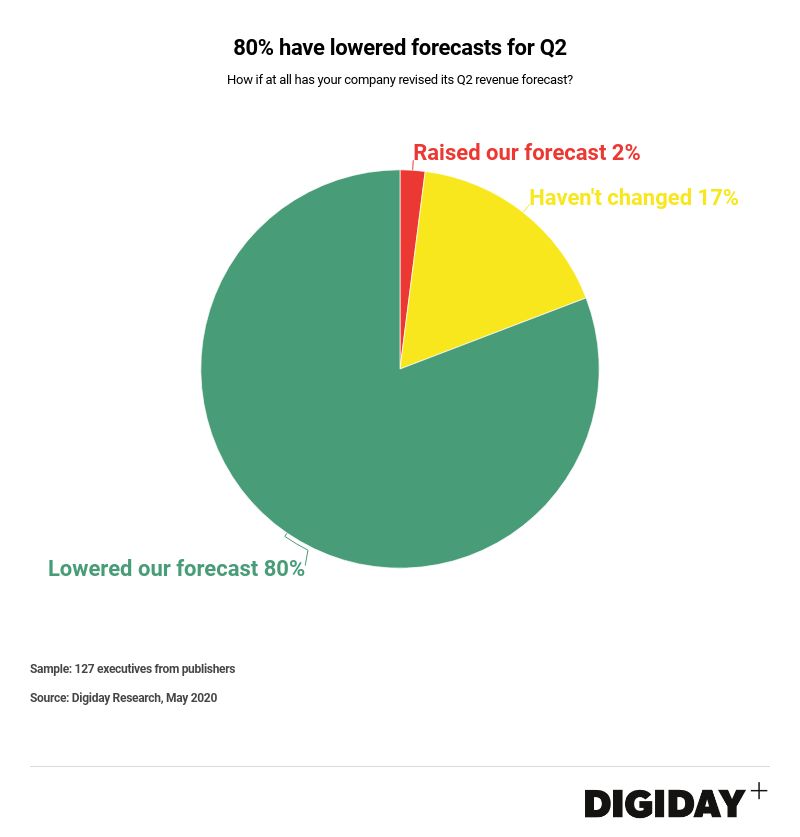 As for the news publishers, in the second quarter, only 1% have raised their forecast, while a whopping 70% have lowered it.
03
When will we get back to "normal?"
One thing that's clear is — not any time soon. The normal also looks different for many media companies. The average publisher expects that the company's revenue will return to "pre-coronavirus" levels in the first half of 2021. About 6% of publishers believe that the revenue will be permanently impacted.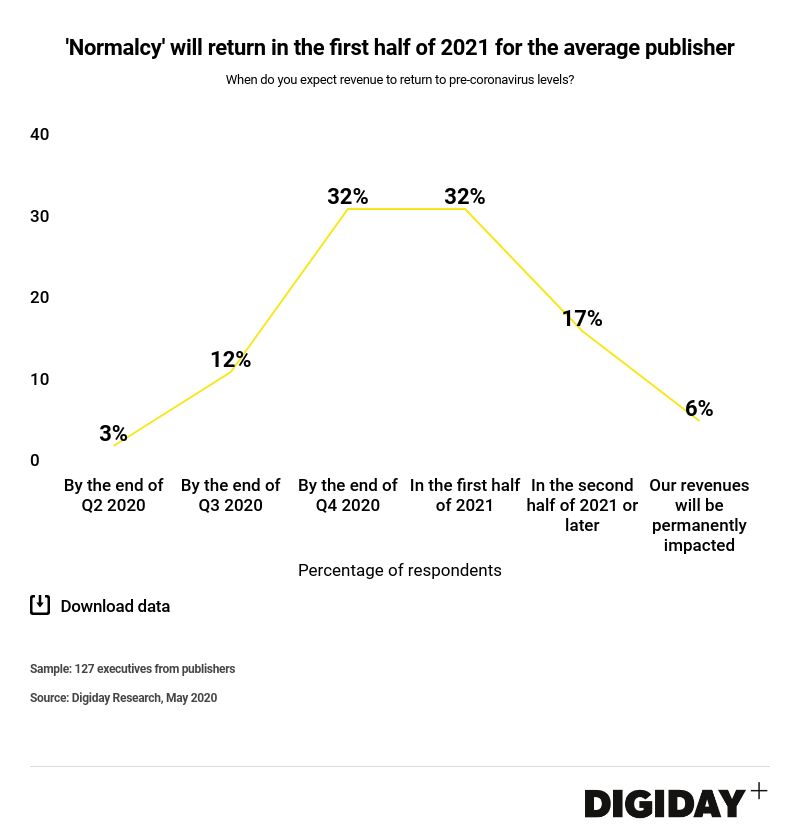 For many publishers, this has been a time of feast and famine both: Lots of eyeballs, lots to cover (and hopefully make money off) but little in the way of ad revenue.
Our survey found that for 80% of publishers, traffic is up. For almost a quarter, it's up more than 50% from pre-pandemic levels.
05
Business line impact: Ad revenue hit hardest, subs a small bright spot
Among business lines, ad revenue was hardest hit in the first quarter, decreasing for a whopping 65% of all publishers. This included direct sold and programmatic ad revenue.
Subscriptions actually increased for 29% of publishers, and decreased for only 14% of publishers. For 57%, they stayed flat.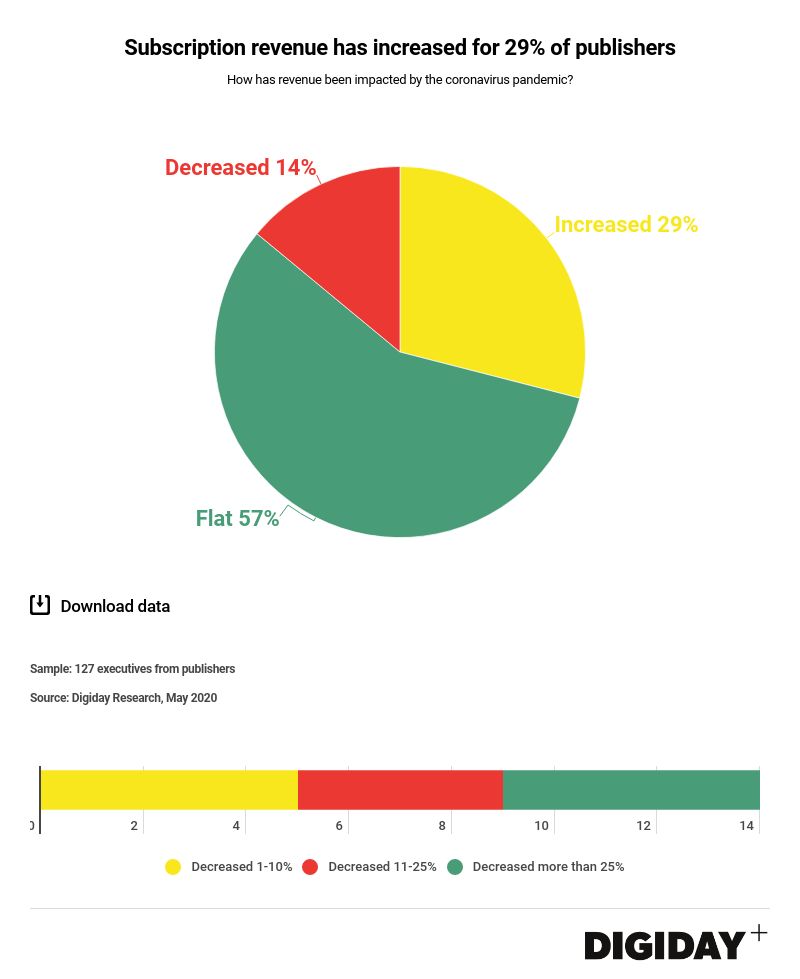 Other revenue lines, like commerce and affiliate commerce, increased very slightly, while event revenue is now down for 60% of publishers, and branded content revenue is also significantly down.
https://digiday.com/?p=367877