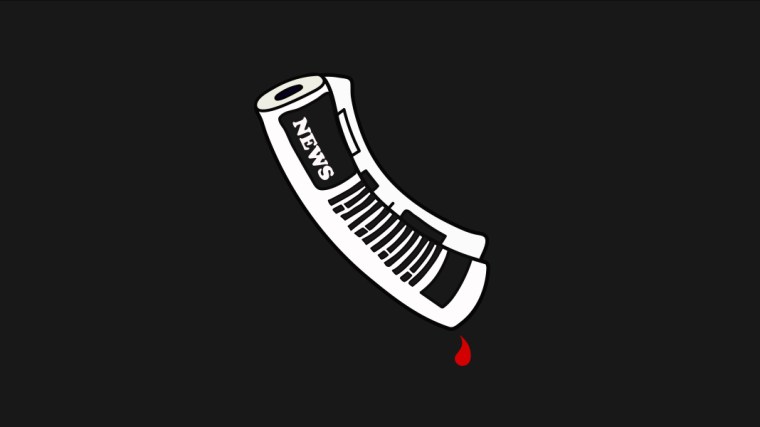 May 4, 2020 • 2 min read
•
•
This research is based on unique data collected from our proprietary audience of publisher, agency, brand and tech insiders. It's available to Digiday+ members. More from the series →
01
Key Hits
Brands continue to avoid spending next to coronavirus news content
Ad spending is down for 63% of brands
For brands that continue to spend, performance marketing is taking a (short term) hit
For the media industry, the buy-side continues to be reluctant to spend any money on ads alongside coronavirus content. A new Digiday survey found that 40% of brands are not advertising next to coronavirus-related news online, up slightly from the same survey conducted a month ago, when 37% said they will not buy ads alongside coronavirus-related content.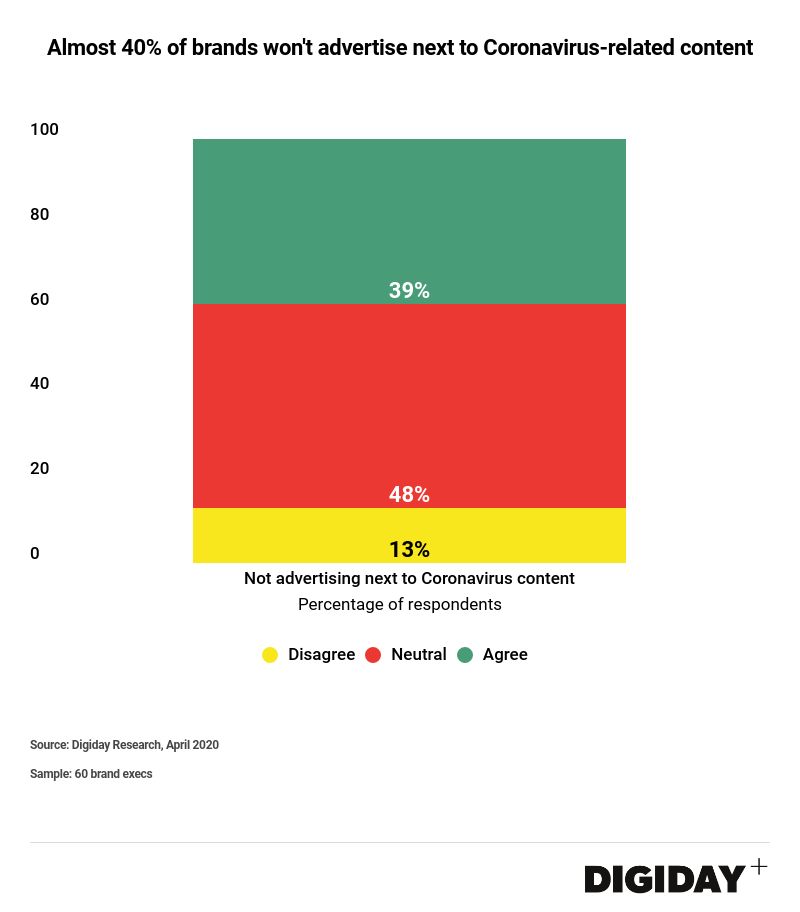 The newest data also shows that 63% of brands are still reducing their ad spending due to the coronavirus, while over 40% of them
This Digiday survey was sent to 60 execs inside brands with spending decisionmaking power.
There are some messaging strategies changing as a result of the coronavirus. The majority of respondents said that they were pulling back on performance advertising (where they were spending money) and doing more "brand" advertising.
One of the big issues for these brands has been supply chain issues — 63% of respondents said they've experienced supply chain disruptions.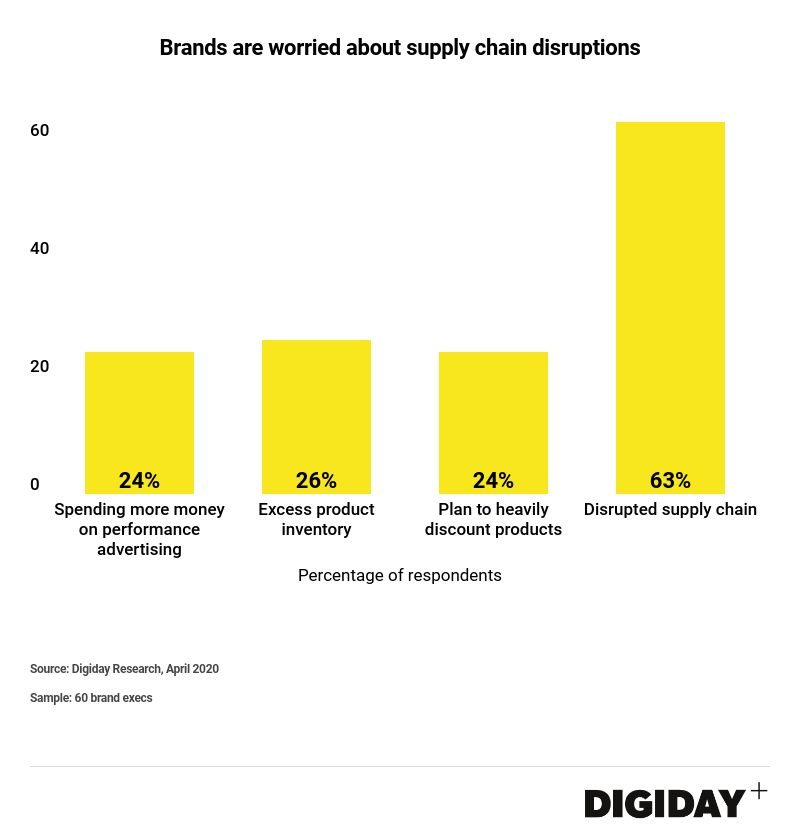 02
Impact on ad expenditure
The impact of the current crisis is most likely to be felt, for the long term, on ad buying and ad spending decisions.
Per the IAB, about 74% of "buy-side" decision makers said that this outbreak will have a bigger impact on ad spending in the U.S. than the 2008 financial crisis.
The first order of business was putting campaigns and other planned expenditures on hold.
A survey by Digiday in March found that 75% of media buyers say their clients are reducing their marketing spend due to the coronavirus. In a separate question, 73% of buyers also said that clients were pausing their marketing expenditure on various channels almost entirely.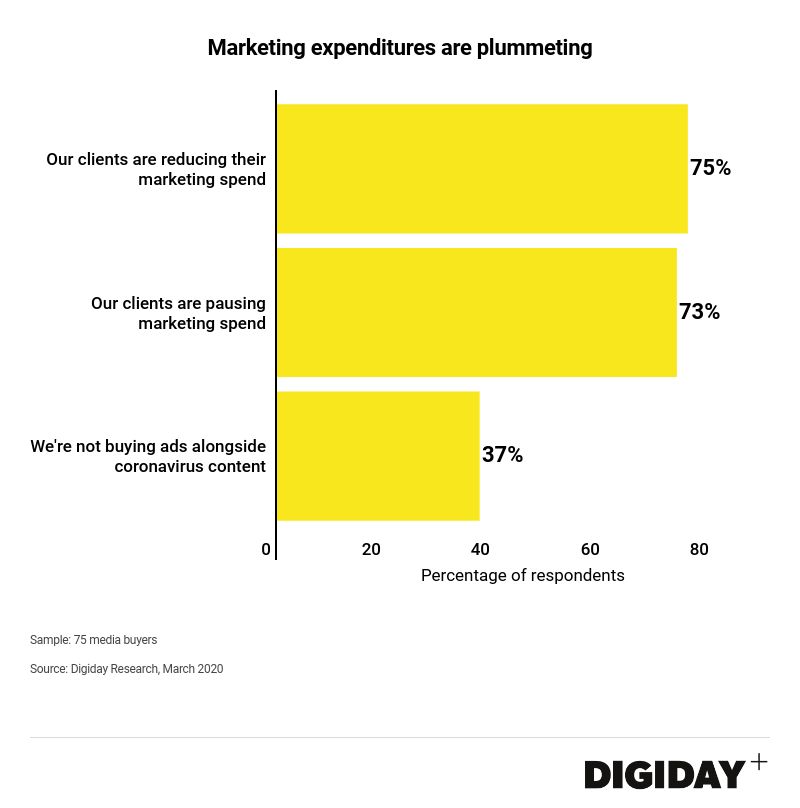 03
Channels are shifting, perhaps for the long term
An early April survey from Digiday/Glossythat asked 100 brands in the retail, fashion and beauty industries about changes they've made to their marketing strategies.
The top five channels brands were either temporarily reducing or temporarily leaving were in print advertising, direct mail, out of home ads, TV/radio and podcasts, and of course, events. The top channels brands planned to permanently reduce or entirely eliminate advertising in were events, TV/radio and podcasts, and online display.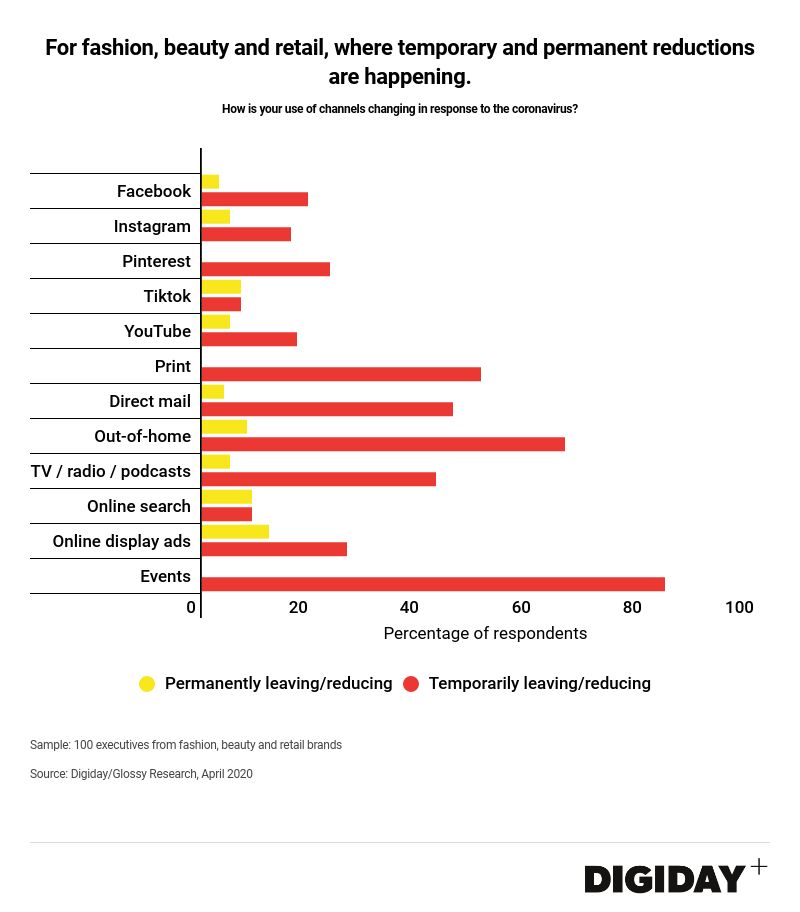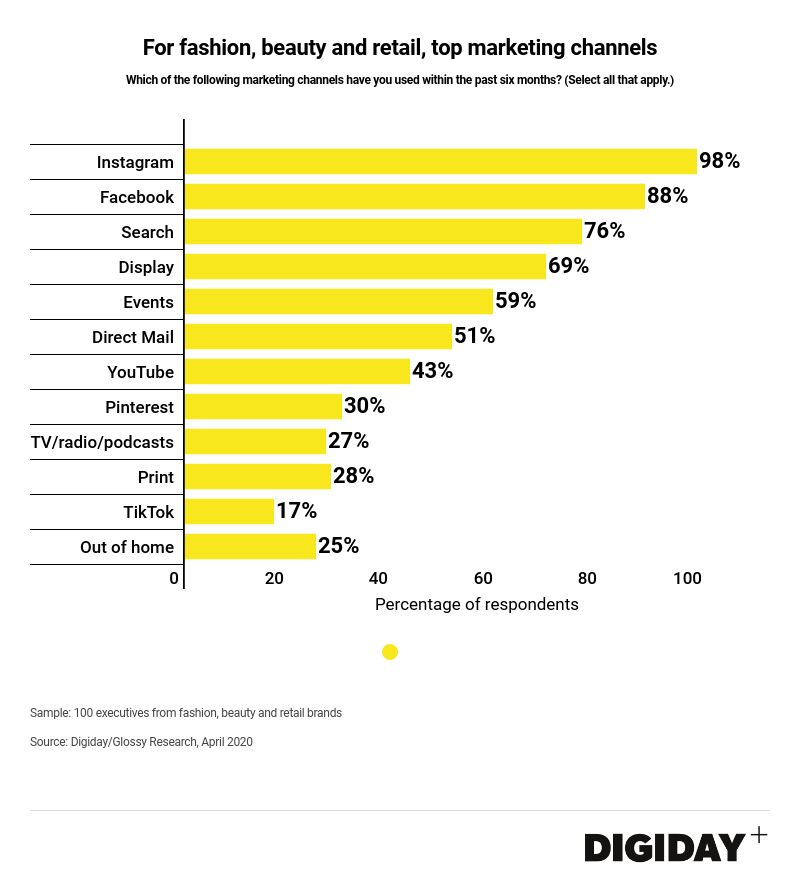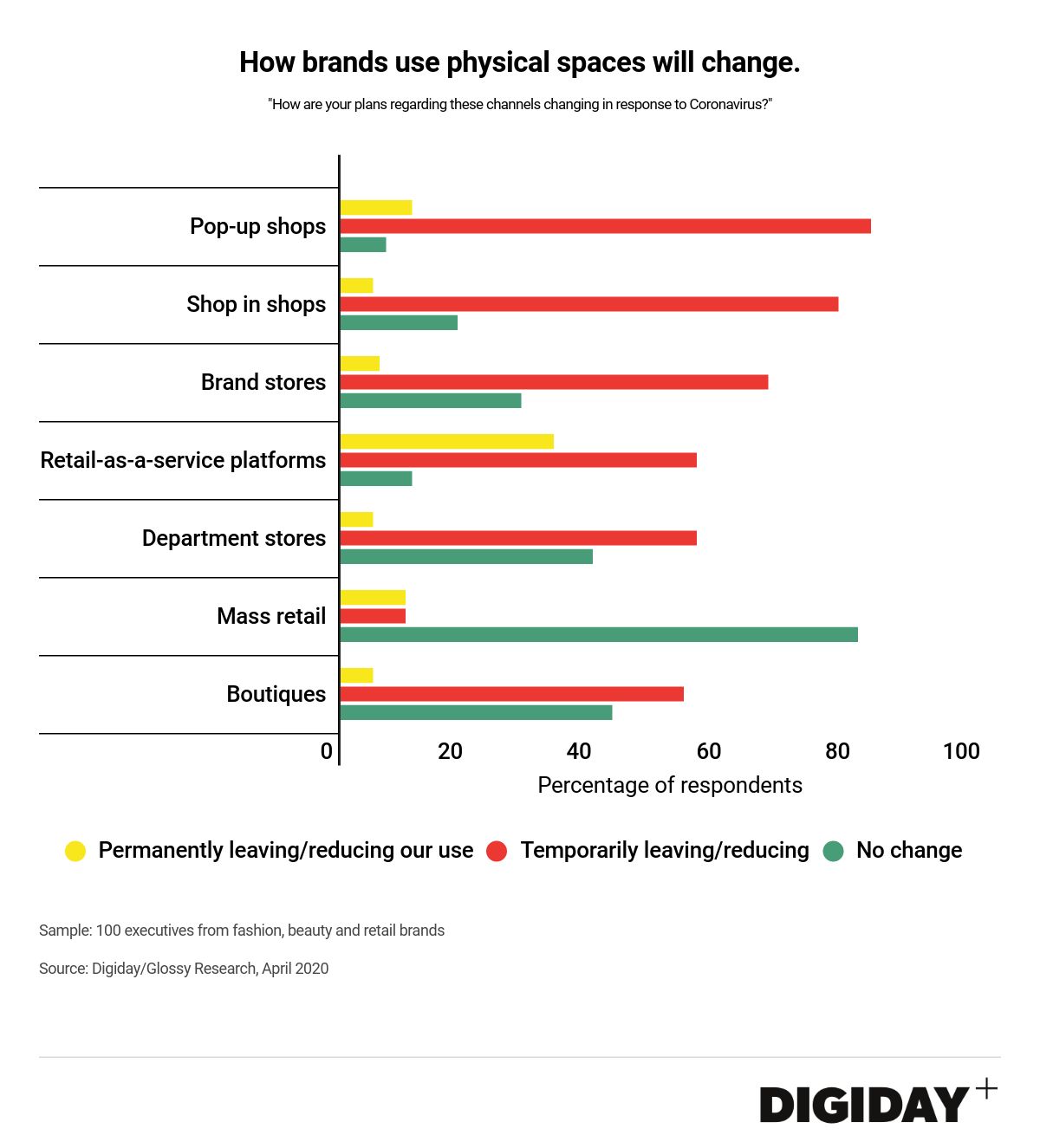 04
Early impacts in Q1
As the majority of retail stores have shuttered, it's been harder for companies to make sure e-commerce operations (if they even had them to begin with) actually make up for that revenue.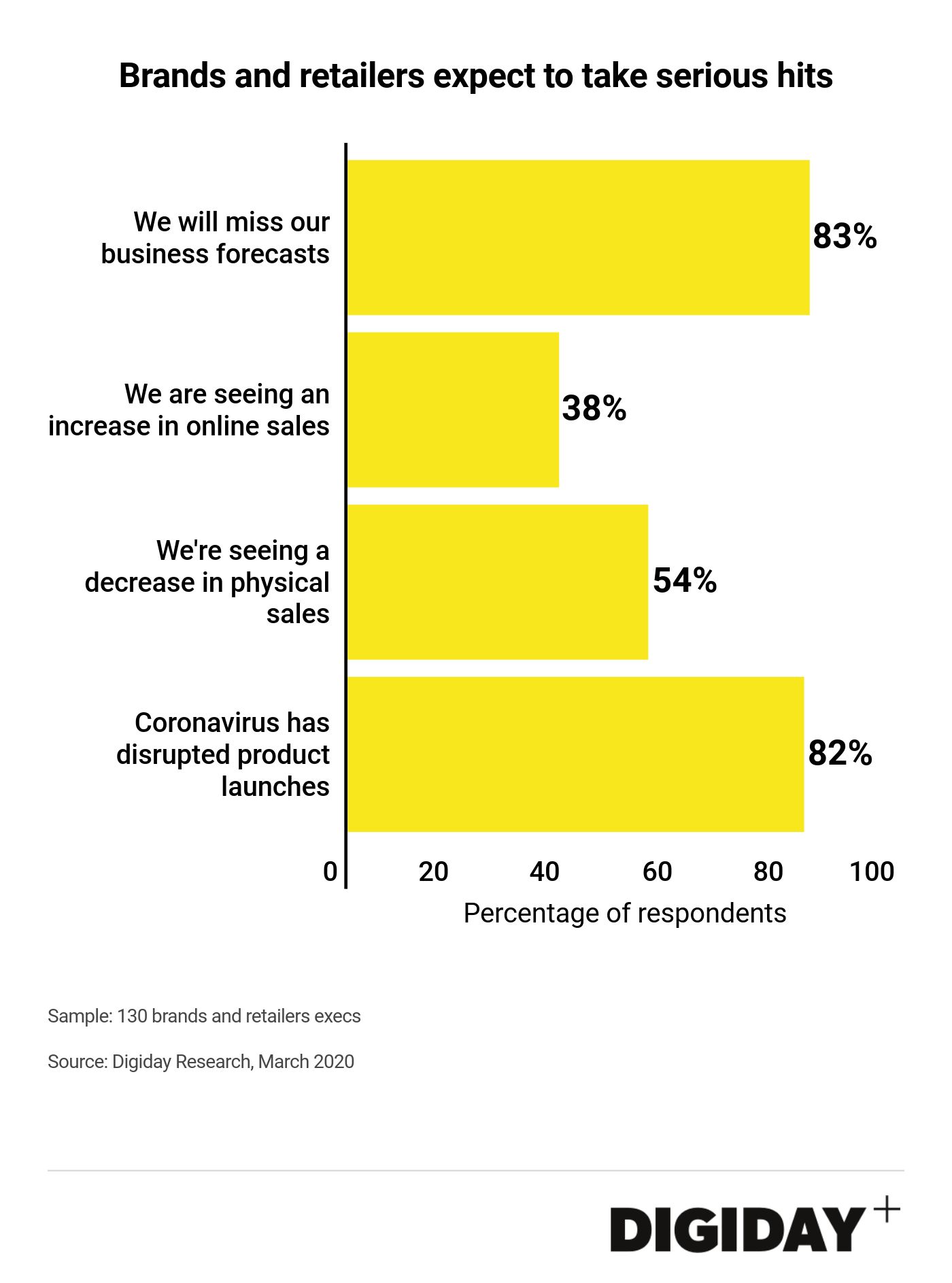 And while online buying is increasing, it's not across the board: About 38% of Digiday respondents said they're seeing an increase in online sales, while 54% said they've seen a decrease in physical sales already.
05
More Coronavirus impact research
https://digiday.com/?p=365836