Digiday Research: Most publishers tolerate password sharing
October 8, 2018 • 2 min read
This research is based on unique data collected from our proprietary audience of publisher, agency, brand and tech insiders. It's available to Digiday+ members. More from the series →
Between getting people to take out their credit cards to fighting churn, publishers have plenty on their plates in building direct consumer revenue. But one common challenge — the sharing of log-ins –is mostly ignored. Instead, publishers look at those skirting the paywall as people who probably wouldn't pay up anyway.
In a survey of 62 publishing executives at the Digiday Hot Topic: Subscriptions and Memberships event this past August, 76 percent said they don't do anything to stop subscribers from sharing their login information with friends and families.
Given that publishers say subscriptions are their most important revenue stream, according to a study done by the Reuters Institute, it would be reasonable to expect that publishers would want to limit subscribers sharing login-information. In theory, consumers sharing login information stops readers from having to pay for access, therefore hurting publishers' revenue.
But that might not be the case. Michael Silberman svp of strategy at paywall services vendor Piano, believes there's a general assumption that users who gain access to a subscription through login sharing, "are relatively unlikely to become subscribers in the first place, so putting a lot of effort into blocking login makes little sense for most publishers."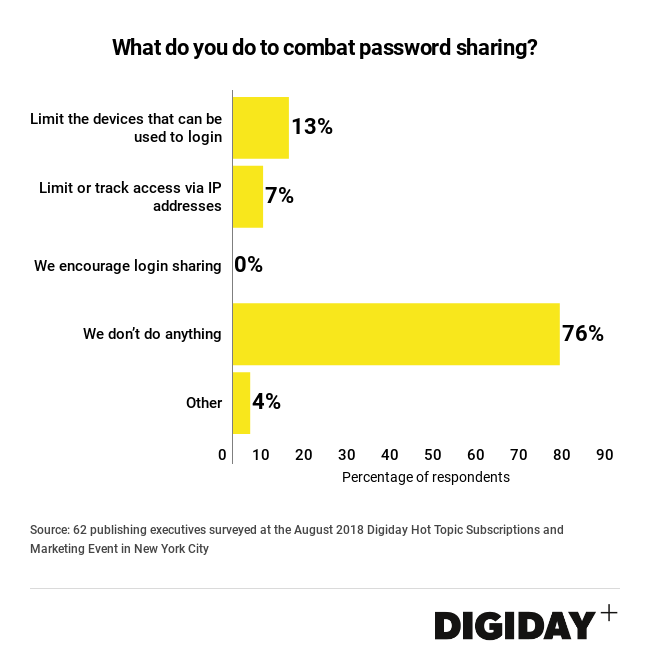 Publishers are beset by numerous issues and since login sharing "isn't a lost source of income," things like, "acquisition and churn are much higher priority," according to Silberman. To his point, a prior Digiday survey found that nearly 41 percent of publishers faced monthly churn rates of at least 10 percent for their subscription products.
Part of the reason addressing login sharing ranks low among publishers is that for consumers, obtaining logins from friends or family isn't a great experience and people can't get access to all the offerings of a subscription just by sharing login information. Silberman pointed out the example of email newsletters for subscribers, which will still be sent to the original account holder, regardless of who has access to the account.
Since it's a low priority among publishers, it has been previously difficult to gauge how widespread the issue of login-sharing is. To address that, Digiday conducted a random survey of 803 Americans ages 22 and above using the AskSuzy platform. Thirty percent of respondents said they currently pay for a news or media subscription, excluding OTT subscriptions like Hulu, Netflix or HBO GO from potential answers. Of the 234 respondents who owned a news or media subscription, 63 percent admitted they share their login information so others can access the content for free.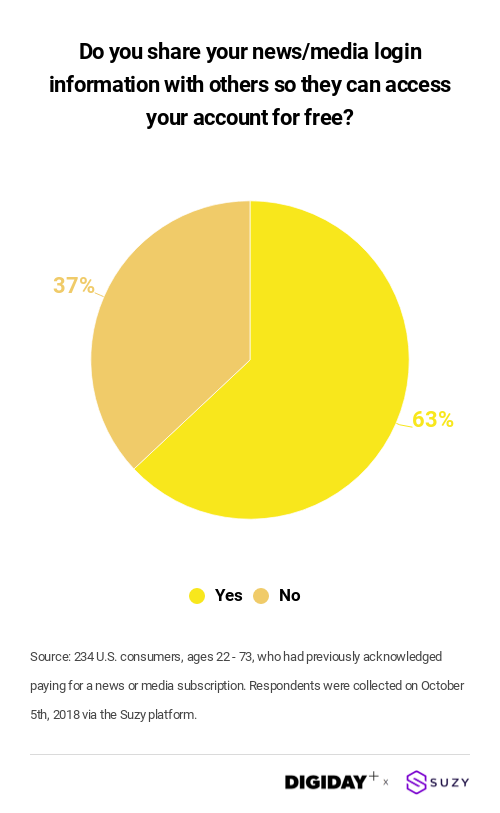 So while account sharing of publishers subscriptions products is potentially be widespread, more publishers like The New York Times and the Wall Street Journal will continue to rely on the honor system to reduce account sharing. One anonymous respondent to the Digiday event survey did admit that focusing on "guilt" was a significant part of their strategy.
https://digiday.com/?p=306362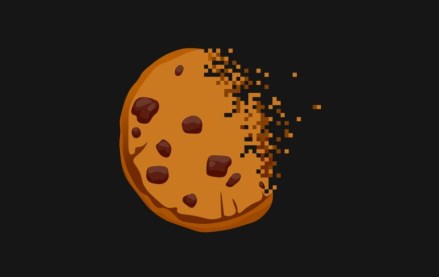 September 21, 2023 • 9 min read
Publishers who attended the Digiday Publishing Summit opened up about their top challenges, concerns and curiosities during closed-door, anonymous town hall meetings.
September 21, 2023 • 3 min read
WBD is seeing ad revenue growth from its YouTube channels and engagement on Threads surpass performance on X.
September 21, 2023 • 4 min read
Powering all of Amazon's hardware is an updated large language model, that could help connected devices actually be smarter.