What ad buyers want from Walmart: more transparency, more control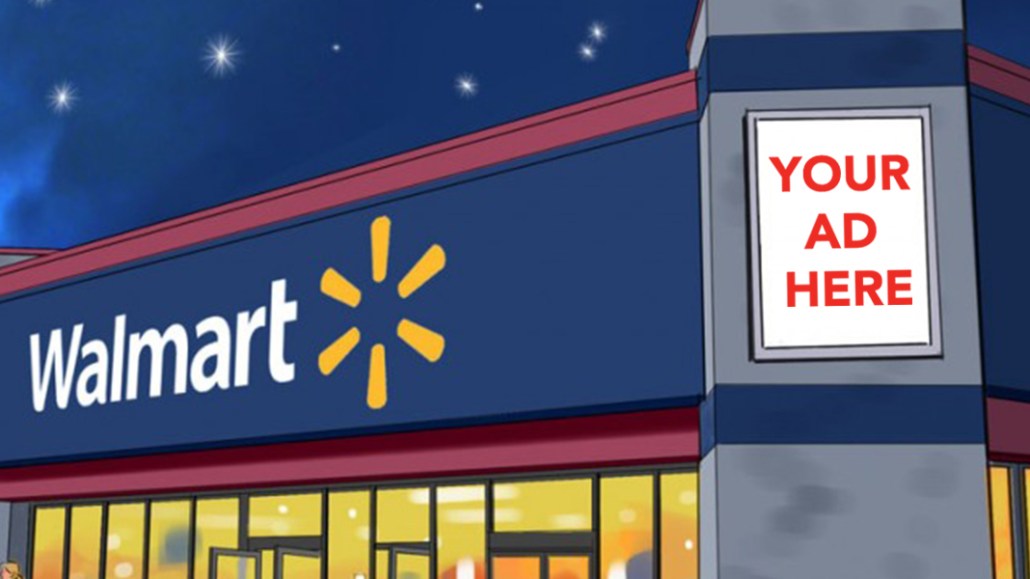 Walmart's growing media business faces familiar advertiser gripes of lacking transparency and control.
Over the course of 2019, the company took control of its ads business, moving it in-house from Triad and bolstering its internal sales team. Now, the company is offering a self-service ads platform on top of its managed service offering. Late last week, the company unveiled its new advertising program, Walmart Advertising Partners, with its new self-service tools for search ads on its website and mobile app.
Later this year, the company will offer self-service display ads, according to Lex Josephs, vp of sales and media partnerships for Walmart Media Group, adding that the timeline for the addition of display is unclear but that the company is currently assessing partners while keeping privacy concerns in mind.
The company is touting its differences with Amazon — despite comparisons to that platform's $3 billion ads business.  "We're pretty unique in this omnichannel strategy that we have," said Josephs. "We have over 4,000 stores, we know that over 90% of transactions still take place in store. It's a little bit of an apples to oranges comparison. What I will say that to have an effective ads business in 2020, the expectation from the marketplace is to obviously automate your business because that gives greater control, tools and insights in real time."
Media buyers are excited by the ability to automate search advertising and have access to more real-time data from Walmart. As the company has worked to build out its advertising business in recent years, buyers say advertisers have complained about transparency, control and the return on ad spend. Part of the problem is that in being solely focused on a managed service offering, marketers were working in a black box of sorts unable to get real-time reports on campaign performance and unable to implement what they learned from how those campaigns were working in a timely fashion. The self-serve platform could help fix that issue and give advertisers more control and access to data. Still, buyers say that rolling out the platform  — the company is partnering with ad tech companies Teikametrics, Flywheel Digital, Pacvue, and Kenshoo for Walmart Advertising Partners — with just a few partners could prove problematic as some buyers may be unfamiliar with those partners. 
Most buyers say Walmart is still firmly in the experiential budget — not a major place they'll be diverting money to.
That said, the company has been working to strengthen its advertising business for years: launching Walmart Exchange in 2014, retooling the advertising business in 2017 as Walmart Media Group and consolidating its ad sales business in-house last year.
"It's a nice first step," said one buyer who asked for anonymity. "But brands still view Walmart Media Group investment as something they have to do for the partnership with the retailer [to make sure they have shelf space in-store] rather than a true investment they'll actually get a good return on."
"Walmart has had its starts and stops with an advertising offering, most recently with Triad," wrote George Manas, president and chief media officer of OMD in the U.S., in an email. "[The new offering will] offer advertisers modern capability in audience targeting, closed-loop measurement, multi-factor test design and algorithmic optimization. While the Walmart API capability is basic today, it will likely evolve to more advanced capability." 
That Walmart's current self-serve capabilities are basic is to be expected as the company is just rolling those out. As for the dashboard, buyers liken it to that of Criteo's offering for sponsored products. Currently, cost-per-click for Walmart are low but will vary drastically by product type, according to a buyer who said that CPCs for toothpaste may be a few bucks whereas for something like a lamp, it could be $5 or more. Over the next few months, as the company tests out search and improves its offering buyers say they may become more bullish on the company's advertising business but that at the moment they are in a test and learn phase.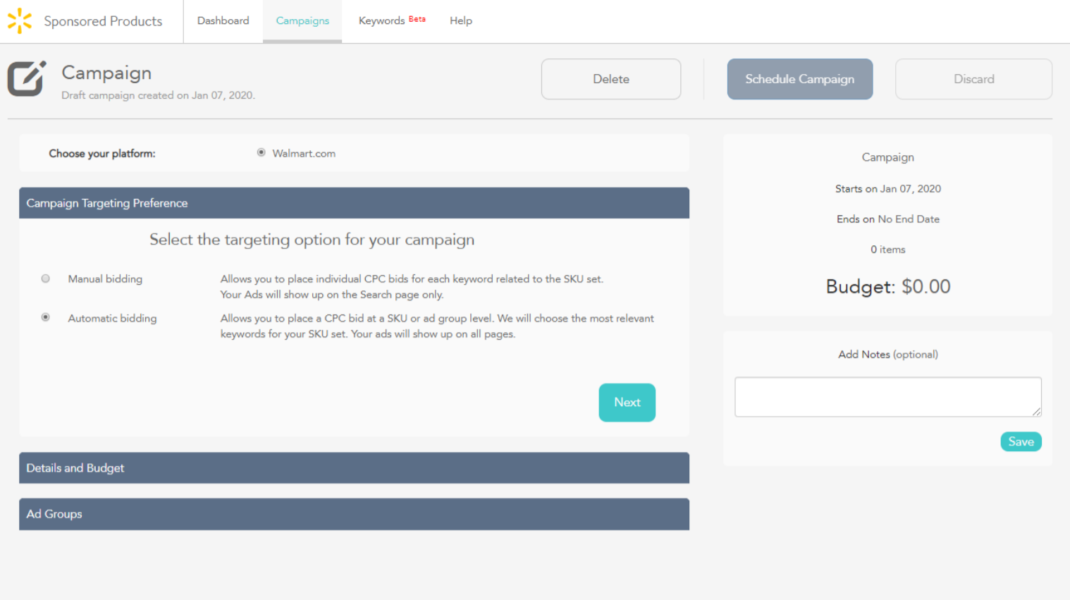 "Walmart is smart in rolling out search only initially, in order to correct operational issues that may arise at a smaller scale before scaling out," wrote Rory O'Flaherty, head of media, Mekanism in an email. "They certainly have the traffic and customer demand for products, so they should see success and be able to offer strong ROI for advertisers."
The company is among a number of retailers — including Target, Wayfair and Best Buy, among others — looking to beef up its media network as Amazon's advertising business has matured, according to media buyers, who believe they are playing catch up. At the same time, retail media has become more attractive for advertisers as of late as the current privacy-focused regulatory environment has led to a crackdown on third-party data sources and made first-party data that much more attractive.
Walmart isn't the only company to run into issues with data access as it scales its advertising business. Amazon, Google and Facebook have all reportedly had issues with dashboards and data transparency over the years. The fact is Walmart, like Amazon, is a retailer first and media platform second and that naturally means their offerings will feel a little slow or unevolved.
While the ability to use self-serve for search advertising is arguably small potatoes, the move to self-service is a big opportunity for growth that has buyers excited as the ability to target consumers based off of first-party data and tie that to offline purchases is very attractive, said Todd Bowman, senior director of Amazon and product marketplaces at Merkle. "The challenge of the way these media networks were built out being managed service [the delay in reporting]," said Bowman. "We may get some reports during campaign but those are usually limited. Full reporting takes six to eight weeks after the campaign ended. So having a sponsored products self-serve, where you have a UI, working in it daily is definitely an exciting opportunity."
Still, working with just four API partners could be a problem for advertisers, per O'Flaherty. "If the shopper marketing buyers are not versed in those platforms, there is an operational cost in getting teams on-boarded to those buying platforms," said O'Flaherty. "Similarly, when they roll-out display products for self-serve, it will require additional platform on-boarding and training pending how the inventory is made available to DSPs."
"Walmart still has a ways to go," said Will Margaritis, svp and e-commerce lead at Dentsu Aegis. "The transition has been mostly smooth from the outside, but we know they're still in learning mode there. It's never as easy as flipping a switch, and their processes aren't quite as smooth as Amazon, who isn't quite as smooth as Google or Facebook. But we see potential in the reach and the data. Plus, there's a lot of value in having a second large player in the retail media space, so we're really pulling for Walmart to get it right."
A previous version of this story listed George Manas' employer as PHD instead of OMD. We regret the error. 
https://digiday.com/?p=355949