Spirit Airlines Channels Its Inner Carlos Danger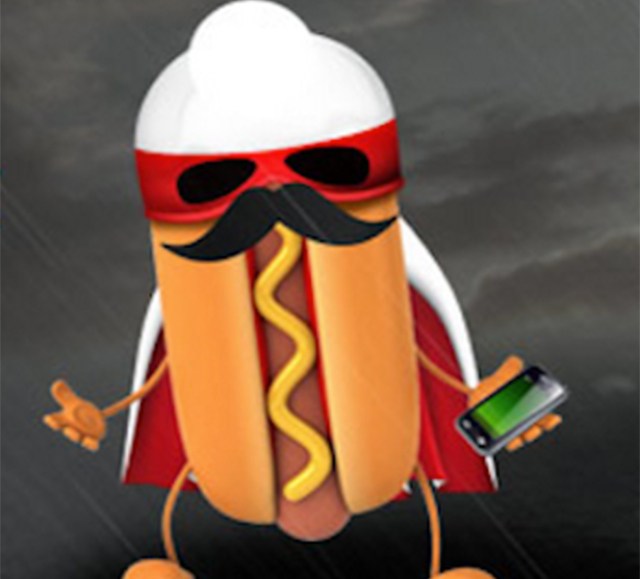 It is rare for an airline to voluntarily associate itself with scandal (or, for that matter, Danger), but on Wednesday Spirit Airlines did both when it continued its two-year dig against embattled New York City mayor hopeful Anthony Weiner.
In an email sent to customers, Spirit announced a getaway special called "The Weiner Rises Again," a $24-off coupon to flights to Cancun or Los Cabos, Mexico.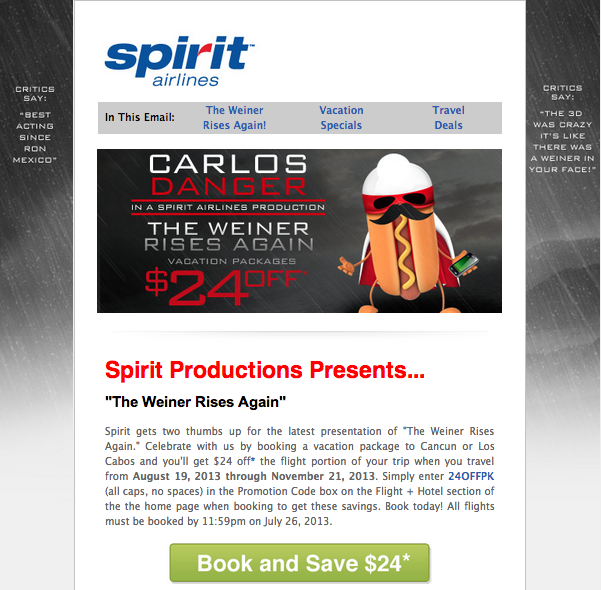 This is not the first easy Weiner pun the Hollywood, Florida, airline has made. In 2011, when it first came to light that Weiner had been sending inappropriate messages to women, Spirit offered fliers $9 fares that were "too HARD to resist."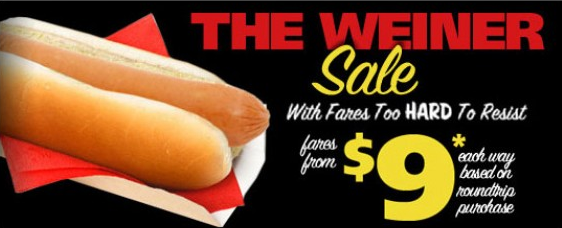 This time, the joke is on Weiner's pseudonym, Carlos Danger, which he used to send NSFW messages to a 22-year-old. And, once again, the ad prominently features a hot god – this one slightly more anthropomorphic than the last.
Not one to let sleeping dogs lie, Spirit gets in a mention of Ron Mexico, the name quarterback Michael Vick used when he was sued by a woman who claimed he gave herpes (the case was settled out of court).
When asked for a comment, a Spirit spokeswoman replied to Digiday, "We're spreading the word of vacation package savings. What's not to love about low fares and great deals?"
Still, response to this savvy real-time gambit has been mixed. Twitter was alternately amused and outraged.
Spirit Airlines New Mascot: "Carlos Danger's" Weiner: You have to love Spirit Airlines — I just received this… https://t.co/GXuR4r1SXz

— Pamela Geller (@Atlasshrugs) July 24, 2013

@sapnam @RealAdrianC ugh is right

— Latino Rebels (@latinorebels) July 24, 2013
For the record, Sasha Fierce and Chris Gaines have yet to weigh in.
[polldaddy poll=7274190]
https://digiday.com/?p=43838