Retail briefing: Kroger has big advertising ambitions
Kroger's budding advertising business is a top-five priority for CEO Rodney McMullen.
Speaking at the NRF Big Show last week, McMullen's big priorities included new formats for Kroger stores and more efficient ways to help customers shop.
But overhauling a grocery chain to survive in the Amazon era of retail costs a lot of money, which is why building an ad business is also top of the list. "Retail will disrupt the ad industry," said McMullen.
To pad out the bottom line, Kroger's been building out more ways to increase its ad revenue by investing in its advertising arm, Kroger Precision Marketing. CPG companies and other Kroger brands can target customers with coupons, recipe ideas and other ads on Kroger.com, and co-branded media elsewhere online, powered by the company's advertising arm. With KPM, brands can also work directly with Kroger customers that are part of the company's "word-of-mouth marketing" network, to deliver product samples and seed affiliate links to food bloggers.
It's been an ongoing operation since 84.51, Breitling Replica Kroger's customer data arm, was formed in 2015 and KPM was launched. But in the past year, the company has been adding to its ad products.
Last May, Kroger rolled out paid search, giving brands the opportunity to run ads against certain search terms on Kroger's site and app. And earlier this month, it announced it was bringing digital display ads to physical store shelving. Right now, that is only being tested in two store locations via Kroger's new partnership with Microsoft to digitize its physical stores. Kroger doesn't break out specific figures around how much it makes from advertising, but ad revenue was up 150 percent from the year prior. Total revenue was $317 million for the quarter, up 1.6 percent.
"Retail is very important, and that extends to all other areas," said McMullen on stage at NRF. "We understand what customers do, what they buy, and how often. We're transparent with brands. We help the customer find what they need to help them spend their money better. CPGs spend millions of dollars a year trying to reach out to the customer, and we see marketing as a huge opportunity."
In his opinion, what gives a company like Kroger the advantage of over advertising giants like Google and Facebook is the customer relationship it fosters since people trust the brand they shop from.
"We know what they want, we help them find it, and it's on the customers' terms," he said.
Amazon's continued dominance
Kroger may have big ambitions to challenge Facebook and Google as an advertising platform, but it has work to do to make a dent even in retail media. Last year, Digiday surveyed a group of media buying executives to find out what retailers they were spending their ad dollars with. Cheap Patek Philippe ReplicaNone of them bought ads through Kroger. Amazon, of course, was the most popular retail media platform, with 63 percent of buyers surveyed buying Amazon ads.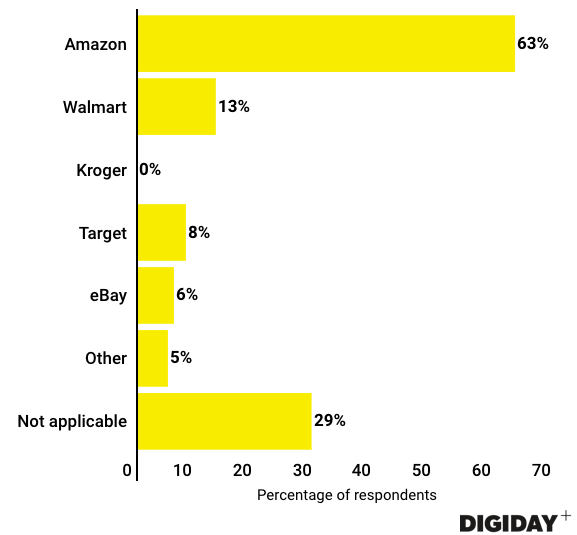 Is AI finally getting useful?
2019 might be the year AI in retail actually means something. Google Cloud's global head of retail solutions Pravin Pillai said last year, AI "blew up" when it came to retailers finally hunkering down and getting serious about figuring out how the technology applies to them. "Not just in the customer acquisition areas, which has been the traditional use case and doesn't use AI to its full potential, but in other parts of the retail system and value chain."
AI's better use cases, according to Pillai, include fixing sprawled loyalty programs and predicting restock demand on shelves by tracking purchase patterns, to make sure nothing goes out of stock. It's technology being used by companies like DSW and Metro supermarkets. Adore Me business manager Camille Kress said while Adore Me only had two stores open at the moment, it's figuring out how to use AI to link online customer profiles to those who shop in-store.
"Conversations are different now with retailers realizing that AI should not be an add on. It's not a marketing strategy. It's absolutely essential to every capability, and I think it will provide a fundamental change in the industry whether you're in-store, online, or on your phone," said Mike Micucci, CEO of Salesforce Commerce and Community Cloud.
We won't hold our breath. – Hilary Milnes
Adapt or die
While Walmart and Target established new standards in retail by investing in digital, supply-chain efficiencies through physical store networks, and private-label brands, others aren't faring so well.
Last week was a big one for bankruptcies. San Francisco-based children's apparel retailer Gymboree filed for Chapter 11 bankruptcy. It plans to close more than 800 Gymboree and Crazy 8 stores across Canada and the U.S., and it's also looking for a buyer for its 139 Janie and Jack stores. In a declaration in support of the Chapter 11 filing, Gymboree's chief restructuring officer  Stephen Coulombe didn't pick a single reason. He pegged it on a series of bigger forces affecting the industry, including the inability to withstand competition from other large traditional retailers, the effect discount and e-commerce retailers, along with changing customer preferences. This is the second time Gymboree filed for bankruptcy in 18 months.
The same day, Shopko, a $3 billion general merchandise retail chain with more than 360 stores, also filed for Chapter 11. As part of the announcement, it plans to close 38 stores, relocate more than 20 optical centers and will put its pharmacy business up for sale.
"We are confident that by operating a smaller and more focused store footprint, we will be able to build a stronger Shopko that will better serve our customers, vendors, employees and other stakeholders through this process," CEO Russ Steinhorst said in a statement.
Shopko has been in trouble for some time, and according to Pitchbook, has assets of less than $1 billion and debt between $1 billion and $10 billion. Brian Kelly, president of consultancy Brian Brands, said in a recent interview, that Shopko's downfall can be attributed to more than just the rise e-commerce.

"Being on a short leash by [Sun Capital], there is little investment in stores. They are a wreck," he said. "The assortment is bizarre, adding categories that should work, but at uncompetitive prices. It's the brand being consumed by dollar and convenience stores on one end and Farm and Fleet and Tractor Supply on the other." – Suman Bhattacharyya
What we've covered
Amazon is aggressively courting direct-to-consumer brands, hoping to get them to sell on the platform. It's offering incentives, from financial investments to special packaging, to sweeten the deal, most brands aren't biting.
CPG startup Brandless launched a subscription model to build in repeat purchases as it looks to take on the grocery shelf.
Target is expanding the product selection of its private-label baby brand, Cloud Island, in an effort to grab a bigger share of the baby-product market.
Increased competition from larger marketplaces like eBay, Amazon and Etsy, combined with a lack of reinvention, is forcing Pier 1 Imports to look for a lifeline.
Buy online, pick-up in-store is often heralded as the future of retail: Customers shopping on their own terms, as efficiently as possible. But it might end up being a bigger lift than expected for retail stores. мфо займы онлайн срочно
https://digiday.com/?p=319103