Parents are scorching mad on social media over Jessica Alba's crappy sunscreen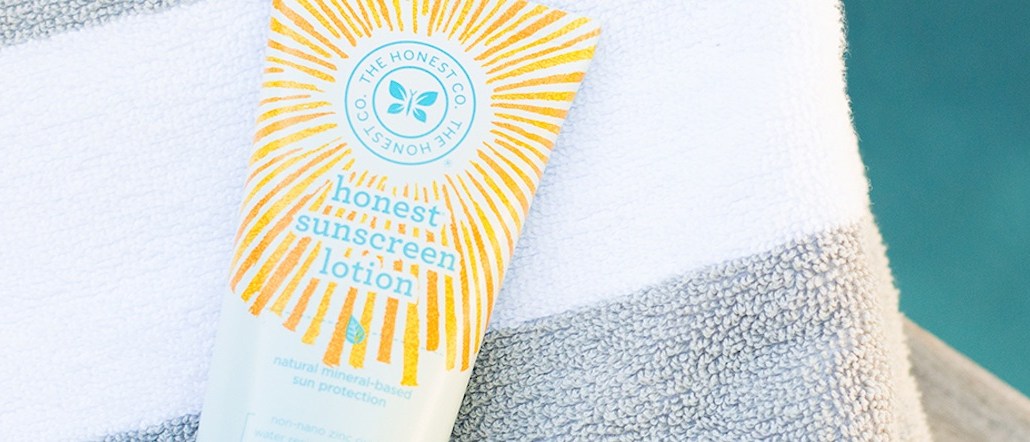 Not even Jessica Alba's own sunscreen can protect her from getting burnt.
Customers of Alba's Honest Company say the brand is lying about the effectiveness of its mineral-based sunscreens. Unsatisfied shoppers are tweeting and posting heated comments (along with cringe-inducing photos) on Facebook saying their children are getting serious sunburns.
"This was NOT a user error, this is a product fail," wrote a mother on Facebook on The Honest Company's Facebook page, complaining that its line of sunblock didn't protect her child. Another mother said she was "very very upset" and demanded the company make changes so "no other babies get burned."
Here are some others: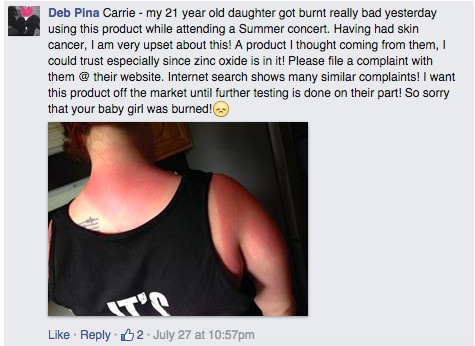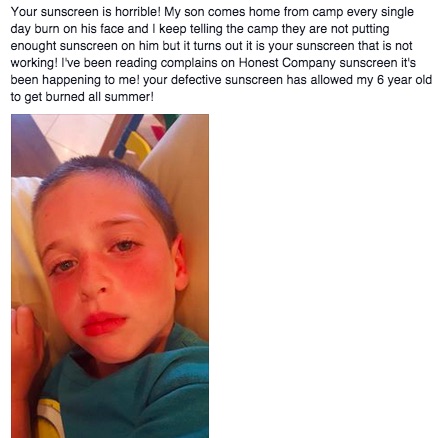 The Honest Company, which has built a dedicated following for its "toxic-free" product line, also got burned on Twitter with messages demanding they pull the product from shelves.
Don't buy @Honest sunscreen unless u want to look like this. Second time I've tried this stuff and got fried pic.twitter.com/pEhO5GYIkQ

— Lindsy (@LindsyMarshall) July 26, 2015
@Honest this is my very real result from Honest 30 SPF sunscreen. Only spent 1 hour outside. Burnt. #nothappy #red pic.twitter.com/T42TNeg5mj

— Brandon Atherton (@bdatherton) June 1, 2015
My wife and daughter used @honest sunscreen and got sunburns. We returned that junk to @Costco

— Chad Jones (@randomlychad) July 31, 2015
@Honest have u pulled your sunscreen yet?? so disappointed with this company.

— cep (@cep1981) July 31, 2015
Comments on Amazon pummel the SPF 30 sunscreen where it's marred with one-star reviews. "To be honest, this is the worst sunscreen I have ever used!," one said.
According to an investigation from WMAQ-TV in Chicago, the Honest Company reduced the amount of the lotion's zinc content, a key ingredient to protect against sunburn, from 20 to 9.3 percent. The brand says it boosted other ingredients to keep it effective, although it doesn't look like it's working.
Alba hasn't yet publicly commented about the issue. In a statement issued to E! News, the Honest Company says its products meets U.S. Food and Drug Administration standards for sunscreens and that it won't pull the product. "We stand behind the safety and efficacy of this product."
https://digiday.com/?p=129199