How Natori used AI to sell more sports bras
Since June 2017, fashion retailer Natori has pumped all of its social ad spend — $150,000, 25 percent of the company's total ad spend — into an artificial intelligence platform, according to Ken Natori, president of the company.
One of the best-performing campaigns over the past 10 months was Natori's launch for its sports bras collection in mid-February. For the campaign, Natori fed the system 18 different images, one short 15-second video and six options of copy to test, and relied on it to determine which ad formats and social channels were ideal for the assets, as well as how much ad spend should be allocated toward each platform.
Once the campaign started, Natori found that the highest-performing ad format on Facebook was Dynamic Product Ads, a carousel ad format that pulls in products from its product feed, so the company redirected part of the overall ad spend toward the format. Natori found that the return on ad spend for the format was 1.35 times higher than the benchmark return — 750 percent — on ad spend. The entire campaign drew an average of 500 percent return on ad spend, according to the company, which uses AI marketing platform Albert for media buying.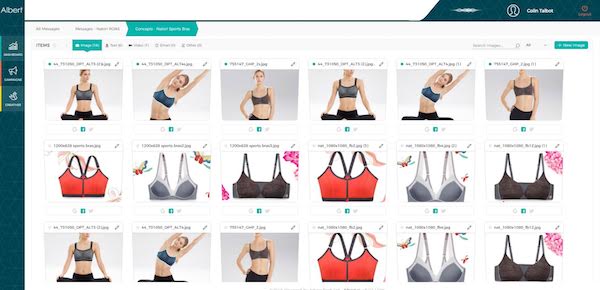 Natori said that up to this point, 80 percent of Natori's AI ad spend has been allocated toward Facebook, while the remaining 20 percent has been reserved for Instagram and Instagram Stories. However, the company has started to notice that Instagram is driving more impressions, so Natori is considering shifting more of its ad spend budget to the platform over Facebook, said Natori. In the last seven days, Instagram Stories has brought in a 610 percent return on ad spend, according to Heidi Maund, e-commerce director for Natori.
An AI platform gets smarter over time as it's fed more and more data, so the beginning months of using an AI platform can be a test in patience. Natori said the return on ad spend wouldn't be impressive until the machine learning technology had progressed to the point where it understood how to most effectively serve Natori's creative.
Natori also said AI brings with it a lack of control at times. For instance, when the platform began to push out more promotional posts, those that advertised a sale on a product, Natori discovered the reaction on Facebook and Instagram was becoming negative because they drew significantly more impressions than a typical post with a picture.
"People were commenting saying, 'Gosh, this looks like a commercial site. All these ads showing everything on sale are coming up way too much,'" said Natori. "We took that feedback, gave it to Albert and said, 'Listen, yes, we want the best-performing ads out there. We want the return on ad spend to be great. However, we also can't have every single ad that goes out there look like everything on our site is on sale all the time.'"
https://digiday.com/?p=284742